Club Training Sessions Update: Returning to a brand-new Athletics facility at Carmarthen Leisure Centre Track
We are delighted to re-start training at Carmarthen Leisure Centre this month but the detailed information below must be read and do not just turn up unless each athlete has a clear arrangement and has completed the pre-registration form.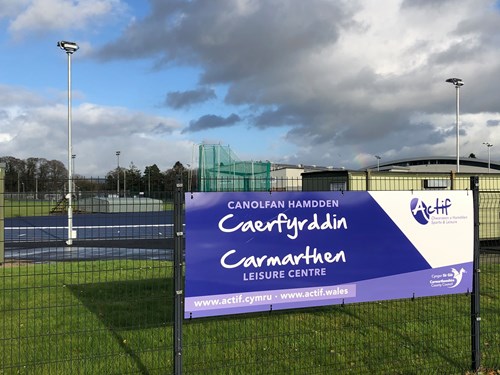 Since February this year, the track had been closed for refurbishment work and contractors began work on site to resurface and upgrade the track from a six-lane to an eight-lane and improve other aspects of the venue. Nine months later and after a four-month National and circuit-breaker lockdown, the brand-new athletics track at Carmarthen Leisure Centre was officially opened on Thursday 12th November.
After limited training sessions at the club were held on town roads, fields, beaches and country parks over the summer with reduced numbers, some members/athletes and coaches by arrangement will return to Johnstown, Carmarthen for the first time in 9 months from Tuesday 17th November under COVID-19 guidelines.
This is an exciting moment for the club and the facilities look fantastic!
Over the last few weeks, the Committee have worked hard to put arrangements in place that meet the requirements of Welsh Athletics and Carmarthenshire County Council that are designed to keep athletes and coaches safe during this difficult time.
As a result, we have put in new arrangements for training and how the club must be run during the COVID-19 pandemic.
Training at the track will now be opened to members in two stages:
NOVEMBER TO DECEMBER 2020 - To existing members (predominantly those in existing groups and over 18's) or by agreement with individual club coaches.
JANUARY TO MARCH 2021 - To all members (in particular under 11's) and some new members who are on a waiting list to join.
Arrangements at Carmarthen Harriers Training Sessions from 17th November 2020:
- Training will take place from 6:00pm to 8:00pm on Tuesdays and from 7:00pm to 8:00pm on Thursdays. No athlete will be allowed onto the track before the start time of the session.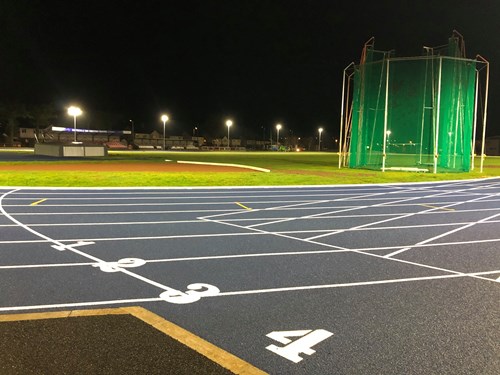 - Every member will be required to complete a pre-registration form on a weekly basis. This link will be added here shortly.
- On arrival at the track, a temperature check will be taken of every athlete.
- Hand sanitisers are available at the main entrance and there is a one-way system in operation.
- The athletics track spectator stand has been zoned out and taped in order for the different groups to be kept separately.
- Athletes will all then train in a group assigned to a specific coach. All reasonable steps to maintain social distancing will be taken.
- Only athletes with an up-to-date Carmarthen Harriers Athletics Club membership will be able to train at club times with no exceptions unless agreed with the Chair and Vice Chair of the club by particular arrangement. We have substantially reduced the membership fees.
- No parents or relatives will be allowed within the track enclosure although with the new layout there is plenty of scope to watch from outside.
Training Fees:
Without training fees the club would cease to operate as we pay more than £10,000 a year to the county council for facilities hire and substantial funds each year supporting training and registering athletes and coaches. The club has already faced a substantial reduction in revenue this year.
We are no longer able to accept cash from the first of December as it presents both a health risk and logistical problem as the use of cash declines.
All athletes will now be required to pay either £10.00 per month to train once a week or £15.00 per month to train twice a week paid 3 months in advance by the 1st of December.
This is a reduction in cost for athletes who have previously paid by cash. Fees are non refundable except in exceptional circumstances agreed by the club committee. Council Gold cards do not qualify athletes to train on a Tuesday or Thursday for free. These arrangements will reviewed in March at the AGM. Payment will be made via electronic payment. If you have not done it before please email Richard (treasurer.carmarthenharriers@hotmail.com) for details. Anyone facing particular hardship can approach a club committee member where we will endeavour to offer what support we can.
For the 4 sessions in November (Tues 17th; Thurs 19th; Tues 24th and Thurs 26th) 1 payment of either £5.00 for 1-2 sessions or £10.00 for 3-4 sessions. These are the last payments we will accept by cash or cheque.
We realise this is a big change for some members but it is substantially cheaper when considering other sporting clubs costs and membership. Finally, the committee need additional help on Tuesday and Thursday evenings so please contact us if you can help.
Thank you for your continued support.