Saturday 30th April - Sunday 8th May: it was a busy week for Carmarthen Harriers' older sprinters, endurance runners, throwers and jumpers with more than 20 athletes competing at seven events in the space of a week.
Aberystwyth,

Cardiff,

Chelsmford,

Carmarthen,

Llanybydder
Ten athletes travelled to Devil's Bridge near Aberystwyth for the Red Kite Trail Challenge 2022 incorporating the West Wales & Welsh Trail Running Championships. On a challenging course, there were three Welsh trail champions (William Coles - U13, Iwan Thomas - U15 & Amelia Williams - U13) & eight West Wales medals won in the regional trail championships.
The Cardiff 5K - Race For Victory 2022 incorporating the Welsh 5K Road Racing Championships returned to its usual May slot on Sunday evening on the streets of Whitchurch.
Into the Bank Holiday Monday (2nd May), the 39th running of the Carmarthen Mayor's Fun Run Races and Ras Dyffryn Cledlyn 5 Mile & Junior Races made a welcome return after two years out and saw a number of club members take part.
The same weekend also saw the BUCS & BT Outdoor Athletics Championships 2022 head to Chelsmford Athletics Centre where there were great performances from athletes representing their universities. Congratulations to Ben Thomas who won a silver medal and set a new club record in the senior men's 3000m Steeplechase (9:04.35) in Chelsmford.
At the beginning of a new track and field season, the Welsh Athletics Event Specific Open Meetings also began at the beginning of May. Firstly, it was the Run With The Wind & Field Events Meeting in mid week followed by the Endurance & Jumps Open Meeting four days later, both held at Cardiff International Sports Stadium for under 17, under 20 and senior age groups.
As part of the Red Kite Challenge Series, Ras yr Hafod took place at the nearby Hafod Estate last Wednesday evening on a picturesque course.
Here's a results round-up and performances from events between 30th April and 8th May 2022...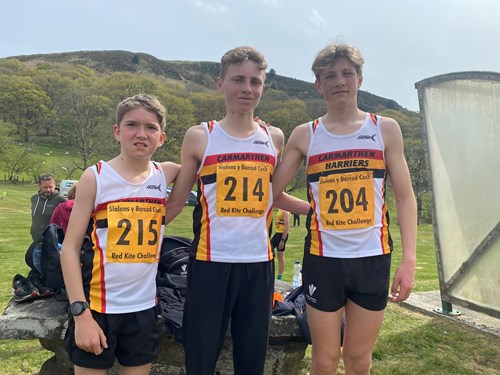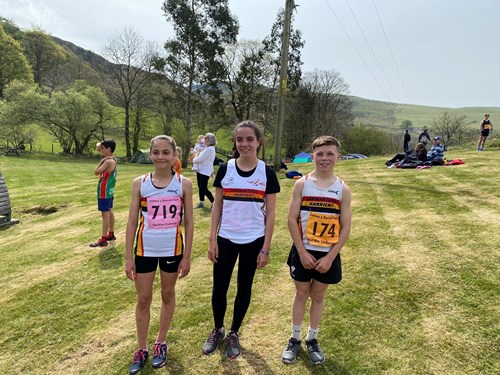 Red Kite Trail Challenge 2022 - Devils Bridge - Saturday 30th April
Under 13 Girls: Amelia Williams - 3K (3:53.08); Annatasia Eggleston-Stoker - 3K (12:52)
Under 13 Boys: William Coles - 3K (9:26)
Under 15 Boys: Iwan Thomas - 5K (15:11); Finley Bruce - 5K (15:33); Macsen Toogood - 5K (17:32)
Under 17 Men: Steffan Davies - 6K (21:41); Steffan Bridger - 6K (22:14); Jack Bruce - 6K (23:00)
Senior Men: Isaac Ayres - 10K (58:33)
Cardiff 5K 2022: Race for Victory - Whitchurch - Sunday 1st May
Cameron Young - 5K (15:40)
Isaac Ayres - 5K (16:41)
Jake Lynock - 5K (17:20)
Esme Lynock - 5K (20:56)
Non Morgan - 5K (22:44)
BUCS & BT Outdoor Athletics Championships 2022 - Chelsmford Athletics Centre - Saturday 30th April to Monday 2nd May
Iestyn Williams - 800m Semi Final (1:51.80)
Ben Thomas - 3000m Steeplechase (9:04.35)
Ellie Kiff - 1500m (5:14.00)
Lili Church - High Jump (1.71m)
Carmarthen Mayor's 5K & Junior Fun Run Races & Ras Dyffryn Cledyn 5K & Junior Races 2022 - Monday 2nd May
Ras Yr Hafod - Wednesday 4th May
Liam Regan - (11.11)
Leah Regan - (8.56m)
Welsh Athletics Run With The Wind & Field Events Meeting 1 - Cardiff - Wednesday 4th May
Lewis Evans - 100m (11.11)
Chloe Thomas - Shot (8.56m)
Welsh Athletics Event Specific Open Meeting: Endurance & Jumps - Cardiff - Sunday 8th May
Jack Bruce - 800m (2:11.14)
Iwan Thomas - 1500m (4:14.54)
Finley Bruce - 1500m (4:25.99)
Ifan Bowen - 1500m (4:28.80)
Eleanor Fuller - 1500m (5:41.10)