Carmarthen Harriers can confirm the recipients of the Annual Club Awards for the year 2019/2020.
The Ivy Bush Hotel in the heart of Carmarthen Town Centre has been the host venue of the Club Dinner & Awards Evening for several years and is normally held around October/November time. In 2018, the club's 70th year was celebrated with a special dinner.
Following a full year of competition in 2019, there was only some limited opportunities in the early part and summer of 2020 to participate and to record performances due to the ongoing COVID restrictions.
In the absence of a club dinner in 2020, the club have continued with the annual awards element and are available across nine different categories in 2019/2020 (between October 2019 and September 2020). The categories include Welsh Champion & International, Team Champions, Top 10 UK, Top 10 Wales, Senior Athletes and Club Record.
We have been unable to present trophies so far with planned dates cancelled because of COVID 19. We hope to present all the trophies as soon as we return to training.
Congratulations to all the athletes receiving an award. Llongyfarchiadau i'r athletwyr i gyd sydd yn derbyn gwobr.
CARMARTHEN HARRIERS ANNUAL CLUB AWARDS 2019/2020
GWOBRAU BLYNYDDOL Y CLWB HARRIERS CAERFYRDDIN 2019/2020
Welsh Champion
- Lili Church
- Zara Evans
- Jessica Lee
- Osian Roberts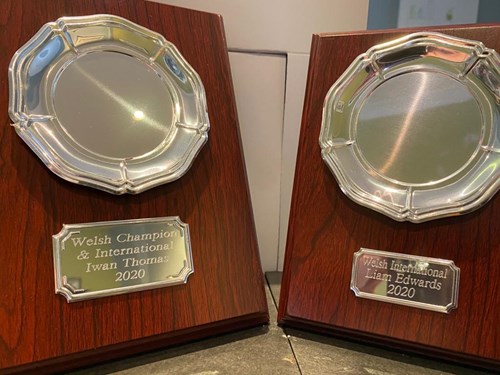 Welsh International
- Liam Edwards
- Dafydd Jones
- Zach Elvy
- Ifan Bowen
- Eva Edwards
- Beca Roberts
- Peter Moody
Welsh Champion and International
- Frank Morgan
- Iwan Thomas
- Macsen Toogood
- Wendy Price
Welsh Road Relay Championships U13 Team Champions
- Ifan Bowen, Iwan Thomas, Macsen Toogood, Jake Lynock
Welsh Cross Country Championships U13 Team Champions
- Ifan Bowen, Iwan Thomas, Macsen Toogood, Alex Coles
Welsh Inter-Regional Cross Country Championships Team Champions
- Ifan Bowen, Iwan Thomas, Macsen Toogood, Daniel Warrender, James Sloyan
Welsh Cross Country Championships WV40 Team Champions
- Wendy Price, Kate Lynock, Amanda Toogood
Top 10 UK
- Frank Morgan
- Osian Roberts
- Jessica Lee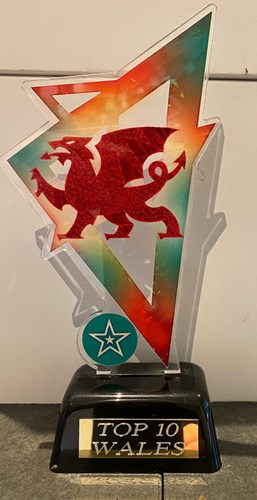 Top 10 Wales
- Casi Gregson
- Beatrice Morgan
- Ellie-May John
- Elli-May Williams
- Luned Medi Defis
- Jessica Lee
- Sophia Reid-Thomas
- Amy Greatrick
- Elen Mai Williams
- Ellie Loweth
- Zara Evans
- Lili Church
- Beca Roberts
- Eva Edwards
- Hugo Douglas
- Macsen Toogood
- William Coles
- Jac Jones
- James Sloyan
- Cai Allan
- Osian Roberts
- Zach Elvy
- Ifan Bowen
- Iwan Thomas,
- Alastair Donnison
- Frank Morgan
- Liam Edwards
- Dafydd Jones
- Connor Handford
- Morgan Batten
- Iestyn Williams
Senior Male and Female Athlete of the Year
- David Jones
- Wendy Price
Club Record 2019/2020
- Frank Morgan (Under 17 3000m, 8:33.80, Stretford, 15/09/2020)
- Osian Roberts (Under 15 High Jump, 1.88m, Yate, 20/09/2020)
- Jessica Lee (Under 15 200m, 25.55, Braunton, 13/09/2020)