Saturday 20th November was a big day as far as Welsh secondary schools and colleges and Regions were concerned, as roads from all eight Welsh Districts - Afan Nedd Tawe, Cardiff & Vale, Dyfed, Eryri, Glamorgan Valleys, North East Wales, Powys and South East Wales led to the Penlan Arena / High School in the centre of Brecon.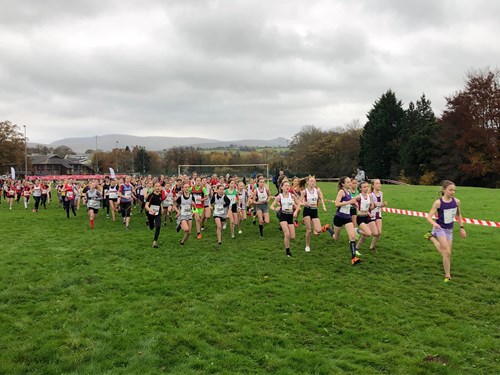 The 44th Welsh Inter Schools and Colleges Cross Country Championships and the 22nd edition of the Welsh Inter Regional Cross Country Championships combined into one event for the second time in Mid Wales.
The Welsh Inter Schools & Colleges Cross Country Championships made a return for the first time in two years in its usual Mid-November slot.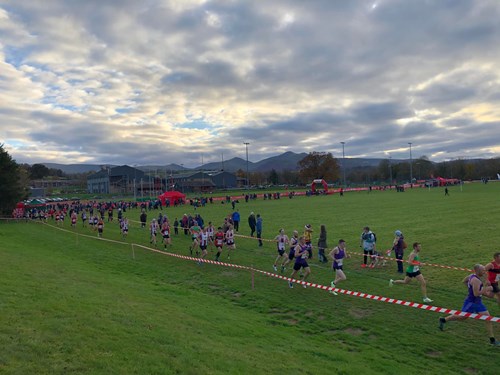 75 Welsh secondary schools and colleges entered the 2021 fixture which again incorporated the U17/20 Welsh Colleges Championships.
The four Welsh regions - West, South, East and North Wales - selected teams of 15 in each of the junior, senior and master age groups to represent the regions in the Welsh Inter Regional Cross Country Championships.
More than 700 competitors wore the red, purple, white and green vests of the region or their school vests as age group distances varied from 2,425m for the under 13 athletes up to the senior and master men's distance of 9,355m.
As in previous years, the 10-race programme began just before lunchtime with two 1,455m primary school races for boys and girls.
This was a great opportunity for those in years 5 and 6 to get involved in this high-quality event. 83 youngsters took part either as an individual or as part of a team within their club/school.
SUCCESS FOR WEST WALES IN THE WELSH INTER REGIONAL CROSS COUNTRY CHAMPIONSHIPS...
Selection for the West Wales team was at Cardiff on Saturday 16th October as part of the British Athletics Cardiff Cross Challenge & John H Collins Gwent Cross Country League fixture 1 in the Welsh Capital, reserves were also invited to compete to fill the team spaces.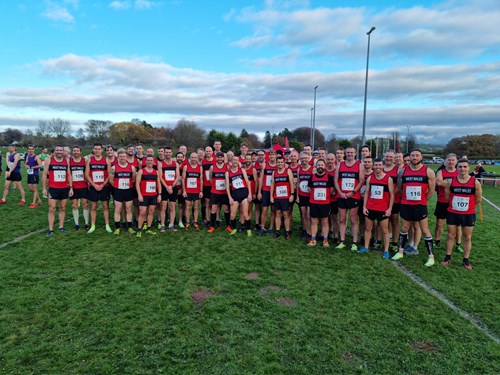 It turned out to be a successful day for the region across all age groups, coordinated by Rob Campion and Steve Hames and Tony Clements also assisting with team managing duties on the day.
Approximately 190 under 13, under 15, under 17, under 20, seniors and masters athletes from several West Wales clubs travelled to Brecon to take part in this year's Welsh Inter Regional Cross Country Championships.
A total of 13 medals were won individually for finishing in first, second or third position, matching the tally from 2019. In addition, West Wales team members were also on the podium in the team event (5/8 to score).
Gold, silver and bronze were awarded to the following thirteen age group categories: Senior Women, Master Female 35, Master Female 45, Master Female 55, Under 13 Girls, Under 13 Boys, Under 15 Girls, Under 15 Boys, Under 17 Men, Under 20 Men, Senior Men, Master Men 35 and Master Men 45.
The Under 13 Girls, Master Women 55 and Under 15 boys won team gold.
HARRIERS JUNIORS & SENIORS REPRESENT THEIR REGION / SCHOOL / COLLEGE...
Here's the Round-Up of Results which featured Carmarthen Harriers members: 36 club athletes represented their region, West Wales and their Dyfed secondary school on Saturday at Brecon.
There were excellent individual victories for William Coles and Iwan Thomas in the under 13 and under 15 boys' age groups respectively, who were also representing Ysgol Bro Dinefwr and Ysgol Glan Y Mor.
Da iawn i'r rhedwyr wnaeth cynrychioli Gorllewin Cymru/Harriers Caerfyrddin yn Aberhonddu.
PRIMARY SCHOOLS GIRLS / YSGOLION CYNRADD MERCHED
11 Lowri Morgan (6:38); 15 Megan Evans (6:52) 
UNDER 13 GIRLS / MERCHED O DAN 13
13 Amelia Williams (9:33); 21 Martha Morgan (10:03); 30 Esme Lynock (10:18); 50 Beatrice Morgan (10:57)
UNDER 13 BOYS / BECHGYN O DAN 13
1 William Coles (8:19); 18 Sam Griffiths (9:10); 35 Jimmy Davis (9:39); 60 Toby Anthony (10:03)
UNDER 15 GIRLS / MERCHED O DAN 15
22 Eleanor White (15:49); 25 Carys Wood (16:09); 26 Marged Jones (16:10); 29 Eleanor Fuller (16:12); 30 Mared Jones (16:13); 42 Frances Mackie (16:55); 64 Leah Regan (18:33)
UNDER 15 BOYS / BECHGYN O DAN 15
1 Iwan Thomas (12:23); 2 Finley Bruce (12:57); 13 Jake Lynock (13:27); 14 Ifan Bowen (13:30); 17 Alex Coles (13:37); 31 Joshua Barnett (14:13); 41 Aron Hedd Jones (14:37); 62 Liam Regan (15:33)
UNDER 17 WOMEN / MERCHED O DAN 17
27 Amy Greatrick (22:09)
UNDER 17 MEN / BECHGYN O DAN 17
15 Steffan Davies (23:03); 24 Jack Bruce (24:30); 25 Jack Thomas (24:33); 43 Rogan Cox (28:22); Thomas Jones
SENIOR WOMEN & MASTER WOMEN / MENYWOD
6 Wendy Price MW35 (24:59); 36 Rhian Bruce MW45 (32:45)
SENIOR MEN & MASTER MEN / DYNION
11 Cameron Young SM (31:59); 26 Isaac Ayres SM (33:58); 33 Huw Davies MM45 (39:15)
ALL THE RESULTS...
RESULTS/CANLYNIADAU: WELSH INTER-SCHOOLS & COLLEGES CROSS COUNTRY CHAMPIONSHIPS 2021
RESULTS/CANLYNIADAU: WELSH INTER-REGIONAL CROSS COUNTRY CHAMPIONSHIPS 2021
RESULTS/CANLYNIADIAU: PRIMARY SCHOOLS U11 GIRLS AND BOYS RACES