Two Carmarthen & District Harriers Athletics Club coaches have been recognised for their contributions to the sport of athletics in Wales recently.
The Welsh Athletics and Run Wales National Awards Evening 2022 was held at the Vale Resort Hotel, Hensol on Saturday evening 5th March alongside the Welsh Athletics and Run Wales Clubs Conference and Welsh Athletics Officials Conference weekend.
It honoured and rewarded the great work of Clubs, Groups, Coaches, Leaders, Officials, Volunteers and Athletes across Wales at all levels.
Carmarthen Harriers endurance coach Carol Jones was the recipient of the 'Welsh Athletics Participation Coach of the Year' Award.
Carol has been an endurance coach with Carmarthen Harriers for over 20 years. She coaches a very talented middle distance group twice a week at the Carmarthen Athletics Track and is always present at all the competitions entered by her squad of athletes.
Over the years she has coached very many Carmarthen Harriers athletes to win Welsh and Welsh schools middle distance championships and represent Wales and Welsh schools in international matches. 
She has been coach and team manager at many Welsh and Welsh schools international matches.
This year three of her athletes have either won UK championships, Welsh championships or competed for Wales in international matches.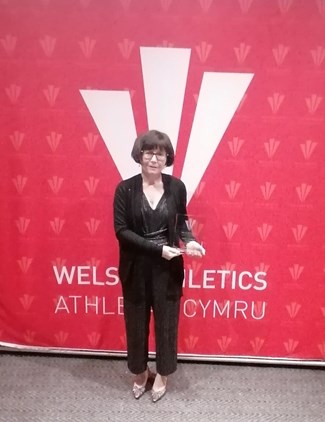 Carmarthen Harriers throws coach Ralph Siggery has received the 'Welsh Athletics Award of Honour' in 2021 by Welsh Athletics.
The award is made in recognition of a minimum of twenty five years of active service to the sport in Wales at club, schools, regional and/or national level.
Ralph has been coaching the javelin at Carmarthen Athletics Track for over 26 years. He was awarded the Welsh Athletics Meritorious Award in 2008.
He started coaching his daughter Alison in the javelin event in 1994. She was the first of scores of his athletes to win Welsh javelin championships and represent Wales in internationals every year since then.
Ralph at the age of 77 is still coaching the javelin regularly every week at Carmarthen Athletics Track. In 2021 he coached five Carmarthen Harriers Welsh age group javelin champions – Morgan Batten U20M, Cordelia Walker U17W, Sion O'Keefe U17M, Dolly Evans U15G and Summers Evans U13G.
More than thirty athletes he has coached have won Welsh championship medals and represented Welsh schools or Wales in the javelin discipline.
Other Carmarthen Harriers members who have received the Welsh Athletics Award of Honour over the years have included RB Ron Evans (1984); Dr Hedydd Davies (1998); Stephen Perks (2016), Kevin Evans (2020) and Dorrien Thomas (2020).