Following the staging of the Welsh Athletics and WSAA Indoor Combined Events Championships at the beginning of November, the National Indoor Athletics Centre at Cyncoed Campus, Cardiff will host the first of the Welsh Athletics Junior Open meetings, incorporating regional championships on Sunday 5th December.
The Welsh Athletics Junior Indoor Open (inc West Wales, South Wales, East Wales and South West England Regional Championships) will be held over two days in the Welsh Capital.
Day 1 - Sunday 5th December; Day 2 - Sunday 9th January
Athletes are allowed to enter a maximum of 2 events only on 5th December.
Entry Costs: £6 for 1 event, £10 for 2 events
There will be a limit on entry numbers in field events. These will be capped at 40 athletes on a first-come first-served basis.
Medals will be awarded to the top three in all events for West Wales, South Wales, East Wales and South West England Regions.

on Entry Day, ALL Athletes and parents must show a Covid 19 passport and or a lateral flow test image.
Closing Date for entries is THURSDAY 25TH NOVEMBER AT 17:00.
NOTE: The annual West Wales Indoor Athletics Championships at Swansea University Indoor Athletics Track will not take place in January 2022 in its usual format due to Covid restrictions.
As a result, West Wales Indoor Championships events this year will be incorporated into the Welsh Athletics Junior Indoor Open Meetings at Cardiff for ALL track and field disciplines (for Under 13 boys and girls, Under 15 boys and girls and Under 17 men and women age groups.)
PLEASE ENSURE ALL ATHLETES SELECT THEIR CORRECT REGION - for West Wales clubs, select West Wales, subject to eligiblity of:
BIRTH:- the athlete having been born in West Wales (Dyfed or West Glamorgan).
RESIDENCE:- a minumum of 9 months continous residence in West Wales immediately prior to this event.
Athletes must be affiliated to their club & Welsh Athletics to take part.
Day 2 of the Welsh Athletics Indoor Junior Open incorporating Regional Championships will take place at the beginning of the New Year on Sunday 9th January at the same venue.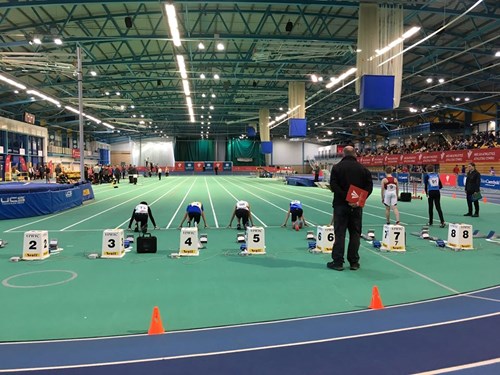 Event Programme for Day 1 on Sunday 05/12/21:
Under 13 Girls / Merched O Dan 13:
200m, High Jump, Long Jump 
Under 13 Boys / Bechgyn O Dan 13:
200m, High Jump, Shot Put
Under 15 Girls / Merched O Dan 15:
200m, 300m, High Jump, Long Jump
Under 15 Boys / Bechgyn O Dan 15:
200m, 300m, High Jump, Shot Put
Under 17 Women / Merched O Dan 17:
200m, 300m, High Jump, Triple Jump
Under 17 Men / Bechgyn O Dan 17:
200m, 400m, High Jump, Triple Jump, Shot Put
- To enter Day 1 of the Welsh Athletics Junior Indoor Open, incorporating Regional Championships at Cardiff on Sunday 5th December, CLICK HERE
- For a list of Entries for Day 1 of the Welsh Junior Indoor Open, incorporating Regional Championships at Cardiff on Sunday 5th December, CLICK HERE
Venue:
National Indoor Athletics Centre, Cardiff Metropolitan University Cyncoed Campus, Cardiff, CF23 6XD