The final leg of the 2021 / 2022 British Athletics Cross Challenge Series incorporating the UK Inter-Counties Cross Country Championships returned to the setting of Prestwold Hall, Loughborough on Saturday 12th March.
This year's Cross Challenge Series had already visited Cardiff, Milton Keynes, Liverpool and Belfast between October 2021-January 2022 and finished a month later in Leicestershire.
It attracted hundreds of novice and elite runners as the cross country season came to a close. More than 40 counties across the United Kingdom entered teams, with races ranging from under 13s to seniors.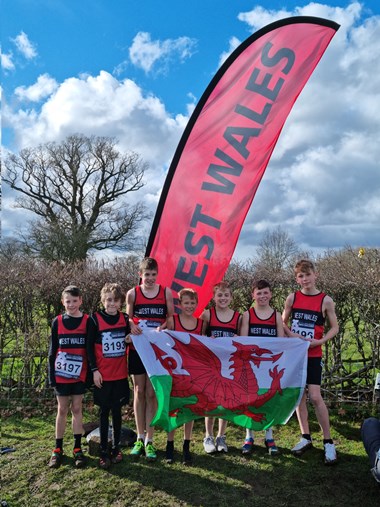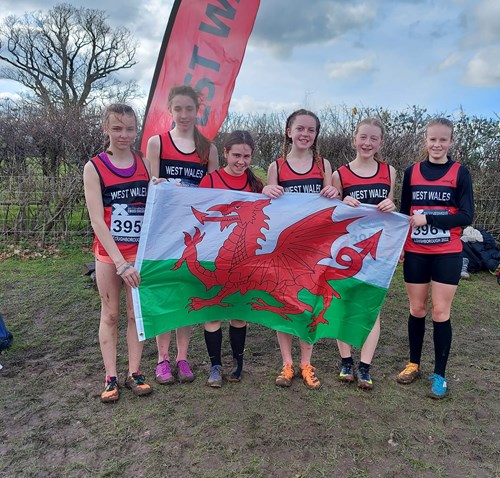 Thirty-six West Wales club athletes travelled up to Loughborough to compete in this high-quality fixture. Those who made the trip were from the Pembrokeshire Harriers, Carmarthen Harriers, Neath Harriers, Swansea Harriers. Llanelli Athletics Club and Celtic Tri clubs.
Many thanks to Rob Campion (Llanelli AAC), the region's team manager in Loughborough in the lead up and on the day.
Thirteen Carmarthen Harriers endurance athletes made the journey to Loughborough to represent the West Wales region.
After competing across the UK in the previous four events, William Coles and Iwan Thomas both finished in third positions overall in the 2021/2022 U13 Boys and U15 Boys Individual British Athletics Cross Challenge Series!
Carmarthen Harriers athletes' results below:
Under 13 Boys: William Coles (12:17); Sam Griffiths (14:23); Jimmy Davis (14:27)
Under 13 Girls: Esme Lynock (15:43)
Under 15 Boys: Iwan Thomas (14:12); Finley Bruce (14:56); Jake Lynock (15:43); Ifan Bowen (15:47); Joshua Barnett (16:23)
Under 15 Girls: Eleanor White (18:35); Marged Jones (19:21)
Under 17 Men: Steffan Davies (26:20); Jack Bruce (27:33)
24 hours later closer to home, the Vault Cardiff 2022 competition returned to the National Indoor Athletics Centre in the Welsh Capital on Sunday 13th March.
With entries all filled in a short space of time, over 130 vaulters were set to compete split across 9 pools and 3 beds. Vault Cardiff is part of the Vault Britain Series of pole vault only competitions.
Carmarthen Harriers athletes' results below:
Under 13 Boys: Jeston Allan (1.91m)
Under 15 Girls: Cerys Angharad Jones (2.21m)
Under 20 Men: Connor Handford (2.91m)