Welsh Schools track and field events made a welcome return  at the beginning of July (2nd and 6th July) after a three-year gap. Secondary school and college pupils were in action at both Cardiff and Aberdare in the space of four days.
The 73rd edition of the Welsh Schools National Track & Field Championships returned to the Cardiff International Sports Athletics Stadium, Leckwith on Saturday 2nd July.
There were over 400 athletes competing, representing one of the eight districts - Afan Nedd Tawe, Cardiff & Vale, Dyfed, Eryri, Glamorgan Valleys, North East Wales, Powys and South East Wales. The age groups were: Junior (Year 8 & 9); Middle (Year 10 & 11) and Senior (Year 12 & 13).
For many, SIAB Schools International call ups were at stake as the annual fixture between Wales, England, Scotland and Ireland takes place in Belfast, Ireland in under two weeks' time (16th July) with the team now selected.
Young athletes from around twenty Dyfed secondary schools and colleges (Pembrokeshire, Llanelli, Brianne and Ceredigion areas) were selected to compete in the Welsh Capital following the district's athletics championships at Carmarthen Athletics Track a few weeks ago. The team of sixty sprinters, endurance runners, jumpers and throwers included a mix of club athletes as well as those experiencing Welsh schools championships for the first time.
Thanks to the teachers from Dyfed who selected teams and prepared the athletes as well as Phil Bowen, Chris Thomas, Carol Jones and Berian Davies who entered teams and did a great job team managing and officiating in Cardiff.
Dyfed Schools athletes 2022:
Cai Allen, Finley Saycell, Carter Norris, Joe Wood, Mathew Mitchell, Noa Harries, William Harries, Finley Bruce, Iwan Thomas, Daniel Price, Rhys Williams, Sam Williams, Oliver Somerfield, Iestyn Davies, Charlie Penny, Ifan Bowen, Iwan Wilson, Osian Roberts, Dafydd Pawlett, Liam Edwards, Frank Morgan, Meirion Lloyd, Callum White, Rhys Lewis, Oscar Willington, Rhys Llewellyn, Cellan Alcock, Ollie Lloyd, Jake Lynock
Cerys Angharad Jones, Carys Kenniford, Amelia Wiliams, Yasmin Burgess-Williams, Nele Owens, Dolly Evans, Ellimay Williams, Connie Crook, Mari Wilson, Beatrice Morgan, Lleucu Lloyd, Ffion Ouseley, Frances Mackie, Storm Evans, Sophia Reid-Thomas, Jessica Lee, Ellie Loweth, Caitlin Chapman, Tia Williams, Lara Thomas, Holly John, Lily Rose Cornelius, Eleanor White, Gracie Griffiths, Amy Tucker, Amy White, Cordelia Walker, Menna Bennett.
Carmarthen Harriers athletes representing Dyfed Schools in Cardiff, returning home with 21 medals:
Carter Norris: 100m (12:10); 200m (24.61) & 4 x 100m Relay
Liam Edwards: 800m (1:59.42)
Frank Morgan: 1500m (4:18.69)
Ifan Bowen: 1500m (4:24.05)
Iwan Thomas: 1500m Steeplechase (4:37.77)
Finley Bruce: 3000m (9:11.03)
Jake Lynock: 3000m (9:38.90)
Ellimay Williams: 100m (12:79); 300m (41.84) & 4 x 100m Relay
Ellie Loweth: 100m (13.21) & 400m Hurdles (78.82)
Sophia Reid-Thomas: 100m (13.68) & 4 x 100m Relay
Beatrice Morgan: 200m (26.49); 75m Hurdles (12.30) & 4 x 100m Relay
Jessica Lee: 300m (40.02); Long Jump (5.76m) & 4 x 100m Relay
Amelia Williams: 1500m (5:20.77)
Frances Mackie: 1500m (5:31.05)
Eleanor White: 3000m (11:50.50)
Storm Evans: Shot (10.45m) & Discus (37.59m)
Dolly Evans: Discus (27.87m)
Cerys Angharad Jones: Pole Vault (2.40m)
Cordelia Walker: Javelin (39.06m)
WELSH SCHOOLS NATIONAL TRACK & FIELD CHAMPIONSHIPS - CARDIFF - RESULTS/CANLYNIADAU
EVENT PHOTOGRAPHS - LINK 1 (credit: Paul Stillman)
EVENT PHOTOGRAPHS - LINK 2 (credit: Paul Stillman)
EVENT PHOTOGRAPHS - LINK 3 (credit: Paul Stillman)
EVENT PHOTOGRAPHS - LINK 4 (credit: Paul Stillman)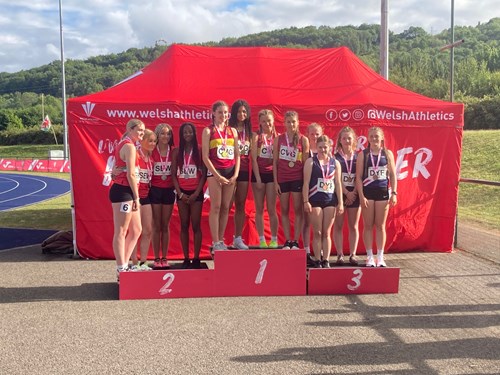 At one of the biggest grass roots competitions for secondary schools in the summer term, the midweek NASUWT Cymru Wales Cup & Plate Finals took place at a new venue this year in perfect conditions - the Ron Jones Stadium in Aberdare on Wednesday 6th July.
The cup competition has been organised each year since 1988 while the plate final was added twenty years later. Thirty-five schools from across the eight districts in Wales qualified for finals day and travelled to the facility in Rhondda Cynon Taf. Each district had one team in the cup competition and one team in the plate competition per age group.
On a great afternoon of athletics, the under 14's and the under 16 age groups competed in the sprint hurdles, 100m, 200m, 300m, 800m, 1500m, 4 x 100m Relay, Long Jump, Triple Jump, High Jump, Shot, Discus and Javelin over a five-hour programme.
Six schools and eight teams from Dyfed qualified to represent the District in Aberdare, congratulations to all the schools and athletes on their performances. Ysgol Bro Dinefwr were the winners of the U14G Plate, as well as Haverfordwest High U16B Cup and QE High U16G Plate.
Under 14 Girls - CUP: Ysgol Bro Myrddin 6th - PLATE: Ysgol Bro Dinefwri 1st
Under 14 Boys - CUP: Haverfordwest High School 4th - PLATE: Ysgol Dyffryn Aman 3rd
Under 16 Girls - CUP: Ysgol Bro Myrddin 3rd - PLATE: QE High 1st
Under 16 Boys - CUP: Ysgol Dyffryn Aman 2nd - PLATE: Haverfordwest High School 1st
WELSH SCHOOLS NASUWT CUP & PLATE FINAL- ABERDARE - RESULTS/CANLYNIADAU