Wednesday 8th June and Monday 13th June saw the Dyfed Schools Athletics Championships return to the refurbished Carmarthen Leisure Centre Athletics Track in Johnstown for the first time in three years.
It saw approximately 300 athletes in year 7 to sixth form compete from more than 20 schools and colleges in the Pembrokeshire, Brianne, Llanelli and Ceredigion areas.
The top two finishers in each event from the four area championships last month at Carmarthen qualified to represent their area at the two-day weekday event (along with athletes in the other disciplines).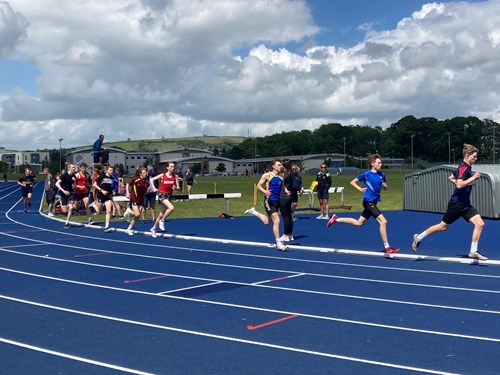 The action got underway last Wednesday daytime as the majority of events were held over a five-hour timetable - 100m/200m/300m/400m sprints, sprint hurdles, 800m and 1500m, long jump, triple jump, high jump, shot, javelin and discus.
The other six disciplines were completed five days later on Monday evening of this week, including the 300m hurdles, 1000m Walk, 1500m steeplechase and 3000m along with the hammer and pole vault.
Dyfed Schools Championships records were broken in the following events, congratulations to:
- Summer Evans (QE High): Year 7 Girls Javelin (32.30m) & Discus (21.69m)
- Beatrice Morgan (Bro Dinefwr): Year 8 Girls 200m (26.3 - Equal Record)
- Jack Beddowes (Henry Richard): Year 7 Boys Discus (18.99m)
- Dafydd Pawlett (Pembrokeshire College): Senior Boys Shot (16.78m)
- Gracie Griffiths (Haverfordwest High): Middle Girls 1000m Walk (4:28.7)
- Amy Tucker (Coleg Sir Gar): Senior Girls 1500m Steeplechase (6:58.8)
Thanks go to all the Welsh Athletics officials and school teachers from all four areas who helped and ensured that the event ran smoothly, whether it was track judging, timekeeping, starter, field judging or non technical duties.
A Dyfed Schools team for the Welsh Schools National Track and Field Championships to be held on Saturday 2nd July at Cardiff International Sports Stadium, will be selected following the Dyfed schools championships.
The event on 2nd July will feature junior, middle and senior teams from Afan Nedd Tawe, Cardiff & Vale, Dyfed, Eryri, Glamorgan Valleys, North East Wales, Powys and South East Wales with Welsh Schools selection for the SIAB Schools Track & Field International in Belfast on offer.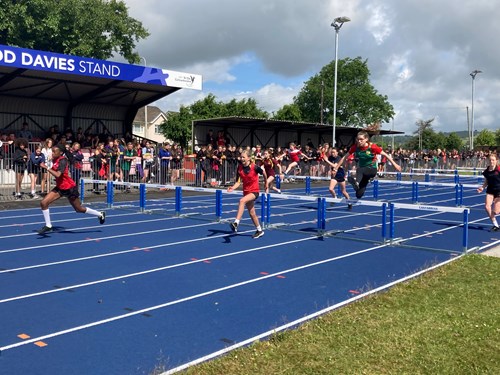 RESULTS AVAILABLE HERE / CANLYNIADAU AR GAEL YMA
Results from the Dyfed Schools Championships 2022 can be viewed by clicking below. Wednesday's results opens as an Excel Spreadsheet.xls and separated by age group, click the tabs at the bottom to choose the category:
DAY 1 08.06.22: DYFED SCHOOLS ATHLETICS CHAMPIONSHIPS 2022 RESULTS / DIWRNOD 1 08.06.22: CANLYNIADAU PENCAMPWRIAETH ATHLETAU YSGOLION DYFED 2022
DAY 2 13.06.22: DYFED SCHOOLS ATHLETICS CHAMPIONSHIPS 2022 RESULTS / DIWRNOD 2 13.06.22: CANLYNIADAU PENCAMPWRIAETH ATHLETAU YSGOLION DYFED 2022