Birmingham, Cardiff, Carmarthen, Oordegem (Belgium) and Swansea were the locations for the latest track and field and road running events locally and internationally between Saturday 21st May and Sunday 29th May. 
Ben Thomas got the opportunity to compete at the refurbished Alexander Stadium in Birmingham, the venue for this year's Commonwealth Games (athletics events) later on in the summer. At the Muller Diamond Athletics League event on 21st May, Thomas ran 9:04.23 in the men's 3000m steeplechase for fourth place & improving his own Carmarthen Harriers club record for the discipline.
The Brecon Carreg Cardiff Bay 10K returned to its usual date in May with more than 2,000 runners in attendance.
The club committee organised an informal club time trial event for U11 to U15 athletes from Carmarthen Harriers, Pembrokeshire Harriers and Llanelli Athletics Club on Saturday. The events on offer were 75m, 100m, 800m, long jump and shot put and saw thirty Harriers members take part on their home track in Johnstown. The postponed Welsh Athletics Junior Development League fixture at Neath - now the second event of the season - has been re-arranged provisionally for Sunday 21st August.
Out in Oordegem in Belgium on Saturday evening, Ben Thomas, Dafydd Jones and Frank Morgan travelled to run at the IFAM OORDEGEM World Athletics Continental Tour Challenger Meeting, supported by coaches Neil Thomas and Carol Jones. Thomas and Jones' finish times ensured that Carmarthen Harriers club records were again broken in their respective disciplines!
24 hours later at Swansea University, under 17 and under 20 athletes were competing as part of the West Wales composite team at the second Youth Development League Midland Premier South/West Division fixture of the 2022 season, run as a double-header with the South/West A Division.
Here's a results round-up from events between 21st May and 29th May 2022...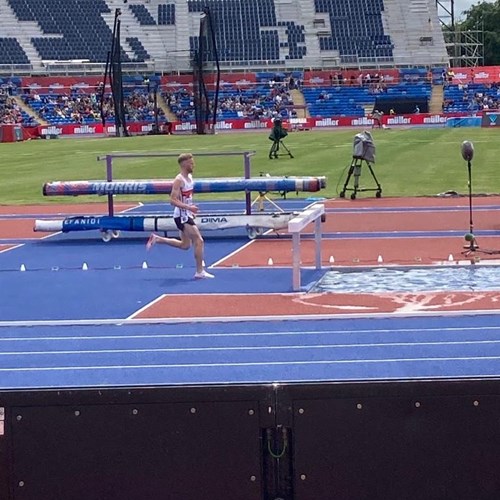 Muller Diamond Athletics League - Alexander Stadium, Birmingham - Saturday 21st May
Ben Thomas - 3000m Steeplechase (9:04.23)
Brecon Carreg Cardiff Bay 10K 2022 - Sunday 22nd May
Gill Edwards - 10K (55:10)
Amanda Toogood - 10K (1:04:38)
Club Time Trial Event (Carmarthen Harriers, Pembrokeshire Harriers, Llanelli AAC) - Carmarthen Athletics Track - Saturday 28th May
Megan Evans - 75m (11.7), 800m (3:20.0), Shot (3.42m), Long Jump (3.40m)
Leah Defis - 75m (11.9)
Paige-Lily Williams - 75m (12.2), 800m (3:15.0), Shot (3.46m), Long Jump (3.07m)
Alys Jones - 75m (13.2), 800m (3:23.0), Shot (3.97m), Long Jump (3.05m)
Elliw Jones- 75m (14.1), 800m (3:32.0)
Leah Defis - Shot (3.00m), Long Jump (2.62m)
Evan Enoch - 75m (10.4), Shot (4.20m), Long Jump (2.87m)
Cian Murphy - 75m (10.9), Long Jump (3.12m)
Tomos Cai Davies - 75m (11.0), 800m (2:46.0), Shot (4.40m), Long Jump (3.51m)
Ellis Mathews - 75m (11.8), Shot (4.23m), Long Jump (2.83m)
Oscar Toogood - Shot (3.49m)
Gethin Thomas - 75m (11.9), 800m (2:56.8), Shot (2.94m), Long Jump (3.00m)
Menna Fielder-Hobbs - 100m (14.2), 800m (3:18.7), Shot (3.68m), Long Jump (3.62m)
Gwenan Fflur Jones - 100m (14.7), Long Jump (3.66m)
Olivia Thomas - 100m (16.1)
Lily Saint - 100m (17.5), Long Jump (2.70m)
Toby Anthony - 800m (2:35.8)
Anna Jones - 800m (3:04.8), Long Jump (3.39m)
Eden Turnbull - 800m (3:32.5), Long Jump (2.44m)
Beatrice Morgan- 100m (12.1), Shot (6.65m), Long Jump (4.56m)
Ffion Bowen - 100m (13.3)
Hana Owen - 100m (13.9)
Sara Davies - 100m (14.2)
Rhiannon Milligan - 100m (15.3), Long Jump (2.41m)
Ffion Thomas - 100m (16.1), 800m (2:36.9), Shot (3.52m), Long Jump (3.42m)
Macsen Toogood - 100m (12.6), 800m (2:18.8)
Joshua Barnett - 100m (13.6), 800m (2:26.5)
Amelia Williams - 800m (2:36.6)
Marged Jones - 800m (2:47.5), Shot (4.84m), Long Jump (3.62m)
Anatasia Eggleston-Stokes - 800m (2:50.4), Long Jump (3.41m)
Megan Thomas - Shot (5.37m), Long Jump (2.80m)
Luned Defis - Long Jump (4.33m)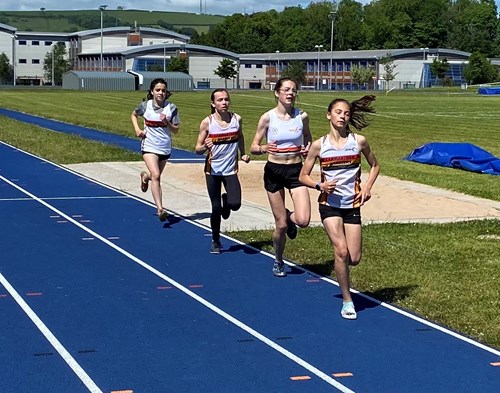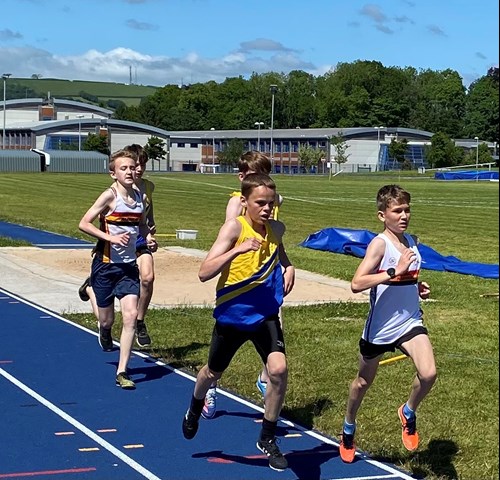 IFAM OORDEGEM World Athletics Continental Tour Challenger Meeting - Oordegem, Belgium - Saturday 28th May
Ben Thomas - 3000m steeplechase (8:58.79)
Dafydd Jones - 5000m (14:10.62)
Frank Morgan - 1500m (3:54.09)
UK Youth Development League UAG U17 & U20 Midland Premier South/West 2 - Swansea University Athletics Track - Sunday 29th May
Jessica Lee - 300m (40.13), High Jump (1.50m), Javelin (24.38m) & Relay
Eleanor Fuller - 300m (46.91)
Frances Mackie - 800m (2:26.98), 1500m (5:20.91) & Relay
Carys Wood - 1500m (5:38.49)
Eleanor White - 3000m (11:34.68) & Relay
Nell Evans - 100m (14.38), 200m (31.12) & Relay
Cordelia Walker - Javelin (36.42m), Shot (8.43m), Discus (23.26m)
Ellie Loweth - 100m (12.98), 200m (27.48), Discus (16.70m) & Relay
Lili Church - High Jump (1.70m), Javelin (28.47m)
Iwan Thomas - 800m (2:11.21), 1500m Steeplechase (4:40.80) & Relay
Steffan Davies - 1500m (4:30.61)
Jake Lynock - 800m (2:12.85); 3000m (9:23.03) & Relay
Finley Bruce - 3000m (9:28.12) & Relay
Ifan Bowen - 3000m (9:42.51)
Tygan Davies - 200m (26.78), 400m (60.99), Long Jump (4.37m) & Relay