The latest track and field and road fixtures were held between Saturday 18th June and Sunday 26th June, where Swansea, Bedford, Carmarthen, Salem, Felinfach and Cheltenham hosted events as the summer campaign reached the half way mark.
Jessica Lee entered the England Athletics U15 & U17 Combined Events Championships at Bedford Stadium. Competing in the heptathlon - seven events over two days - Lee was victorious in the under 17 women's age group with 4,656 points, first in the 200m and long jump events and picking up three new personal bests along the way.
The Welsh Athletics Event Specific Open Meetings returned in the middle of June after two competitions at Cardiff last month. First up was the Sprints, Hurdles & Jumps Events Meeting for under 17, under 20 and seniors at a wet Swansea.
Twenty-two Carmarthen Harriers athletes were able to compete on their home track at a league fixture for the first time this season when the Welsh Athletics Endurance & Jumps Open Meeting was held in midweek at the Leisure Centre Track four days later on Wednesday 22nd June. Almost 100 athletes from clubs across Wales and further afield took part in the disciplines on offer - 800m, 1500m, 3K Walk, Steeplechase, Long Jump and Pole Vault.
Also returning on Wednesday 22nd June was the annual Ammanford Junior Fun Run at the Recreation Ground, organised by the local club Amman Valley Harriers and sponsored by Healthy Life Activities. There were races for reception children up to year 7 and 8.
Other fun runs during the same week was the Salem 5K near Llandeilo and the Felinfach fun run for both juniors and seniors.
Under 17 and under 20 athletes were competing as part of the West Wales composite team at the third Youth Development League Midland Premier South/West Division fixture of the 2022 season, run as a double-header with the South/West A Division in Cheltenham.
Here's a results round-up from events between 18th June and 26th June 2022...
Welsh Athletics Event Specific Sprints & Jumps Meeting - Swansea University - Saturday 18th June
Ellie Loweth - 100m (13.29); 200m (26.98)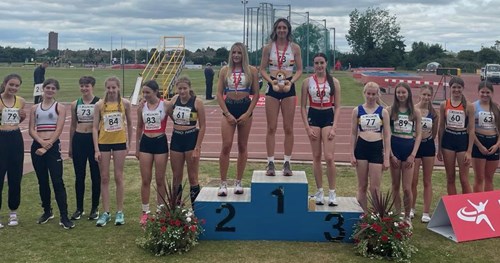 England Athletics U17 Combined Events Championships - Bedford Stadium - 18th & 19th June
Jessica Lee - Heptathlon - 80m Hurdles (12.80); High Jump (1.62m); Shot (9.40m); 200m (25.02); Long Jump (5.82m); Javelin (21.37m); 800m (2:28.21)
Welsh Athletics Event Specific Endurance & Jumps Meeting - Carmarthen Track - Wednesday 22nd June
Jack Bruce - 800m (2:09.95)
Ifan Bowen - 800m (2:12.11)
Eleanor Fuller - 800m (2:37.17)
Macy Blue - 800m (2:41.67)
Gethin Thomas - 800m (2:46.96)
Anatasia Eggleston-Stoker - 800m (2:54.89)
Lowri Morgan - 800m (2:56.37)
Greta McKane - 800m (3:02.43)
Anna Jones - 800m (3:03.59)
Harri Blue - 800m (3:06.36)
Jake Lynock - 1500m (4:24.90)
Finley Bruce - 1500m (4:24.94)
Daniel Warrender - 1500m (4:51.23)
Macsen Toogood - 1500m (4:52.81)
Sam Griffiths - 1500m (4:54.23)
Aron Hedd Jones - 1500m (5:03.62)
Liam Regan - 1500m (5:07.00)
Toby Anthony - 1500m (5:16.09)
Frances Mackie - 1500m (5:31.92)
Joshua Palmer - 1500m (5:39.27)
Leah Regan - 1500m (6:02.58); Long Jump (3.70m)
Joshua Barnett - 1500m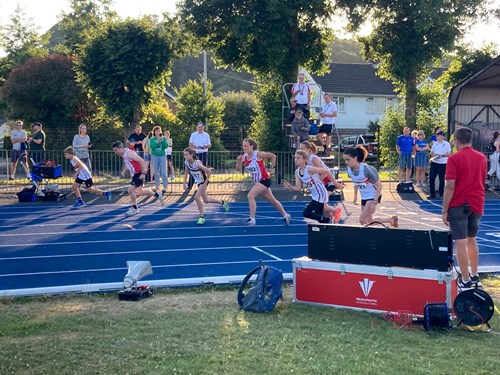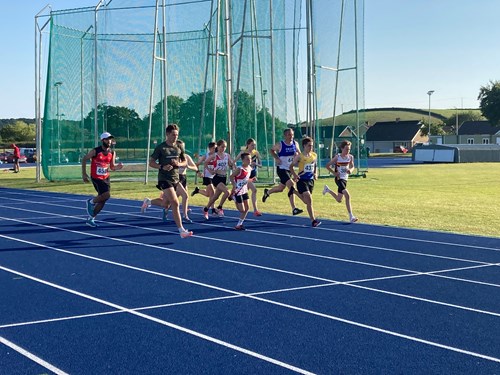 Felinfach Fun Run - Felinfach - Friday 24th June
Liam Regan - 3000m (11:03)
Leah Regan - 3000m (13:27)
Salem 5K Fun Run - Llandeilo - Friday 24th June
Huw Davies - 5K (20:47)
Liz Tremlett - 5K (22:15)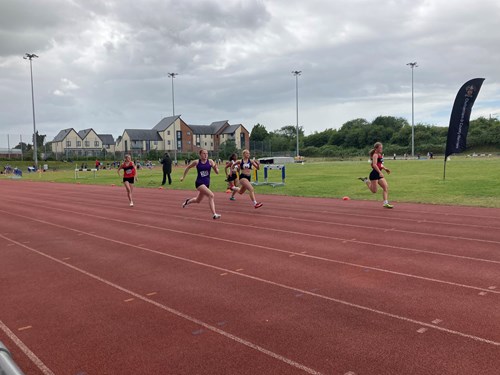 UK Youth Development League UAG U17 & U20 Midland Premier South/West 3 - Cheltenham - Sunday 26th June
Ellie Loweth - 100m (12.8); 200m (27.2); Discus (17.03m) & Relay
Jessica Lee - 100m (12.2); 200m (25.5); Shot (8.25m) & Relay
Sophia Reid-Thomas - 100m (13.3); 200m (27.5); Shot (7.17) & Relay
Cordelia Walker - Javelin (38.34m)
Iwan Thomas - Discus (14.98m)