Athletics competition returned to Carmarthen this week as the first Welsh Athletics event was held at the new Carmarthen Athletics Track facility.
Fe wnaeth cystadleuaeth athletau dychwelyd i Gaerfyrddin yr wythnos hon wrth i digwyddiad cyntaf Athletau Cymru gael ei cynnal ar cyfleuster newydd Trac Athletau Caerfyrddin.
The track in Johnstown, home of Carmarthen Harriers, was resurfaced, improved and upgraded from a six-lane to an eight-lane track last year during the pandemic. Work was completed by contractors and partners from March to October 2020 and the track was officially opened on 12 November 2020.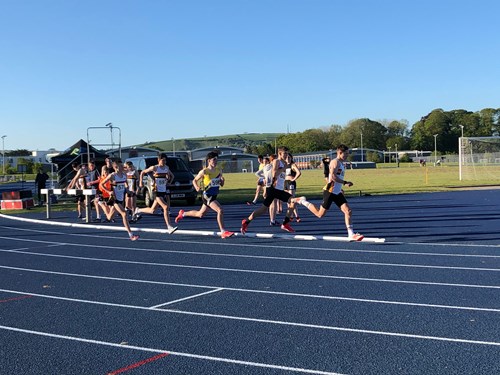 Six months later and after another Wales-wide National lockdown, the new facility at Carmarthen Leisure Centre welcomed older age group athletes, coaches, officials and spectators for the first time on Wednesday evening, 26th May as Welsh Athletics organised the latest of its event specific fixtures on a sunny evening in West Wales.
Endurance and jumps took centre stage in this midweek fixture open to under 15, under 17, under 20 and senior age group athletes, with events including a total of twelve 800m, 1500m and 5000m races altogether on the track, as well as five competing in the triple jump.
Seventy eight athletes from more than 15 clubs competed on Wednesday. Clubs represented in Carmarthen were Swansea Harriers, Carmarthen Harriers, Cardiff Archers, Cardiff Athletics, Pembrokeshire Harriers, Llanelli AC, Aberdare Valley AAC, Neath Harriers, Les Croupiers AC, Cwmbran Harriers, Pontypridd Roadents AC, Barry and Vale Harriers, Amman Valley Harriers, Tri Hard Harriers, Cardiff Metropolitan University, Newquay & Par AC, Stratford Upon Avon AC and Shrewsbury AC.
A total of twenty Carmarthen Harriers members entered and got the opportunity to compete on their home track for the first time since 2019. There were great individual performances and a number of new personal bests recorded as the 2021 track and field season gets underway this month. Da iawn pawb!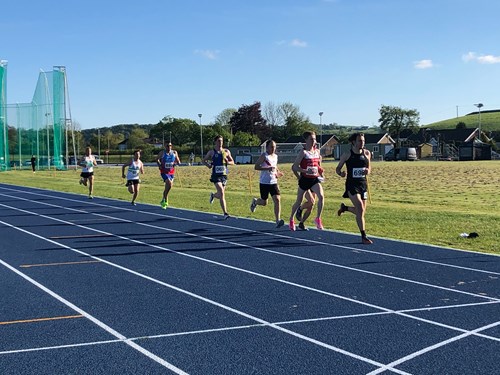 Since COVID-19 restrictions were eased from the end of March and into April, Welsh Athletics have so far organised a number of event specific and open meetings spread across several disciplines for some age groups such as - Run With The Wind Sprints, Endurance, Jumps and Throws events at Aberdare, Newport, Cardiff and Swansea.
Upcoming Welsh Athletics events over the next few weeks includes the Welsh 5K Series, Open track and field weekends for under 13 to senior age groups as well as further event specific throws, jumps and endurance days (held in line with current Welsh Government guidelines at the time)
It was great to see athletics back! Thanks to the volunteers and officials on the track and field for their support.
CARMARTHEN HARRIERS RESULTS IN FULL / CANLYNIADAU HARRIERS CAERFYRDDIN YN LLAWN:
800m:
Iestyn Williams SM (1:53.75)
Frank Morgan U17 (1:56.06)
Zach Elvy U17 (2:15.87)
Steffan Davies U17 (2:16.40)
Ellis Caddick U17 (2:35.29)
Emma Ferns U17 (2:45.80)
Ifan Bowen U15 (2:16.59)
Macsen Toogood U15 (2:20.77)
Jake Lynock U15 (2:21.22)
Iwan Thomas U15 (2:22.79)
Megan Williams U15 (2:40.28)
1500m:
Jack Bruce U17 (4:46.84)
Amy Greatrick U17 (6:06.83)
Finley Bruce U15 (4:47.78)
Joshua Barnett U15 (5:24.50)
Frances Mackie U15 (5:21.16)
Carys Wood U15 (5:24.58)
Eleanor Fuller U15 (5:31.33)
Triple Jump:
Beca Roberts U20 (11.44m)
Zara Evans U17 (10.25m)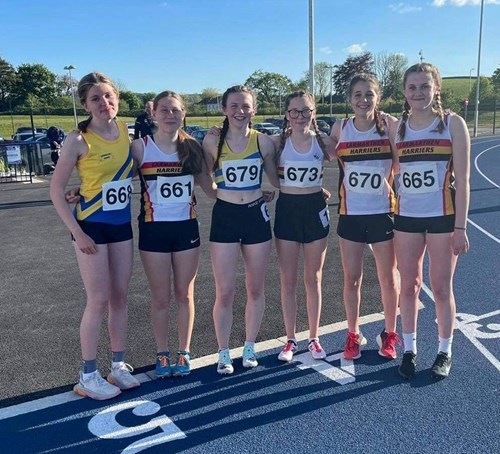 FULL RESULTS / CANLYNIADAU LLAWN 26/05/21:
Triple Jump - (Under 17, Under 20, Seniors)
1500m - (Under 15, Under 17, Under 20, Seniors)
5000m - (Under 20, Seniors)
800m - (Under 15, Under 17, Under 20, Seniors)