A number of track and field and road running fixtures were held between Friday 1st July and Sunday 17th July, as the summer campaign entered the second half of the season. Recent club and international events went to Cwmann, Cardiff, Coventry, Porthcawl, Finland, Aberdare, Nantgaredig, Birmingham, Belfast and Bedford.
The Welsh Inter-Regional Track & Field Championships 2022 took place on an earlier date in the calendar. Three of the four Welsh regions were involved at the Ron Jones Stadium – West, South & East Wales.
Sixty West Wales athletes including fourteen Carmarthen Harriers members (U15, U17, U20 & Senior age groups) travelled to Aberdare.
Ten Dyfed Schools athletes (including five from Carmarthen Harriers) were selected to represent Welsh Schools at the weekend's SIAB Schools U17 Track & Field International, this year in Belfast (Ireland).
Congratulations to Jessica Lee, Storm Evans, Cordelia Walker, Iwan Thomas and Finley Bruce for being selected, and to Jess for winning gold and silver in the long jump and 4 x 100m relay respectively.
Club Athletes were also competing at the National Junior Para Championships, Javelin Festival, and Healthspan Porthcawl Future Challengers at the beginning of the month, as well as two events in four days at Birmingham University - British Milers Club Gold Standard Race and University of Birmingham Track & Field Festival.
Three weeks after the U15 & U17 combined events, Bedford staged the England Athletics U20 & U23 Championships over two-days, where Lili Church and Ben Thomas came away with a silver and bronze medal.
Elsewhere, there were annual fun runs held locally, at Cwmann and Nantgaredig at the Cwmann 5 and Nantgaredig 5K Fun Run respectively.
Here's a results round-up from events between 1st July and 17th July 2022...
Cwmann 5 Mile & Junior Fun Run - Lampeter - Friday 1st July
Liam Regan - 1500m (9:28)
Leah Regan - 1500m (11:20)
National Junior Para Athletics Championships - Coventry - Saturday 2nd July
Mia Lloyd - T63 100m (26.20)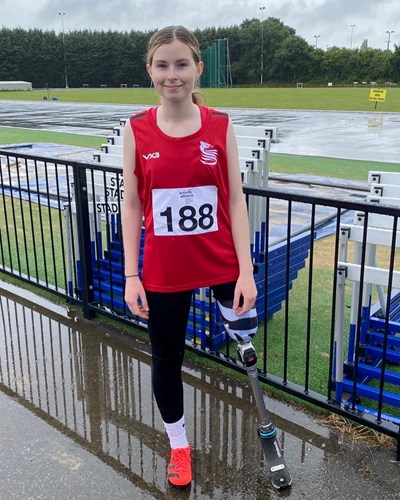 Healthspan Porthcawl Future Challengers - Porthcawl - Sunday 3rd July
Lowri Morgan - (6:35)
Deian Morgan - (7:34)
Javelin Carnival - Pihtipudas, Finland
Morgan Batten - Javelin (48.86m)
British Milers Club Gold Standard Race - Birmingham University - Wednesday 6th July
Frank Morgan - 1500m (4:00.14)
Ras Hwyl Nantgaredig 5K & Junior Fun Run - Nantgaredig - Friday 8th July
Ifan Bowen - 5K (16:36)
Jack Tremlett - 5K (16:57)
Steffan Davies - 5K (17:17)
Huw Davies - 5K (19:27)
Dafydd Bowen - 5K (20:09)
University of Birmingham Track & Field Festival - Birmingham - Saturday 9th July
Lili Church - High Jump (1.74m)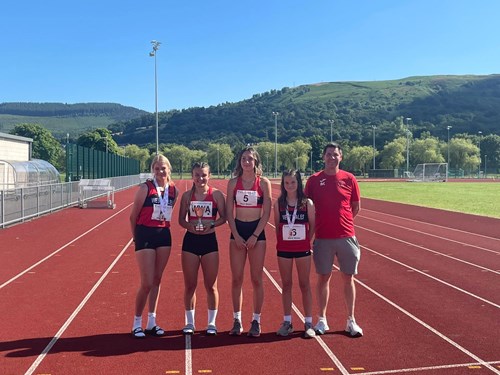 Welsh Inter-Regional Track & Field Championships - Ron Jones Stadium, Aberdare - Sunday 10th July
Lewis Evans - 100m (11.12)
Carter Norris - 100m (12.05); 300m (41.20) & 4 x 300m (2:56.53)
Finley Bruce - 1500m (4:22.78)
Jake Lynock - 1500m (4:27.06)
Daniel Warrender - 1500m (5:02.79)
Tygan Davies - 4 x 400m (3:48.44)
Morgan Batten - Javelin (50.48m)
Jessica Lee - 100m (12.75); Long Jump (5.40m) & 4 x 300m (2:58.02)
Ellimay Williams - 100m (12.57)
Beatrice Morgan - 100m (12.74)
Ellie Loweth - 100m (13.08); SEN Medley Relay (4:00.17)
Mared Jones - 300m (45.23) & 4 x 300m (3:02.09)
Casi Gregson - 4 x 300m (3:02.09)
Cordelia Walker - Javelin (36.88m)
British Milers Club Regional Races - Loughborough - Wednesday 13th July
Liam Edwards - 3000m (8:40.47)
SIAB Schools U17 Track & Field International - Belfast, Ireland - Saturday 16th July
Jessica Lee - 200m (25.82), Long Jump (6.06) & 4 x 100m (46.97)
Storm Evans - Shot (10.81m) & Discus (37.29m)
Cordelia Walker - Javelin (37.92m)
Iwan Thomas - 1500m Steeplechase (4:33.25)
Finley Bruce - 3000m (9:01.58)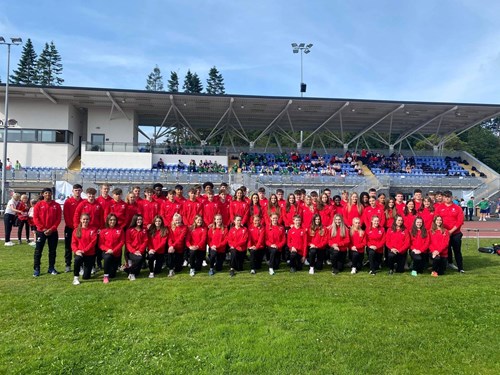 England Athletics U20 & U23 Championships - Bedford Stadium - Saturday 16th July
Ben Thomas - 3000m Steeplechase (9:32.20)
Lili Church - High Jump (1.75m)