A team of sixty-seven young athletes represented the Welsh Schools Athletic Association on Saturday (25th September) at the traditional showpiece event of the Schools Track & Field calendar with six Carmarthen Harriers members among them.
It was re-arranged from mid-July to the end of September as a result of the COVID-19 restrictions back in the summer. All roads for athletes, team managers, coaches and supporters from English Schools, Welsh Schools, Irish Schools and Scottish Schools led to the Moorways Athletics Stadium in Derby for the end-of-season fixture hosted this time round by English Schools.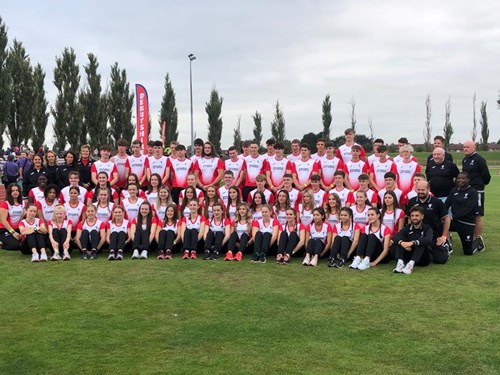 This was an International team competition with four countries competing across all track and field disciplines - sprints, endurance, steeplechase, walks, jumps and throws.
Some Welsh Schools athletes had been pre-selected as event winners at the WSAA SIAB Trial held on July 3rd at Brecon, the remainder gained selection through Power of 10 performances across the summer after the WSAA programme of events was cancelled for a second successive year. Selectors had chosen a team of 35 girls and 32 boys from across West, South, East and North Wales' secondary schools.
The majority of athletes selected were from the Middle age group (years 10 & 11 in under 17 category) with a handful of outstanding juniors (under 15s) given the opportunity to gain experience of this level of competition for the first time.
Across the forty events on the programme, the Welsh School team produced new Welsh records, personal bests and won 4 gold, 5 silver and 2 bronze medals - finishing with a total of nine individual medallists along with a first and second in the boys and girls 4 x 100m relays.
The athletes were supported by an experienced management team of ten led by Welsh Schools International Secretary Zane Maynard. With a wealth of experience across their respective disciplines, the Welsh Schools management team were made up of Steve Jones, Matthew Collins, Matthew Edwards, Phil Warwicker, Lisa Waddon, Alaw Beynon-Thomas, Naomi Davies, Lucy Griffiths and Kevin Williams. SIAB Delegates - Gerald Davies (Chairman - WSAA), Dai Gatehouse (Chairman - SIAB) and Dai Williams (Treasurer - WSAA)
Seventeen Dyfed Schools pupils join Welsh Schools Teammates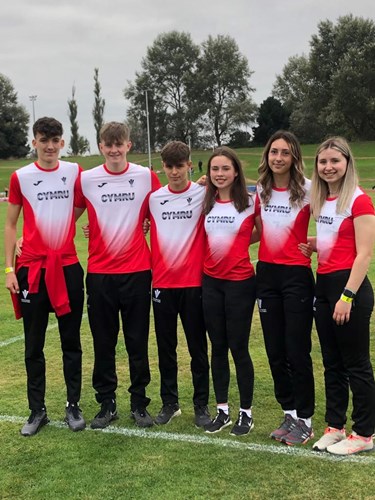 Congratulations and well done to the seven club athletes from Carmarthen Harriers Athletics Club (+ Frank Morgan) who gained selection for the 2021 squad, with some winning their first Welsh vest at an International fixture.
In addition, a further eleven athletes from the Dyfed Schools (Carmarthenshire, Pembrokeshire, Ceredigion) District also made the journey to the East Midlands. This included nine Pembrokeshire Harriers and two Llanelli AAC U17s.
CARMARTHEN HARRIERS ATHLETES' ROUND-UP:
- JESSICA LEE - YSGOL DYFFRYN TAF
Girls 100m: 12.24
Girls Long Jump: 5.61m
Girls 4 x 100m Relay: 46.99 (leg 2 of the team quartet who won silver)
- OSIAN ROBERTS - YSGOL BRO PEDR:
Boys 100m Hurdles: 14.90
Boys High Jump: 1.90m
- FINLAY HAYES - YSGOL MAES Y GWENDRAETH:
Boys 4 x 400m Relay: 3:35.38
- SION O'KEEFE - YSGOL BRO PEDR:
Boys Javelin: 57.02m
- ZARA EVANS - YSGOL HENRY RICHARD:
Girls Triple Jump: 10.27m
- STORM EVANS - QUEEN ELIZABETH HIGH SCHOOL:
Girls Discus: 32.97m
For full RESULTS from the SIAB Schools Track & Field International / Ar gyfer CANLYNIADAU llawn o Ddigywddiad Rhyngwladol Ysgolion SIAB... (click below)
FULL RESULTS / CANLYNIADAU LLAWN - DERBY
Next up in the International calendar will be the SIAB Schools Indoor Combined Events Championships in Glasgow on the first Saturday of December, followed by the SIAB Schools Cross Country International in six months time, which will be hosted by Welsh Schools in 2022 on Saturday 26th March.
The track and field International will head to Dublin in 2022, with Irish Schools the hosts next summer.