Forty of Wales' cross-country youngsters finished their 2021/2022 winter season on Saturday (26th March) at the annual SIAB Schools Athletic Board Cross Country International held at Pembrey Country Park near Llanelli.
On a sunny and mild afternoon at the Carmarthenshire park, the event returned in the calendar for the first time in three years and hosted in 2022 by Wales.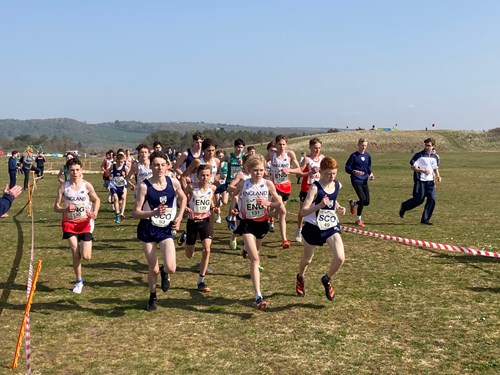 Teams from Welsh Schools, English Schools, Irish Schools and Scottish Schools battled it out across six events using a new, challenging and undulating course.
The junior and intermediate races were over distances of either 3,000m, 4,000m or 6,000m split into a small lap, medium lap and large lap.
In addition, the 4 x 1500m mixed relays also made a welcome return in both categories, where an additional 2 boys and 2 girls were invited to participant for their country in this element.
Prior to the SIAB races, the programme began with two primary school races for boys and girls, where 38 year 5 and 6 children took part.
Margam Park in Port Talbot was the venue for this end-of-season International fixture when it was last held by Welsh Schools in 2017. Wollaton Park in Nottingham and Santry Demesne in Dublin were the other previous venues in 2018 & 2019 respectively.
It was an opportunity for the Welsh Schools athletes (under 15 and under 17) to test themselves against the best cross-country talent across the United Kingdom with many representing their country for the first time.
Welsh Schools pupils wearing the red vest of Wales were selected to run on home turf following top finishes in the Welsh Schools National Cross Country Championships in Brecon last month as well as showing good form in several other cross country fixtures during the winter.
The Welsh teams were accompanied for the weekend by a management team of eight under team leader Zane Maynard (Morriston Comprehensive) and Liz Davies (Endurance Development Lead) – Welsh Athletics Support. They were joined by Joan Goldsmith (Carmarthen Harriers) Pupil Welfare, Naomi Davies (Ysgol Gyfun Cwm Rhymni), Alaw Beynon Thomas (Ysgol Gyfun Gwent Is Coed), Matthew Edwards (St Teilo's High School), Matthew Collins (Fitzalan High School) and Bethan Davies – Welsh Athletics/Welsh Schools' logistics.
Congratulations to the five Carmarthen Harriers members who were selected to represent Welsh Schools at this year's SIAB Schools Cross Country International. William Coles and Joshua Barnett were selected in the junior boys' team whilst three spots in the intermediate boys' team went to Iwan Thomas, Finley Bruce and Ifan Bowen (who was called up to the team the evening before).
Among the WSAA management team was Joan Goldsmith, Pupil Welfare. In addition, Six under 11 club members also entered the Primary School races earlier on in the day.
RESULTS/CANLYNIADAU
Junior Boys - William Coles (Ysgol Bro Dinefwr) - (15:20)
Junior Boys - Joshua Barnett (Ysgol Dyffryn Taf)
Inter Boys - Iwan Thomas (Ysgol Glan Y Mor) - (21:27)
Inter Boys - Finley Bruce (Ysgol Y Preseli) - (22:21)
Inter Boys - Ifan Bowen (Ysgol Bro Myrddin) - (23:52)
Primary School - Tomos Cai Davies - (6:39)
Primary School - Gethin Thomas - (6:45)
Primary School - Ellis Mathews - (7:06)
Primary School - Evan Enoch - (7:31)
Primary School - Maximus Edwards - (8:26)
Primary School - Paige-Lily Williams - (8:02)
RESULTS/CANLYNIADAU: SIAB Schools Cross Country International 2022 (Pembrey Country Park)
More than 11,000 runners completed the first of two Cardiff University Half Marathon editions in 2022.
The Cardiff University Half Marathon on Sunday 27th March attracted elite athletes, club runners and fun runners to the streets of the Capital to take on and complete the 13.1-mile distance.
It is Wales' largest road race and Wales' largest multi-charity fundraising event as well as the UK's second largest half marathon.
The Cardiff Half Junior 2022 on Saturday 26th March proved to be a thrilling start to the Cardiff Half Marathon weekend. There was a Fun Run, Toddler Dash & Future Challengers Races across the day for all ages and abilities.
It was great to see a number of Carmarthen Harriers members (4 juniors and 10 seniors) travel to the Welsh Capital to participate in the junior races as well as the main Cardiff University Half Marathon on Sunday.
RESULTS/CANLYNIADAU
Junior - Future Challengers - (1) Jake Lynock - (4:55)
Junior - Future Challengers - (4) Esme Lynock - (6:06)
Junior - Future Challengers - (2) Lowri Morgan - (6:29)
Junior - Fun Run - (4) Noa Jac Thomas - (8:22)
Half Marathon - Cameron Young - (1:12:24)
Half Marathon - Jack Tremlett - (1:16:42)
Half Marathon - Isaac Ayres - (1:19:53)
Half Marathon - Elizabeth Tremlett - (1:30:38)
Half Marathon - Huw Davies - (1:31:49)
Half Marathon - Wendy Price - (1:33:50)
Half Marathon - Ellie Kiff - (1:34:25)
Half Marathon - Dafydd Bowen - (1:36:38)
Half Marathon - Cerys Davies - (1:56:07)
Half Marathon - Amanda Toogood - (2:26:48)