Results Round-Up from cross country and indoor events held in Sheffield (England), Belfast (Northern Ireland) and Cardiff (Wales) in January 2022...
BRITISH MILERS CLUB INDOOR GRAND PRIX: Ben Thomas travelled to the EIS in Sheffield on Sunday 9th January to compete at the British Milers Club Sheffield Indoor Grand Prix.

Three weeks after breaking the Carmarthen Harriers Senior Men's 3000m Club Record in Cardiff 8:22.99, Thomas clocked a time of 8:25.69 in the men's 3000m B race at Sheffield.
HOME COUNTRIES CROSS COUNTRY INTERNATIONAL & BRITISH ATHLETICS CROSS CHALLENGE SERIES 2021/2022 FIXTURE 4: Two Carmarthen Harriers athletes were selected to represent Wales at the Home Countries & Celtic Cross Country International in Belfast on Saturday 22nd January.
Iwan Thomas and Dafydd Jones competed in the under 17 and under 20 men's age groups respectively. Thomas, winning his first Welsh vest was fourth individually (19:41) whilst Jones crossed the line in sixth overall (18:48), helping the team to second and third positions in the team events. Steffan Davies also ran in the same race as his club teammates, finishing in 22:14.
Carmarthen Harriers coaches, Neil Thomas, Carol Jones and Cressy Morgan also travelled as part of the Welsh management team.
The event in Northern Ireland also incorporated the fourth leg of the British Athletics Cross Challenge Series which had already visited Cardiff, Milton Keynes and Liverpool before Christmas.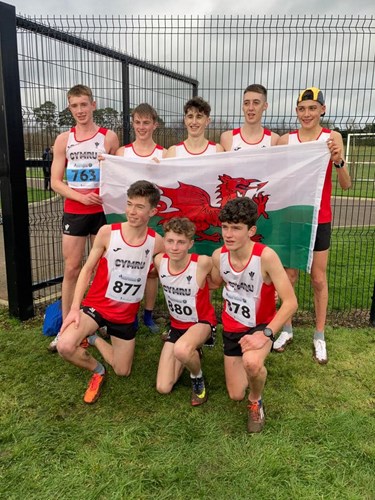 CARDIFF MET NON THOMAS NEW YEAR OPEN GP2: The Non Thomas New Year Open organised by Cardiff Met was able to go ahead at the National Indoor Athletics Centre on Sunday 23rd January following some easing of restrictions with a reduced track and field programme and limited numbers in the facility.
Beca Roberts was in action in the women's triple jump and recorded her best jump of 11.26m in the sixth and final round. Later on in the afternoon, Ben Thomas lined up in the second of three men's 1500m races and finished in a new personal best time of 3:53.75 after an excellent final 400m from the front.