The 2021 summer track and field season has begun this month with a series of various open meetings in South Wales and across the border in England in line with current Government guidelines.
In the first fortnight of May, twenty Carmarthen Harriers members got their season campaigns underway at a number of organised fixtures by local clubs and Welsh Athletics... in Newport, Yeovil, Trafford, Swindon, London and Aberdare.
The last eight days has seen sprints, endurance, jumps and throws open meetings and league fixtures held at Swansea, Leigh, Carmarthen, Millfield, Manchester, Cheltenham and Aberdare as competition opportunities begins to become available fast.
Here's a results round-up and performances from those events between 22nd and 30th May 2021...
RESULTS ROUND-UP - MAY
WELSH ATHLETICS SPRINTS AND JUMPS OPEN MEETING
Swansea - Saturday 22nd May
Sophia Reid-Thomas - 100m (13.56)
Ellie Loweth - 200m (27.99)
Jessica Lee - Long Jump (5.37m)
Finlay Hayes - 200m (25.18)
William Edwards - High Jump (2.01m)
Osian Roberts - High Jump (1.80m)
SOAR MK3000 PB SPECIAL
Milton Keynes - Saturday 22nd May
Isaac Ayres - 3000m (9:36.85)
BRITISH MILERS CLUB LEIGH PB CLASSIC
Leigh - Sunday 23rd May
Frank Morgan - 1500m (4:01.81)
WELSH ATHLETICS ENDURANCE AND TRIPLE JUMP OPEN MEETING
Carmarthen - Wednesday 26th May
Megan Williams - 800m (2:40.28)
Emma Ferns - 800m(2:45.80)
Frances Mackie - 1500m (5:21.16)
Carys Wood - 1500m (5:24.58)
Eleanor Fuller - 1500m (5:31.33)
Amy Greatrick - 1500m(6:06.83)
Beca Roberts - Triple Jump (11.44m)
Zara Evans - Triple Jump (10.25m)
Iestyn Williams - 800m (1:53.75)
Frank Morgan - 800m (1:56.06)
Zach Elvy - 800m (2:15.87)
Steffan Davies - 800m (2:16.40)
Ifan Bowen - 800m (2:16.59)
Macsen Toogood - 800m (2:20.77)
Jake Lynock - 800m (2:21.22)
Iwan Thomas - 800m (2:22.79)
Ellis Caddick - 800m (2:35.29)
Jack Bruce - 1500m (4:46.84)
Finley Bruce - 1500m (4:47.78)
Joshua Barnett - 1500m (5:24.50)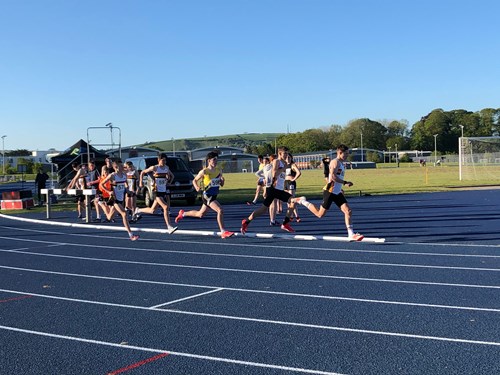 BRITISH MILERS CLUB MILLFIELD PB CLASSIC
Millfield - Saturday 29th May
Macsen Toogood - 800m (2:22.88)
Dafydd Jones - 1500m (3:55.13)
Ifan Bowen - 1500m (4:30.30)
William Coles - 1500m (4:54.66)
Steffan Davies - 3000m (10:04.01)
Carys Wood - 1500m (5:21.21)
CHELTENHAM & COUNTY HARRIERS RESTART OPEN MEETING
Cheltenham - Saturday 29th May
Morgan Batten - Javelin (45.16m)
UK YOUTH DEVELOPMENT LEAGUE U17/20 SOUTH/WEST A DIVISION
Aberdare - Sunday 30th May
Osian Roberts - 100m Hurdles (14.6)*
Ellie Loweth - 200m (27.4)*
Beca Roberts - Triple Jump (11.28m)
*hand time result
DEVON TRACK AND FIELD OPEN MEETING 2
Braunton - Sunday 30th May
Jessica Lee - 100m (12.65); 200m (25.92)
Sophia Reid-Thomas - 100m (13.03); 200m (26.84)
Hugo Douglas - 100m (13.71); 200m (29.62); 300m (46.22)