Results Round-Up: It's been a busy eight-days for Carmarthen Harriers junior and senior members in the final week of June, with more than 30 athletes competing at various club, region and British events locally in Wales and further afield in England.
Saturday 19th to Sunday 27th June saw runners, throwers and jumpers take part in track and field and mountain competition at Bedford, Newport, Carmarthen, Manchester, Aberystwyth and Swansea and saw plenty of new personal bests and strong performances.
One of the main highlights was endurance athletes Dafydd Jones and Frank Morgan, who secured invites to compete in the under 20 men's 3000m at the Muller British Athletics Championships held at the Manchester Regional Arena, on Friday evening.
Meanwhile, Carmarthen hosted the first Throws Open Event Specific - Javelin and Shot the previous day.
Jessica Lee broke the Carmarthen Harriers club record in the under 17 women's long jump discipline at Swansea on Sunday, with a jump of 5.94m. The record had stood for 39 years.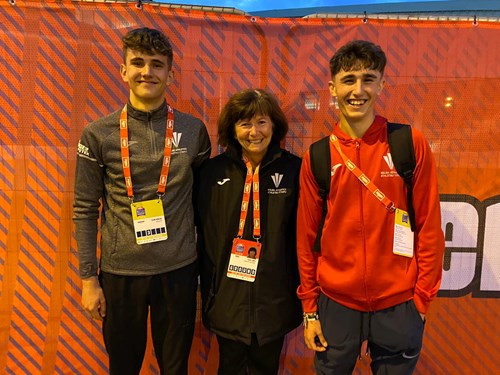 Here's a results round-up and performances from events between 19th and 27th June 2021... Da iawn pawb!
RESULTS ROUND-UP - JUNE
ENGLAND ATHLETICS U20 & U23 CHAMPIONSHIPS
Bedford - Saturday 19th / Sunday 20th June
Beca Roberts - Triple Jump (11.31m)
WELSH ATHLETICS SPRINTS AND JUMPS OPEN
Newport - Wednesday 23rd June
William Edwards - High Jump (1.85m)
CARMARTHEN THROWS OPEN EVENT SPECIFIC - JAVELIN & SHOT PUT
Carmarthen - Thursday 24th June
Grace Toogood - Javelin (8.93m)
Dolly Evans - Javelin (20.52m)
Summer Evans - Javelin (21.90m)
Liam Upton-Boorman - Javelin (22.59m)
Jessica Lee - Javelin (23.71m)
Storm Evans - Javelin (31.50m)
Cordelia Walker - Javelin (39.18m)
Sion OKeefe - Javelin (44.82m)
Morgan Batten - Javelin (47.25m)
Lottie Wyatt - Shot Put (5.84m)
Chloe Thomas - Shot Put (6.92m)
James Sloyan - Shot Put (7.86m)
Elen Mai Williams - Shot Put (8.96m)
MULLER BRITISH ATHLETICS CHAMPIONSHIPS 2021 DAY 1
Manchester - Friday 25th June
Dafydd Jones - 3000m (8:27.83)
Frank Morgan - 3000m (8:31.94)
WELSH ATHLETICS ENDURANCE OPEN MEETING
Newport - Saturday 26th June
Iestyn Williams - 400m (50.09)
Macsen Toogood - 800m (2:20.36)
Amy Greatrick - 800m (2:45.91)
Eleanor Fuller - 1500m (5:26.22)
Megan Williams - 1500m (5:32.91)
Isaac Ayres - 3000m (9:52.42)
Joshua Barnett - 3000m (10:46.19)
Emma Ferns - 3000m (12:40.00)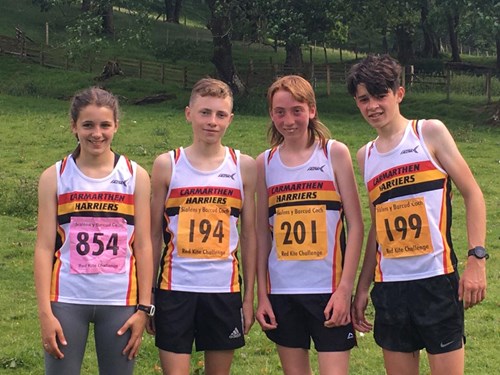 WELSH U15, U17 & U20 JUNIOR MOUNTAIN RUNNING CHAMPIONSHIPS
Devils Bridge - Saturday 26th June
Iwan Thomas - 2.8km (10:10)
Carys Wood - 2.8km (15:46)
Steffan Davies - 4.8km (35:06)
Jake Lynock - 4.8km (40:34)
UK YOUTH DEVELOPMENT LEAGUE U17/20 SOUTH/WEST A DIVISION
Swansea - Sunday 27th June
Jessica Lee - 100m (12:05); Long Jump (5.94m)
Sophia Reid-Thomas - 100m (12.76)
Dafydd Waters - 200m (23.76)
Ellie Loweth - 100m (13.02); 400m Hurdles (81.33)
Ellis Caddick - 400m (66.81)
Emma Ferns - 800m (2:45.36)
Thomas Jones - 3000m (9:48.96)
Jack Thomas - 1500m Steeplechase (5:40.73)
Morgan Batten - Shot Put (11.02m); Javelin (45.65m)
Connor Handford - Pole Vault (2.90m)
Osian Roberts - High Jump (1.90m)