Results Round-Up: Competition and athletics activity has returned over recent weeks and once again, it's been a busy week for Carmarthen Harriers members with more than 30 athletes competing at various events as the summer holidays begins.
Saturday 17th to Sunday 25th July saw runners, throwers and jumpers take part in track and field and mountain competition at Milton Keynes, Cardiff, Newport, Ambleside, Loughborough, Aberdare and Swansea.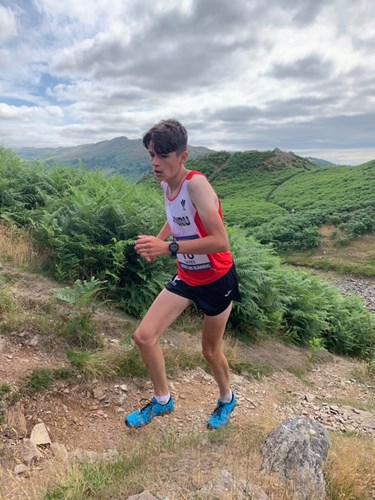 Steffan Davies picked up his first Welsh vest, having been selected to represent Wales at the Home Countries U18 Youth Mountain Running International at Ambleside on Saturday morning. Llongyfarchiadau Steffan. Elsewhere, other club members across several age groups were in action closer to home.
The final week of July and mid August will see the Welsh Athletics Championships return after a two-year absence because of the COVID-19 pandemic. It should be a great four-day of action at Newport and Cardiff.
Here's a results round-up and performances from events between 17th and 25th July 2021... Da iawn pawb!
RESULTS ROUND-UP - JULY
SOAR MK 5000 PB SPECIAL
Milton Keynes - Saturday 17th July
Dafydd Jones - 5000m (14:37.25)
WELSH ATHLETICS ENDURANCE OPEN MEETING
Cardiff - Wednesday 21st July
Iestyn Williams - 800m (1:54.60)
Macsen Toogood - 800m (2:22.11)
Megan Williams - 800m (2:36.15)
Jake Lynock - 1500m (4:41.93)
Joshua Barnett - 1500m (5:02.79)
Carys Wood - 1500m (5:22.86)
WELSH ATHLETICS U11 & U13 RUN, JUMP, THROW
Newport - Saturday 24th July
Noah Anyadike - 75m (10.68); Shot Put (5.68m); Long Jump (3.73m)
Evan Enoch - 75m (11.99); Shot Put (4.86m); Long Jump (3.04m)
Ellis Mathews - 75m (12.25); Shot Put (3.70m); Long Jump (2.98m)
Osian Llyr Davies - 75m (14.08); Shot Put (4.67m); Long Jump (2.52m)
HOME COUNTRIES U18 YOUTH MOUNTAIN RUNNING INTERNATIONAL
Amberside - Saturday 24th July
Steffan Davies - (26.02)
BRITISH MILERS CLUB LOUGHBOROUGH GRAND PRIX
Loughborough - Saturday 24th July
Dafydd Jones - 1500m (3:53.89);
UK YOUTH DEVELOPMENT LEAGUE U17/20 SOUTH/WEST A DIVISION
Aberdare - Sunday 25th July
Sophia Reid-Thomas - 100m (13.33); 4 x 100m (51.09)
Dafydd Waters - 200m (23.33); 4 x 100m (45.31)
Jessica Lee - 200m (25.46); Long Jump (5.55m); 4 x 100m (51.09)
Ellie Loweth - 200m (27.34); 400m (63.86); 4 x 100m (51.09)
Osian Roberts - 100m Hurdles (15.19); High Jump (1.91m); 4 x 100m (45.31)
Emma Ferns - 800m (2:45.26)
Thomas Jones - 1500m (4:28.04)
Liam Edwards - 3000m (9:22.83)
Eva Edwards - 3000m (10:15.20)
Connor Handford - Pole Vault (2.60m)
Sion O'Keefe - Javelin (48.85m)