Results Round-Up: Carmarthen Harriers junior and senior members competed on the track and on the road over the first two weeks in July with International vests up for grabs.
Saturday 3rd to Sunday 11th July saw runners, throwers and jumpers take part in track and field and road running competition at Brecon, Neath, Pembrey and Cardiff and saw plenty of great results recorded.
The U17 Welsh Schools Schools Trials was held at Brecon and Neath on 3rd July with the top 8 in each event invited to participate based on early-season results. Seven Carmarthen Harriers athletes were invited to the trials.
Congratulations to Jessica Lee (100m/Long Jump), Osian Roberts (100m Hurdles/High Jump), Sion OKeefe (Javelin), Frank Morgan (3000m) and Zara Evans (Triple Jump) who guaranteed their selection for the upcoming SIAB Schools International Match in Derby at the end of September by winning their event. The remaining places will be chosen based on Power of 10 rankings on 8th September, so there's still plenty of time to compete, record performances and make the team!
Elsewhere, there were other events taking place such as the second Welsh Athletics 5K Series at Pembrey and a full weekend of action at the #RunWithTheWind Sprints and Field Event Open Meeting in the Welsh Capital on Saturday 10th July and Sunday 11th July.
Under 11 athletes got the opportunity to compete for the first time this season on the Saturday followed by all other age groups 24 hours later in the Welsh Capital.
Here's a results round-up and performances from events between 3rd and 11th July 2021... Da iawn pawb!
RESULTS ROUND-UP - JUNE
WELSH SCHOOLS U17 SIAB TRIALS
Brecon / Neath - Saturday 3rd July
Jessica Lee - 100m (12.32); Long Jump (5.48m)
Osian Roberts - 100m Hurdles (14.28); High Jump (1.85m)
Sion OKeefe - Javelin (45.33)
Frank Morgan - 3000m (9:10.53)
Zara Evans - Triple Jump (10.43m)
Cordelia Walker - Javelin (37.05m)
Elen Mai Williams - Shot Put (8.80m)
WELSH ATHLETICS 5K SERIES FIXTURE 2
Pembrey - Sunday 4th July
David Cole - 5K (15:40)
Isaac Ayres - 5K (17:33)
Non Morgan - 5K (20:47)
WELSH ATHLETICS #RUNWITHTHEWIND SPRINTS, 600M, LONG JUMP AND SHOT OPEN MEETING (U11 AGE GROUP)
Cardiff - Saturday 10th / Sunday 11th July
Noah Anyadike - 75m (11.12); 150m (22.11) Club debut
Evan Enoch - 75m (11.94); 150m (24.25) Club debut
Cian Murphy - 75m (12.29); 150m (24.56) Club debut
Ellis Mathews - 75m (25.47); 800m (2:07.94) Club debut
Megan Evans - 75m (13.01); 800m (2:30.04) Club debut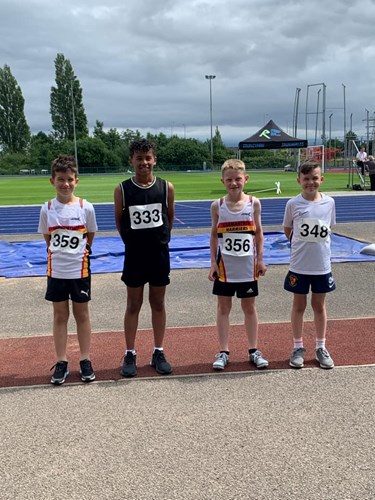 WELSH ATHLETICS #RUNWITHTHEWIND SPRINTS, LONG JUMP, HIGH JUMP AND SHOT OPEN MEETING (U13, U15, U17, U20, SENIOR AGE GROUP)
Cardiff - Saturday 10th / Sunday 11th July
Dafydd Waters - 100m (11.60); 200m (23.44)
Finlay Hayes - 100m (12.16)
Jessica Lee - 100m (12.36); Long Jump (5.83m)
Sophia Reid-Thomas - 100m (13.06)
Ellie Loweth - 100m (13.13); 200m (27.37)
Elli May Williams - 100m (13.03)
James Sloyan - 200m (28.98); High Jump (1.30m)
Cai Allen - Pole Vault (2.33m)
Osian Roberts - High Jump (1.85m)