The 117th George Crump MBE Welsh Athletics Cross Country Championships 2022 was staged at a familiar venue to many Carmarthenshire-based athletes on Saturday (26th February 2022).
Held previously at Singleton Park in Swansea, the championships headed further West to Pembrey Country Park, near Llanelli for the third year in a row.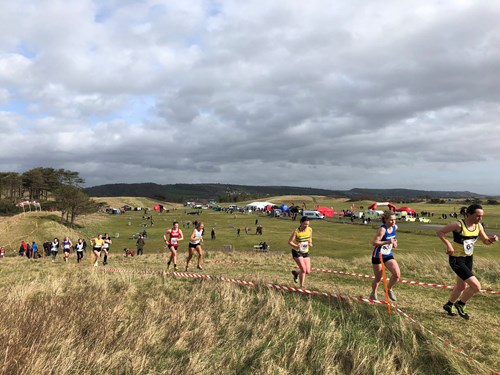 These championships have provided great inter-club entertainment since the first ever event in Ely back in 1894 and has always been one of the biggest endurance/cross country events of the year in Wales.
It was also held exactly one month before the park situated between Burry Port and Kidwelly, will be hosting the SIAB Schools Cross Country International 2022 here by Welsh Schools Athletic Association / Welsh Athletics.
Competitors, officials, guests and spectators were greeted to windy but perfect cross-country conditions on a dry and sunny day in the county of Carmarthenshire.
The fixture was back on the event calendar for the first time in two years and athletics clubs across West, South, East and North Wales were represented.
The 2022 edition of the Welsh Athletics Cross Country Championships saw 580 athletes cross the finish line under the arch.
There were eleven races on the Welsh championship race timetable for the future primary school generation (U11) right up to the more experienced seniors and masters with individual Welsh titles and team medals up for grabs.
Race distances varied from 1,550m for the primary school youngsters to 10,350m for the senior and master men categories.
On a demanding course that showcased the counties park and the surrounding areas, the competitors aged 9 to 80 tackled fast grass sections, sand dunes, woods and paths as well as running over logs and through the Marquee.
For a number of Welsh athletes, this was the third visit to the grounds of Pembrey Country Park in a matter of months. The John H Collins Gwent Cross Country League arrived in Pembrey twelve weeks ago as well as the Welsh Athletics Road Relay Championships, held in September 2021 at the nearby National Closed Cycling Circuit.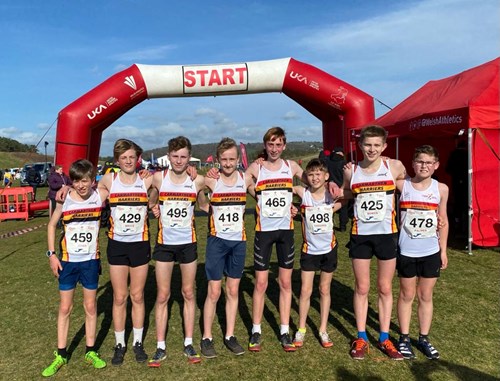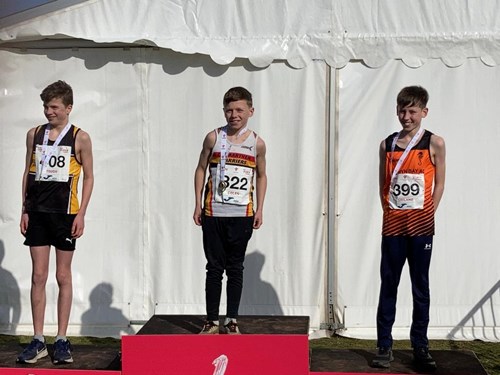 Carmarthen Harriers Endurance Athletes of all ages compete in major National Championship Event at their local park
A total of thirty-nine Carmarthen Harriers members competed at this year's Welsh Athletics Cross Country Championships. There were some excellent individual performances in the local country park, where many go to train on a regular basis. In addition, team medals were also picked up in the under 15 age group for boys and girls.
The highlights included...
Four Welsh Champions and five individual medallists for 2022 from William Coles, Iwan Thomas, Finley Bruce, Dafydd Jones and Wendy Price.
Strength in depth and a dominant performance in the under 15 boys age group, with both Harriers' teams finishing on the podium; in first and third. There was also Silver medals for the under 15 girls quartet.
Some younger athletes experienced the Welsh Cross Country Championships event for the first time.
Thank you to all the coaches and parents who attended on the day to support and prepared the athletes for the championships.
Primary Schools Boys / Bechgyn Ysgolion Cynradd: Gethin Thomas 6:27; Gethin Mason 7:19; Aled Mason 7:23
Primary Schools Girls / Merched Ysgolion Cynradd: Lowri Morgan 6:43; Seren Bowen 7:11; Fflur Jones 8:05; Paige-Lily Williams 8:07
Under 13 Boys / Bechgyn O Dan 13: William Coles 11:04; Sam Griffiths 12:08; Toby Anthony 12:49;
Under 13 Girls / Merched O Dan 13: Amelia Williams 12:51; Esme Lynock 13:49
Under 15 Boys / Bechgyn O Dan 15: Iwan Thomas 15:41; Finley Bruce 15:47; Jake Lynock 16:12; Ifan Bowen 16:19; Joshua Barnett 16:40; Macsen Toogood 16:48; Liam Regan 17:11; Aron Hedd Jones 17:38; Joshua Palmer 21:38

Under 15 Girls / Merched O Dan 15: Eleanor White 18:42; Erin Morgan 19:42; Eleanor Fuller 21:01; Megan Thomas 21:22; Leah Regan 21:57; Elisabeth Hill 23:50
Under 17 Men / Bechgyn O Dan 17: Steffan Davies 19:15; Jack Bruce 20:52; Rogan Cox 22:37
Under 17 Women / Merched O Dan 17: Amy Greatrick 25:21
Under 20 Men / Bechgyn O Dan 20: Dafydd Jones 23:47; Liam Edwards 25:39
Senior & Master Men / Dynion: Marcus Etheridge 36:36; Cameron Young 36:44; Iestyn Williams 36:57; Isaac Ayres 38:48; M50 Huw Davies 43:45
Senior & Master Women / Menywod: W40 Wendy Price (32:30)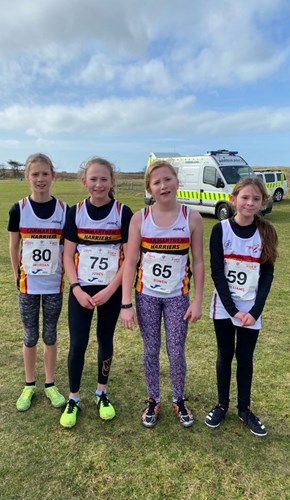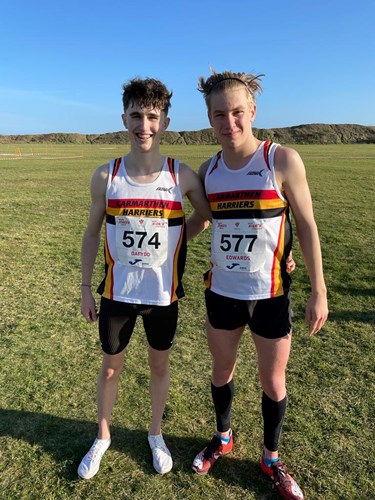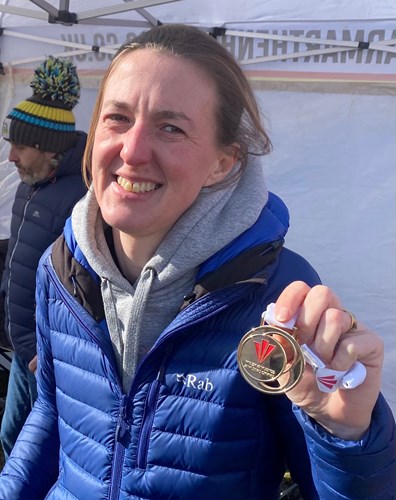 Next up... will see some make the long trip up to Loughborough for the UK Inter-Counties Cross Country Championships in a fortnight followed by the fifth and final John H Collins Gwent Cross Country League fixture at Singleton Park, Swansea on Saturday 19th March.
Attention will then turn towards the start of the outdoor track and field season, beginning with the open meeting hosted by Swansea Harriers at the University Athletics Track on 3rd April!
FULL RESULTS BY AGE GROUP / CANLYNIADAU LLAWN: Welsh Athletics Cross Country Championships 2022 (Pembrey Country Park)