The 2021 summer track and field season concludes this month with a series of track and field events for all ages as well as several re arranged International trail and road running fixtures.
Results Round-Up: Tuesday 24th August to Tuesday 7th September saw Carmarthen Harriers runners, throwers and jumpers take part in track and field, trail and mountain running, and road running competition across the country, at Trafford, Carmarthen, Cardiff, Exeter, Loughborough, County Down (Northern Ireland), Aberdare, Northampton, Coed-Y-Brenin and Stretford.
Carmarthen Athletics Track was the venue for the Welsh Athletics Inter-Regional U13 & U15 Pilot Event, in what was the first Saturday event to be held since the track was refurbished last year. Several athletes were selected to represent Wales in the Welsh Capital, Loughborough, Northampton and Newcastle, County Down (Northern Ireland) during this period, whilst the final YDL match of the season took place as well as the finale of the British Milers Club Series in Trafford and Exeter.
Coming up in the final track event of the season will be the SIAB Schools Track & Field International in Derby on the final Saturday of September.
Here's a results round-up and performances from events between 24th August and 5th September 2021... Da iawn pawb!
RESULTS ROUND-UP - AUGUST
BRITISH MILERS CLUB REGIONAL RACES
Trafford - Tuesday 24th August
Iestyn Williams - 800m (1:50.77)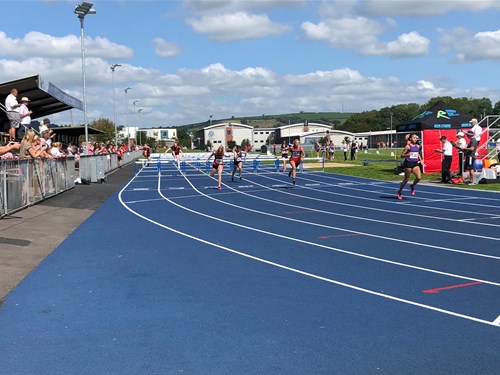 WELSH ATHLETICS INTER-REGIONAL U13 & U15 PILOT EVENT
Carmarthen - Saturday 28th August
James Sloyan - 80m Hurdles (15.34); Shot Put (9.44m); Long Jump (3:53m)
Beatrice Morgan - 70m Hurdles (12.24)
Elli May Williams - 100m (13.04); 4 x 100m Relay (54.10)
Ifan Bowen - 800m (2:14.79)
Megan Williams - 800m (2:26.18)
Mared Jones - 800m (2:29.89)
Liam Upton-Boorman - 1000m Walk (6:57.71); Javelin (22.14m)
Luned Defis - 1500m (7:02.77); 75m Hurdles (14.90); High Jump (1.35m)
Nia Seren Thomas - 1000m Walk (6:32.46)
Martha Morgan - 1000m Walk (6:32.64)
Cai Allen - Pole Vault (2.70m); Long Jump (4.82m)
Summer Evans - Javelin (26.48m)
Chloe Thomas - Shot Put (8.20m)
CARDIFF 5K - RACE FOR VICTORY
Cardiff - Sunday 29th August
Eva Edwards - 5K (17:14)
Steffan Davies - 5K (17:40)
Isaac Ayres - 5K (18:06)
Huw Davies - 5K (18:59)
Ellie Kiff - 5K (19:58)
Non Morgan - 5K (20:33)
Cerys Davies - 5K (24:44)
BRITISH MILERS CLUB REGIONAL RACES
Exeter - Tuesday 31st August
Ben Thomas- 800m (1:55.14)
Iestyn Williams - 1500m (3:54.13)
UK SCHOOL GAMES NATIONAL FINALS 2021 ATHLETICS
Loughborough - Friday 3rd & Saturday 4th September
Jessica Lee - Long Jump (5.66m) & 4 x 100m Relay (47.87) GOLD
Storm Evans - Discus (33.20m)
Osian Roberts - High Jump (1.85m)
BRITISH & IRISH JUNIOR MOUNTAIN RUNNING CHAMPIONSHIPS
Newcastle, County Down, Northern Ireland - Friday 3rd & Saturday 4th September
Steffan Davies - 4.02km – Ascent/393.5m – Descent/413.4m - Team Bronze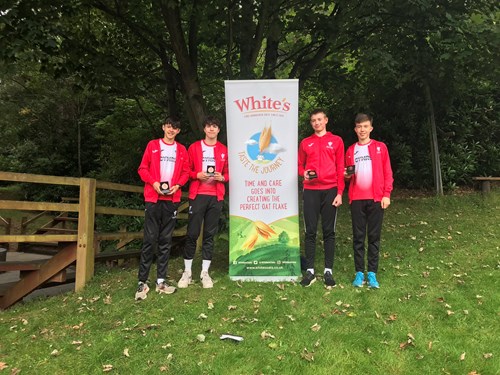 U17 & U20 YOUTH DEVELOPMENT LEAGUE SOUTH/WEST MIDLAND DIVISION A FIXTURE 4
Aberdare/Newport - Saturday 4th & Sunday 5th September
Sophia Reid-Thomas - 100m (13.06)
Ellie Loweth - 100m (13.31)
Dafydd Waters - 400m (53.28)
Osian Roberts - 100m (11.77); 100m Hurdles (15.45)
Liam Edwards - 800m (2:00.34); 4 x 100m (48.19)
Thomas Jones - 1500m (4:34.14)
Jack Thomas - 1500m Steeplechase (5:46.31); 4 x 100m (51.85)
Connor Handford - Pole Vault (3.05m)
Storm Evans - Discus (33.07m)
Beca Roberts - Triple Jump (11.34m)
ENGLAND THROWS CAMP FESTIVAL
Moulton College - Saturday 4th & Sunday 5th September
Morgan Batten - Javelin (50.98m Day 1)
TRAIL 10K WALES
Coed-Y-Brenin - Sunday 5th September
Isaac Ayres - 10K (48:28)
TRAFFORD GRAND PRIX
Stretford - Tuesday 7th September
Ben Thomas - 1500m (3:56.68)