The 2021 Dyfed Schools Glyn Davies Memorial Trophy has been awarded to Michael Jenkins (Ysgol Y Preseli/Pembrokeshire Harriers).
Michael has enjoyed a very successful and busy season, finishing the track and field season with a winning throw of 51.65m in the discus at the recent SIAB T&F International (at Derby in September).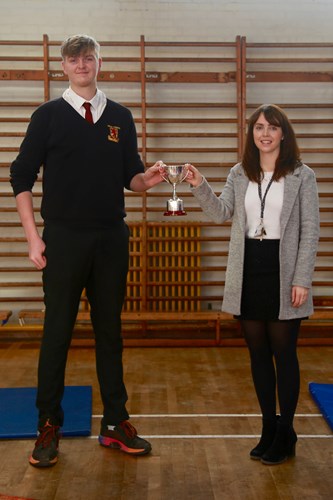 He is ranked number 1 in the discus event in Britain for the para F38 category as well as the able-bodied category.
Dyfed Schools Association in November 2015 decided to set up an annual Glyn Davies award in memory of Glyn who had been treasurer of Dyfed Schools AA for 16 years.
He was remembered for his support of Dyfed Schools teams at the Welsh schools cross country and athletics championships and in particular standing at the entrance to the Carmarthen Athletics Track collecting the gate money at Dyfed competitions.
The Glyn Davies Award is awarded annually to the Dyfed School athlete/s who has contributed most to Dyfed schools in athletics or cross country in that year.
Dyfed Schools across all four areas in the district were invited to nominate athletes who in their view contributed to the success of Dyfed Schools in 2020/2021 (athletics, cross country or sportshall athletics)
The award was presented in school by Miss Nia Williams, Head of Sixth Form at Ysgol Y Preseli.
Well done Michael / Da iawn Michael