The weekend of Saturday 14th May and Sunday 15th saw all four Welsh regions host their respective athletics championships across three venues in South, West and North Wales. (Aberdare, Neath & Bangor)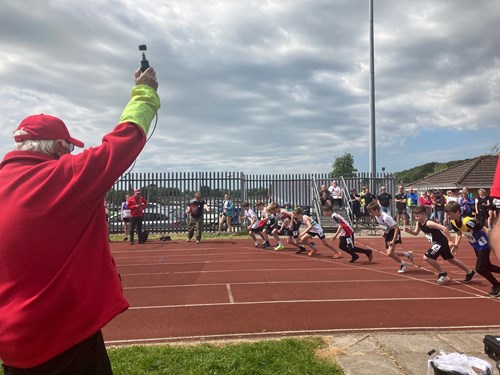 The West Wales Regional Athletics Championships was held at a dry and windy Cwrt Herbert Sports Centre Athletics Track in Neath on Sunday. The 2022 championships were back in the calendar for the first time in three years, having last been staged in 2019.
It was open to competitors from the under 13, under 15, under 17, under 20 and senior age groups with all track and field events on offer during the the seven-hour timetable (excluding steeplechase which takes place at the South & East Joint Regional Championships on Wednesday evening)
There was another big entry total of over 250 competitors from the region's clubs and the majority of those were representing Pembrokeshire Harriers, Carmarthen Harriers, Llanelli AC, Swansea Harriers, Neath Harriers, TROTS, 3M Gorseinon Road Runners, Swansea University and Aberystwyth AC.
Thank you to all the officials, officers and club volunteers who assisted on event day to ensure that the event was a success.
Thirty-three Carmarthen Harriers members travelled along the M4 to Neath & Aberdare to compete at the Regional Championships.
In total, thirty-seven medals were won during the day and numerous personal bests achieved as the young athletes took advantage of local competition opportunities.
(19 gold, 11 silver and 7 bronze)
Congratulations to the following athletes for producing championship best performances on Sunday:
Jessica Lee - U17W 100m - 12.66, U17W Long Jump - 5.61m
Summer Evans (Carmarthen Harriers) - U13G Javelin - 28.68m
Well done to everyone who entered and competed! Da iawn i'r rhai wnaeth cofrestru a cystadlu!
Carmarthen Harriers Full Results - West Wales Regional Athletics Championships 2022
Gwenan Fflur Jones: 100m (15.88); 200m (31.80)
Fflur Jones: 100m (16.20); Long Jump (3.67m)
Ffion Jones: 100m (14.71); Long Jump (3.50m)
Seren Bowen: 200m (36.72); 800m (3:12.93)
Anna Jones: 800m (3:02.50)
Esme Lynock: 1500m (5:31.57) SILVER
Lowri Morgan: 1500m (5:58.99) BRONZE
Summer Evans: Discus (21.41m) GOLD; Javelin (28.68m) GOLD
Ellimay Williams: 100m (12.91) GOLD
Beatrice Morgan: 100m (12.97) SILVER; 75m Hurdles (12.20) SILVER; Long Jump (4.33m) BRONZE
Casi Gregson: 100m (13.60) BRONZE; 200m (27.85) GOLD
Luned Defis: 200m (31.34); 75m Hurdles (14.88); High Jump (1.35m) SILVER
Mared Jones: 300m (45.40) GOLD
Macy Blue: 800m (2:45.01); Long Jump (3.50m)
Amelia Williams: 1500m (5:26.51) SILVER
Anatasia Eggleston-Stoker: 1500m (5:41.95) BRONZE
Cerys Angharad Jones: Pole Vault (2.25m) SILVER
Dolly Evans: Discus (26.47m) GOLD; Shot (7.25m)
Jessica Lee: 100m (12.66) GOLD; 200m (26.51) GOLD; Long Jump (5.61m) GOLD
Amy Greatrick: 800m (2:42.52) BRONZE
Leah Regan: 800m (2:55.35); Long Jump (3.75m)
Elizabeth Hill: 1500m (6:30.21) SILVER; High Jump (1.10m) BRONZE
Carys Wood: 3000m (12:09.58) SILVER
Storm Evans: Discus (36.34m) GOLD; Shot (10.69m) GOLD
Cordelia Walker: Javelin (38.17m) SILVER
Ellie Loweth: 100m (13.38) GOLD; 200m (27.10) GOLD; 400m Hurdles (1:24.26) GOLD
Harri Blue: 100m (16.11); Long Jump (3.16m); Javelin (18:15) BRONZE
Toby Anthony: 800m (2:34.74) SILVER
Gethin Mason: 75m Hurdles (19.99); Long Jump (2.49m)
Carter Norris: 100m (12.34) GOLD; 200m (24.73) GOLD
Macsen Toogood: 1500m (4:37.37) SILVER
Iwan Thomas: 3000m (9:24.03) GOLD
Morgan Batten: Javelin (48.55m) GOLD
Lewis Evans: 100m (11:46) GOLD
RESULTS/CANLYNIADAU: West Wales Regional Athletics Championships 2022 (Cwrt Herbert Sports Centre, Neath)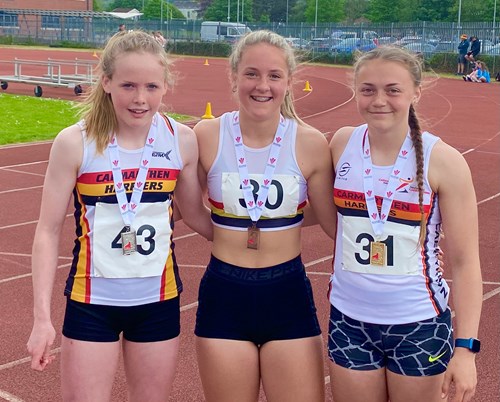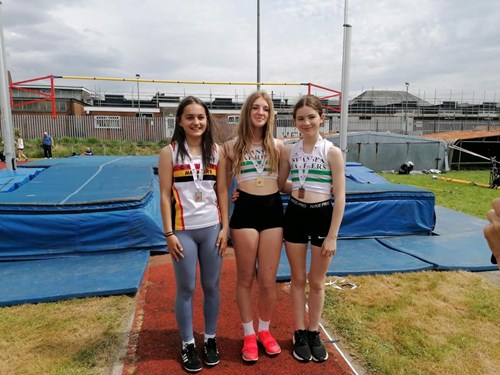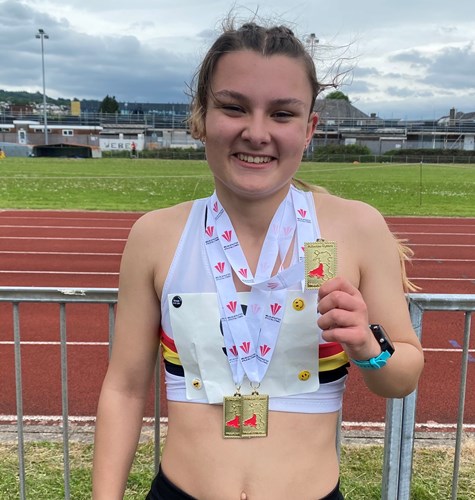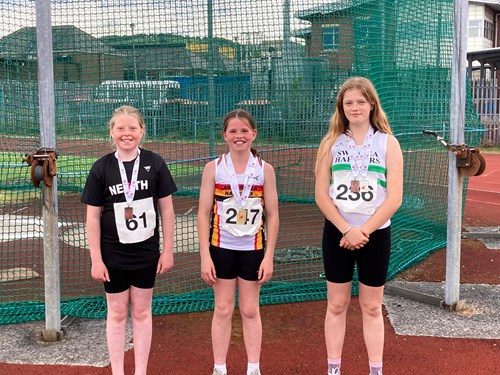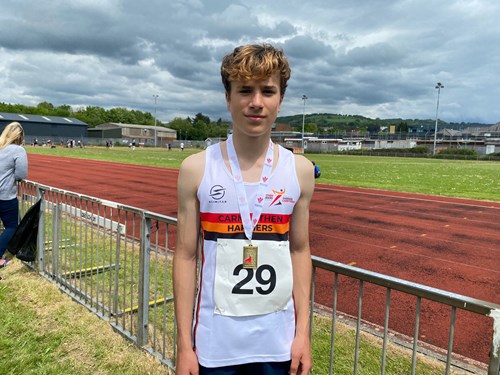 ELSEWHERE...
There was a new 800m personal best of 1:50.64 for Iestyn Williams at the British Milers Club Gold Standard Race @ Birmingham University - Wednesday 11th May.
Dafydd Jones and Ben Thomas travelled to Birmingham three days later for the British Milers Club Grand Prix at the same venue - Saturday 14th May. Both ran the 1500m with Jones clocking 3:49.98 and Thomas finishing in 3:52.22, which were both new personal bests.
Isaac Ayres completed the Bryn Meadows Caerphilly 10K in 38:03 - Sunday 15th May.