The Welsh Athletics Junior Championships returned over the weekend (Saturday 31st July - Sunday 1st August) as over 400 of Wales' top junior athletes enjoyed great conditions at this year's Welsh Athletics U13, U17 & U20 Junior Championships. What an action-packed weekend it turned out to be!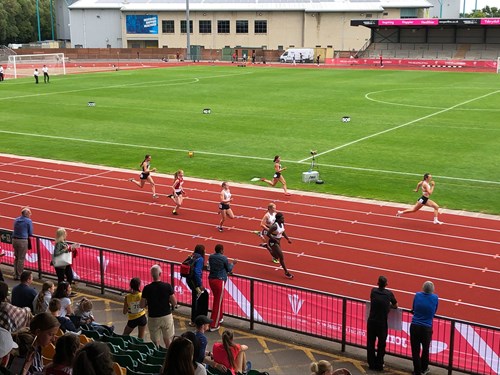 Having being cancelled in 2020 due to the COVID pandemic, restrictions eased just in time and the event returned during the 2021 summer season in the usual two-day competition format. After the championships were held up North at the Queensway Stadium in Wrexham two years ago, this year's event was staged in South East Wales at the Newport Athletics Stadium with a full programme of events.
The under 13, under 17 and under 20 age group disciplines saw heats, timetrials and finals held on the track, including sprints, middle distance, steeplechase and walks alongside the full programme of throws and jumps competitions in the field.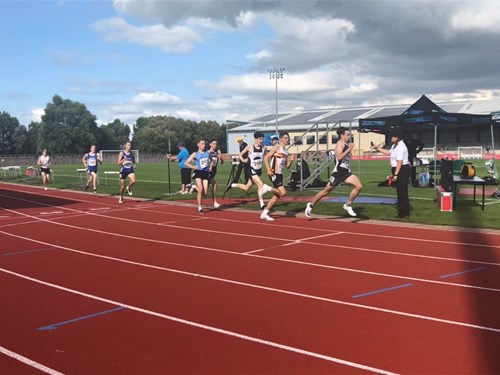 In front of a vocal and supportive crowd, more than 80 events were completed altogether and there was 12 hours of action to enjoy across both days in Newport.
Welsh Athletics Championships medals were at stake for the top three in each age group and event and more than 100 sets of medals were given out in front of the main stand.
Twenty-seven Carmarthen Harriers club members made the 160 mile round-trip from Carmarthenshire and further afield in West Wales up the M4 to Newport to take part, supported by a number of club coaches and parents.
Over the first championship weekend to take place this month, the club won a total of twenty medals altogether across both days - (13 gold, 3 silver and 4 bronze) positions. This was an improvement on the eleven medals won in Wrexham in 2019.
Most importantly, there were plenty of excellent performances along with personal and season bests recorded.
For those who made their championship debut appearances, it was a great experience of competing on the big stage at a major event.
Here's a breakdown of all the track and field results day by day below:
DAY 1 - Saturday 31st July / Dydd Sadwrn 31ain Gorffennaf:
Jessica Lee- 100m Final (12.33) SILVER
Sophia Reid-Thomas - 100m Final (12.91)
Dafydd Waters - 100m (11.64)
Finlay Hayes - 100m (12.13) PB; 400m Final (53.63) PB BRONZE
Frank Morgan - 1500m (4:01.35) PB GOLD
Dafydd Jones - 1500m (3:56.20) SILVER
Jack Thomas - 1500m Steeplechase (5:16.93) PB BRONZE
Martha Morgan - 100m (15.47) PB
Amelia Williams - 1500m (5:19.52) PB
Emma Ferns - 1500m (5:42.64)
Ellis Caddick - 400m Hurdles (70.39) PB
Osian Roberts - High Jump (1.95m) PB GOLD
Cordelia Walker - Javelin (38.05m) GOLD
Storm Evans - Discus (33.28m) PB GOLD
Summer Evans - Javelin (23.14m) PB GOLD
Zara Evans - Triple Jump (10.48m) PB GOLD
Beca Roberts - Triple Jump (11.36m) PB SILVER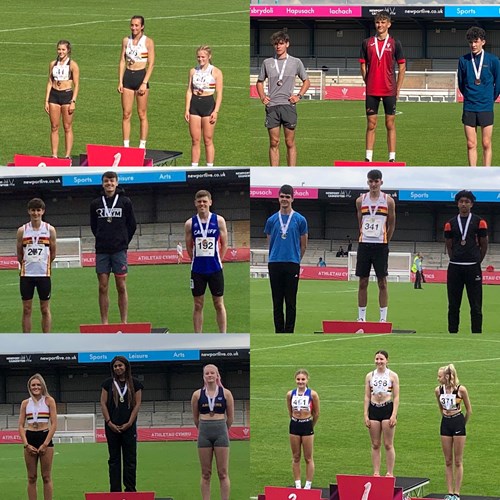 DAY 2 - Sunday 1st August / Dydd Sul 1af Gorffennaf:
Jessica Lee - 200m Final (25.59) GOLD & Long Jump (5.67m) GOLD
Sophia Reid-Thomas - 200m Final (26.81) PB BRONZE
Dafydd Waters - 200m (23.56)
Finlay Hayes - 200m (24.44) PB
Frank Morgan - 800m (1:57.67) GOLD
Esme Lynock - 800m (2:51.38) PB
Osian Roberts - 100m Hurdles (14.57) GOLD
Dafydd Jones - 3000m (8:29.11) GOLD
Iwan Thomas - 3000m (9:44.66)
Martha Morgan - 200m (30.92) PB; Long Jump (3.47m) PB
Morgan Batten - Javelin (48.52) PB GOLD
Sion OKeefe - Javelin (46.93m) PB GOLD
Connor Handford - Pole Vault (2.83m) BRONZE
Elen Mai Williams - Shot Put (9.06m) PB
Chloe Thomas - Shot Put (7.19m) PB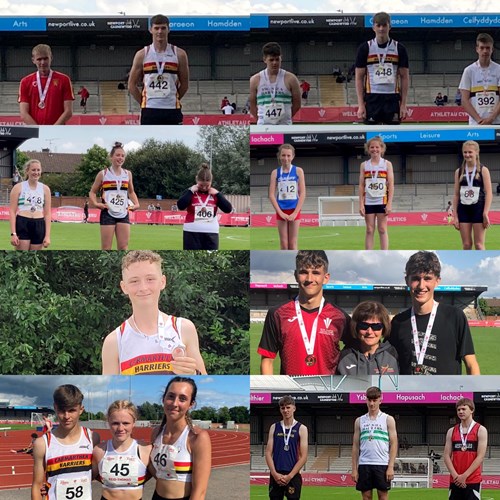 #WELSHCHAMPS21 POST-EVENT RESULTS & PHOTOS
FULL RESULTS / CANLYNIADAU LLAWN
EVENT PHOTOS / LLUNIAU (BOWDEN'S PHOTOGRAPHY)
WELSH ATHLETICS JUNIOR CHAMPIONSHIPS EVENT HIGHLIGHTS VIDEO (coming soon)
Well done to everyone who competed over the weekend, it was great to see the vests of Carmarthen Harriers out on show. Also, we can't forget to say a big thanks to all the officials, organisers and volunteers who supported the championships on both days in front of and behind the scenes at Newport.
More Championship races coming up in the Welsh Capital in less than a fortnight's time...
Welsh Athletics, its staff and club athletes now look forward towards the climax of the summer track and field season, with under 15 and senior athletes getting the opportunity to compete for Welsh titles and medals at the upcoming championship, which is the Welsh Athletics Senior and U15 Track & Field Championships 2021, taking place at the Cardiff International Sports Stadium, Leckwith over the weekend of Saturday 14th and Sunday 15th of August.