This Evening, Friday evening 8th April 2022, the club organised an awards evening and a raffle at the Carmarthen Athletic Rugby Club in Johnstown. More than 100 people gathered in the clubhouse and the event was hosted by Edward Morgan and Jake Morgan.
The Ivy Bush Hotel in the heart of Carmarthen Town Centre has been the host venue of the Club Dinner & Awards Evening for several years. In 2018, the club's 70th year was celebrated with a special dinner.
Following a year of little activity in 2020 because of the COVID pandemic, there were more opportunities to represent the club during the track and field, road and cross country season in 2021 once restrictions eased.
Categories for athletes, volunteers and coaches included Junior Bursary, Welsh Champion & International, Team Champions, Top 10 UK, Top 10 Wales, Club Record, Outstanding Club Contribution, Young Volunteer, Ernie Jones Memorial Award for best International representation and the RB Evans Club Service Award.
There were 33 top 10 performances in Wales last year, as well as six top 10 in the UK and 20 Welsh champions and internationals on the track, road and cross country.
Presenting the awards were club coaches Neil Thomas, David Toogood, Cressy Morgan, Carol Jones and Jane Batten, club Chairman Jake Morgan and Great Britain International athlete, Ben Thomas.
In addition to our usual Carmarthen Harriers club awards and thanks to a remarkable gesture from Dr Hedydd Davies, 2 bursaries of £250 were awarded for the second successive year. These were for junior athletes showing potential and where assistance in training and travel expenses could support their continuing success in the sport.
Thank you to everyone who attended on Friday evening to celebrate the club successes over recent months and well done to all those who received an award. We look forward to the next club dinner where more individuals, volunteers and teams will be recognised for their contributions and success in 2022.
CARMARTHEN HARRIERS CLUB AWARDS 2021 (to start of October 2021)
GWOBRAU CLWB HARRIERS CAERFYRDDIN 2021
Junior Bursary
- Ellis Mathews
- Megan Evans
- Luned Defis
- Paige-Lily Williams
- Seren Bowen
- Marged Jones
- Toby Anthony
- Martha Morgan
- Max Edwards
- Jimmy Davis
- Sam Griffiths
- Lowri Morgan
- Evan Enoch
- Joshua Barnett
- Fflur Jones
- Joshua Palmer
- Megan Thomas
- Ffion Thomas
- Gethin Thomas
- Noa Jac Thomas
- Aron Hedd Jones
- Leah Regan
- Tomos Cai Davies
- Cerys Angharad Jones
- Mared Jones
- Leah Defis
- Finley Bruce
- Esme Lynock
- Rose Edwards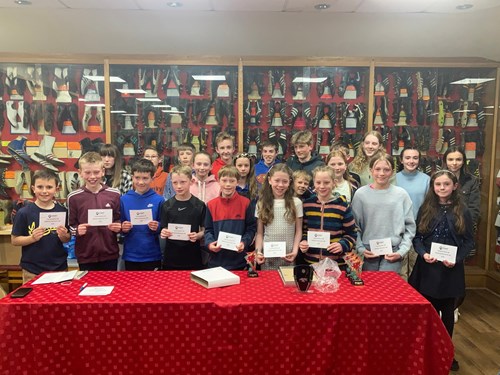 Welsh Champion and International
- Jessica Lee
- Zara Evans
- Storm Evans
- Iwan Thomas
- Osian Roberts
- Dafydd Jones
- Morgan Batten
Welsh Champion
- Summer Evans
- Cordelia Walker
- Lili Church
- Elli-May Williams
- Beatrice Morgan
- Frank Morgan
- Sion O'Keefe
- Cai Allan
- William Coles
Welsh International
- Eva Edwards
- Amelia Williams
- Ifan Bowen
- Steffan Davies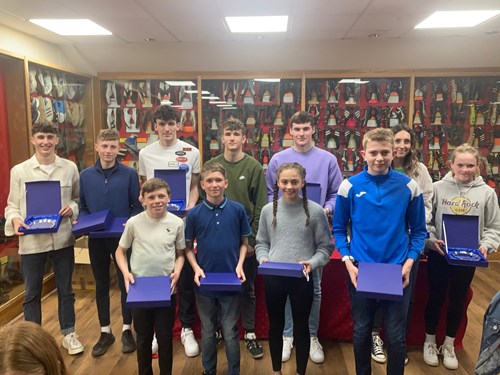 Welsh Road Relay Championships U15 Team Champions
- Macsen Toogood, Iwan Thomas, Jake Lynock
Top 10 UK
- Frank Morgan - Under 17 Men 1500m & 3000m
- Jessica Lee - Under 17 Women Long Jump
- Dafydd Jones - Under 20 Men 5000m
- Osian Roberts - Under 17 Men High Jump
- Sion O'Keefe - Under 17 Men Javelin
Top 10 Wales
- Amelia Williams - Under 13 Girls 1500m - 5:17.90
- Beatrice Morgan - Under 13 Girls 70m Hurdles - 12.15
- Chloe Thomas - Under 13 Girls Shot - 8.20m
- Summer Evans - Under 13 Girls Javelin - 26.48m
- Elli-May Williams - Under 15 Girls 100m - 12.81
- Megan Williams - Under 15 Girls 800m - 2:26.18
- Carys Wood - Under 15 Girls 3000m - 11:47.57
- Luned Defis - Under 15 Girls High Jump - 1.40m
- Dolly Evans - Under 15 Girls Discus - 23.05m & Javelin (20.52m)
- Jessica Lee - Under 17 Women 100m - 12.23, 200m - 25.40 & Long Jump - 5.94m
- Sophia Reid-Thomas - Under 17 Women 100m - 12.86
- Zara Evans - Under 17 Women Triple Jump - 10.48m
- Storm Evans - Under 17 Women Discus - 33.28m
- Cordelia Walker - Under 17 Women Javelin - 39.18m
- Ellie Loweth - Under 20 Women 100m - 13.13 & 400m - 63.86
- Eva Edwards - Under 20 Women 3000m - 10:15.20
- Lili Church - Under 20 Women High Jump - 1.75m
- Beca Roberts - Under 20 Women Triple Jump - 11.34m
- William Coles - Under 13 Boys 1500m - 4:52.71
- Ifan Bowen - Under 15 Boys 800m - 2:14.79, 1500m - 4:30.30 & 3000m - 10:10.85
- Iwan Thomas - Under 15 Boys 1500m - 4:31.38 & 3000m - 9:27.90
- Jake Lynock - Under 15 Boys 3000m - 10:08.37
- Cai Allan - Under 15 Boys Pole Vault - 2.81m
- Osian Roberts - Under 17 Men 100m - 11.77, 100m Hurdles - 14.28 & High Jump - 1.95m
- Finlay Hayes - Under 17 Men 400m - 53.53
- Frank Morgan - Under 17 Men 800m - 1:56.06, 1500m - 3:56.15 & 3000m - 8:27.19
- Sion O'Keefe - Under 17 Men Javelin - 57.02m
- Dafydd Jones - Under 20 Men 1500m - 3:53.09, 3000m - 8:27.83 & 5000m - 14:36.07
- Connor Handford - Under 20 Men Pole Vault - 3.05m
- Morgan Batten - Under 20 Men Javelin - 48.52m
- Iestyn Williams - Senior Men 800m - 1:50.77
- Ben Thomas - Senior Men 3000m Steeplechase - 9:25.60
- Aaron Morgan - Senior Men Javelin - 57.14m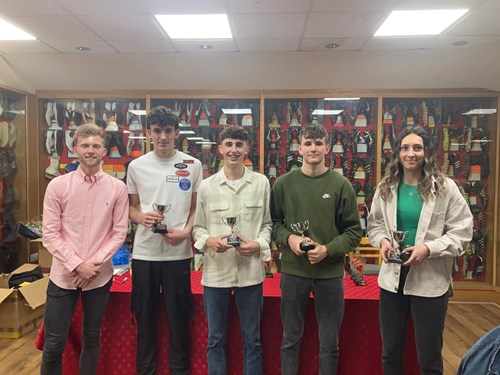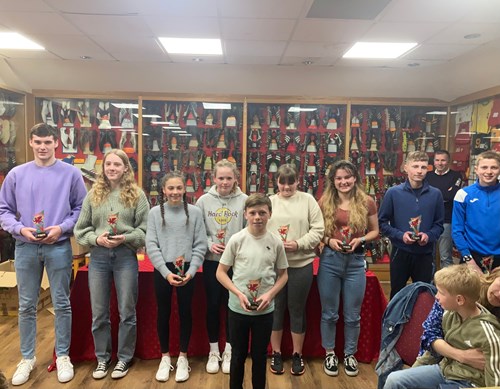 Club Records
- Frank Morgan (Under 17 3000m, 8:27.19)
- Jessica Lee (Under 17 Long Jump, 5.94m)
Dr Hedydd Davies Bursary Awards
- Dafydd Jones
- Morgan Batten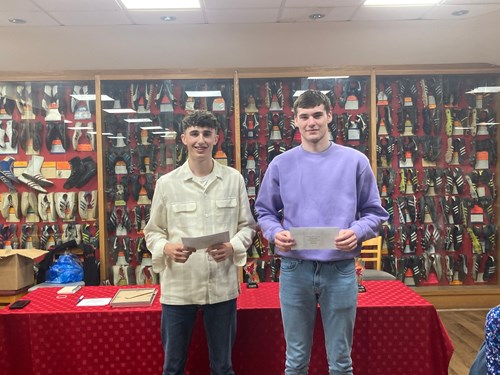 Outstanding Club Contribution
- Ellie Loweth
- Lisa Forrest
- Katya Edwards
- Alison Phillips
Young Volunteer
- Ellis Caddick
Ernie Jones Memorial Award
- Jessica Lee
RB Evans Club Service Award
- Neil Thomas