The long-awaited cross country season returned for the first time since March 2020 with an excellent day of racing in the Capital over the weekend.
Following the cancellation of all endurance events during the 2020 season due to the pandemic, this year's event calendar got underway in Cardiff. Llandaff Fields was the venue for two popular UK Cross Country Leagues which have gone from strength to strength in previous years.
The opening 2021/2022 British Athletics Cross Challenge Series leg was held in Wales (Cardiff Cross Challenge) along with the first of five 2021/2022 John H Collins Gwent Cross Country League fixture for runners of all ages on Saturday -- 16th October.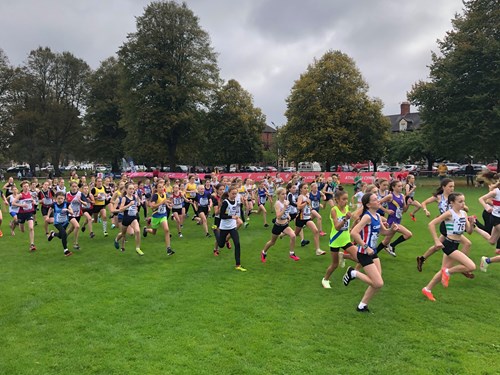 The park just north of the City alongside the River Taf attracted many of the UK's top endurance runners and club athletes from all over the United Kingdom to kick-start their winter campaigns.
For the very first time, this year's Cardiff Cross Challenge was a part of the World Athletics Cross Country Tour (Gold Standard event), joining Belfast as the only two races in Britain on the tour.
On a dry and mild day, it featured a full programme of men, women and junior races and was open to runners of almost any age (from 9 age in the novice right up to over 70 masters).
More than 550 athletes pre-entered the Cross Challenge before the closing date whilst hundreds more participated for their individual clubs on the day in the John H Collins Gwent League from South Wales and the South West of England.
The course incorporated a mixture of flat fast running and interesting woodland and riverside sections, as distances varied from 1,250m for the novice youngsters up to 9,600m in the final event of the day for senior & master men.
Incorporated into round 1 of 5 of the John H Collins Gwent League on 16th October was the WEST WALES SELECTION RACE to represent the region in the Welsh Athletics Inter -Regional Cross Country Championships at Brecon on Saturday 20th November (on the same day as the Welsh Inter-Schools & Colleges Championships).
The first 15 athletes from the West Region in each race (Under 13 and above) were selected automatically and they will be notified shortly. Reserves will only be called up should spaces arise and those athletes interested should contact Rob Campion.
CARMARTHEN HARRIERS RESULTS ROUND-UP
Carmarthen Harriers junior and senior athletes, team managers, coaches and parents made the 120-mile round trip to Cardiff to participate in the 2021/2022 league opener, the first cross country competition opportunity in 19 months!
Well Done to all runners and thanks to the parents, team managers and coaches who also travelled up the M4 to Cardiff to support/ Da iawn i'r rhedwyr i gyd a diolch i bawb wnaeth cefnogi ar y diwrnod.
British Athletics Cardiff Cross Challenge & John H Collins Gwent Cross Country League - Results in full below:
NOVICE GIRLS / MERCHED O DAN 11:
27 Megan Evans 5:57, 46 Seren Bowen 6:38
NOVICE BOYS / BECHGYN O DAN 11:
37 Ellis Mathews 5:51
UNDER 13 GIRLS / MERCHED O DAN 13:
11 Amelia Williams 10:27, 21 Martha Morgan 10:44, 34 Beatrice Morgan 11:17, 38 Esme Lynock 11:28
UNDER 13 BOYS / BECHGYN O DAN 13:
4 William Coles 9:05, 46 Jimmy Davis 10:46, 57 Toby Anthony 11:24
UNDER 15 GIRLS / MERCHED O DAN 15:
16 Erin Morgan 12:26, 22 Frances Mackie 12:41, 23 Marged Jones 12:44, 30 Eleanor White 13:04, 42 Eleanor Fuller 13:35, 52 Leah Regan 14:26
UNDER 15 BOYS / BECHGYN O DAN 15:
1 Iwan Thomas 9:55, 5 Finley Bruce 10:18, 9 Ifan Bowen 10:27, 10 Alex Coles 10:30, 26 Joshua Barnett 10:50, 67 Aron Hedd Jones 13:04, Jake Lynock
UNDER 17 WOMEN / MERCHED O DAN 17:
19 Amy Greatrick 19:30, 21 Emma Ferns 19:55
UNDER 17 MEN / BECHGYN O DAN 17:
11 Thomas Jones 18:22, 17 Steffan Davies 18:48, 34 Jack Bruce 19:55
UNDER 20 WOMEN / MERCHED O DAN 20:
1 Eva Edwards 15:50
UNDER 20 MEN / BECHGYN O DAN 20:
9 Liam Edwards 20:52, Dafydd Jones
SENIOR WOMlEN / MENYWOD:
48 Wendy Price 25:27, Rhian Bruce 31:52
SENIOR MEN / DYNION:
24 Cameron Young 31:12, 145 Issac Ayres 35:39, 246 Huw Davies 39:12
POST-EVENT RESULTS, EVENT REPORT, VIDEO HIGHLIGHTS
RESULTS/CANLYNIADAU: British Athletics Cross Challenge Series (Cardiff Cross Challenge)
RESULTS/CANLYNIADAU: John H Collins Gwent Cross Country League Fixture 1
HIGHLIGHTS SHOW/RHAGLEN UCHAFBWYNTIAU: Live-Stream Highlights Show provided by Vinco Sport
EVENT REPORT/ADRODDIAD Y DIGWYDDIAD: Saturday's action at Llandaff Fields
SOCIAL MEDIA COVERAGE/CYFRYNGAU CYMDEITHASOL: For more photos, videos and results from the event over the weekend, follow @WelshAthletics @CrossCardiff on Twitter & Instagram.
WEBSITE/GWEFAN: John H Collins Gwent Cross Country League
WEBSITE/GWEFAN: British Athletics Cardiff Cross Challenge
MILTON KEYNES & BRECON... NEXT UP IN NOVEMBER!
The Cardiff Cross Challenge started the 2021 / 2022 British Athletics Cross Challenge Series and will continue through to March 2022. Milton Keynes is next up in Mid-November, followed by trips to Liverpool (which hosts the European Cross Country Championship trials) and Belfast (including the World Athletics International, Home Countries International and Celtic Challenge) before the finale at the UK Inter-Counties Championships at Loughborough.
The 2021 / 2022 John H Collins Gwent Cross Country League programme is set to visit Parc de Pugh, Brecon and Pembrey Country Park, Llanelli before Christmas (hosted by Carmarthen Harriers) followed by events at Blaise Castle, Bristol and Singleton Park, Swansea before the season concludes.