Saturday 19th February and Sunday 20th February saw junior and senior club endurance and track and field athletes compete at the first cross country league fixture of 2022, a re-arranged indoor open in the Welsh Capital and the British University Indoor Championships.
Fixture 4 and the penultimate event of the 2021 / 2022 John H Collins Gwent Cross Country League took place at a windy and muddy Blaise Castle, Bristol on Sunday 19th February.
It featured a full programme of men, women and junior races and was open to runners of all ages (from 9 age in the novice right up to over 70 masters).
The John H Collins Gwent Cross Country League programme visited Cardiff, Brecon and Pembrey in 2021 prior to the event in South West England.
It is set to conclude this season in West Wales at Singleton Park in Swansea in four weeks' time (Saturday 19th March 2022)
The re-arranged Welsh Athletics Junior Indoor Open Day 2 (Under 13, Under 15 and Under 17 age groups), postponed from the beginning of January, was held at the National Indoor Athletics Centre - Cardiff Met, Cyncoed Campus on Sunday 20th February.
60m, 60m Hurdles, 800m, 1500m, High Jump, Long Jump, Pole Vault and Shot Put events took centre stage on the second day over a six-hour programme and saw approximately 250 athletes attend.
Following the same format as in previous years, the Welsh Athletics Junior Indoor Open fixtures in 2021/2022 has incorporated the West Wales, East Wales and South West England Regional Championships for all track and field disciplines this year.
The seven Carmarthen Harriers members competing returned home from Cardiff with eight West Wales Championships medals.
Elsewhere at the English Institute of Sport in Sheffield, the British Universities Indoor Athletics Championships also made a return this year on Friday 18th February, Saturday 19th February and Sunday 20th February after a couple of years out.
Da iawn pawb wnaeth cystadlu dros y penwythnos / Well done everyone that competed over the weekend.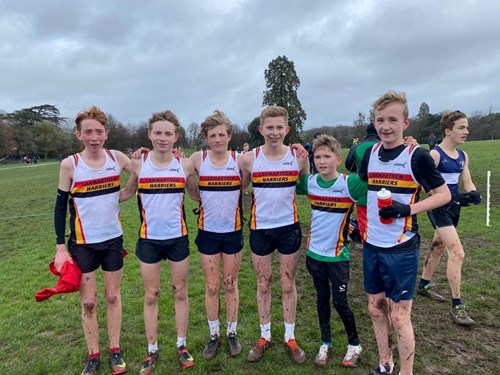 RESULTS / CANLYNIADAU
John H Collins Gwent Cross Country League Fixture 4 - Bristol
Under 13 Boys: William Coles (10:59); Toby Anthony (13:25)
Under 15 Boys: Iwan Thomas (14:00); Finley Bruce (14:06); Ifan Bowen (14:42); Jake Lynock (14:55); Joshua Barnett (14:56); Macsen Toogood (15:03)
Under 17 Men: Steffan Davies (20:53); Jack Bruce (21:50); Rogan Cox (25:52)
Under 20 Men: Liam Edwards (19:03)
Senior Men: Cameron Young (33:57); Huw Davies (40:22)
Novice Girls: Megan Evans (8:48); Paige Lily Williams (9:28)
Under 13 Girls: Esme Lynock (13:48)
Under 15 Girls: Eleanor White (17:10); Carys Wood (17:56)
RESULTS/CANLYNIADAU: John H Collins Gwent Cross Country League Fixture 4 (Blaise Castle, Bristol)
Welsh Athletics U13, U15 & U17 Junior Indoor Open incorporating West Wales Indoor Championships - Cardiff
Elli May Williams - 60m (8.11) GOLD
Casi Gregson - 60m (8.25) BRONZE
Beatrice Morgan - 60m (8.20) SILVER; 60m Hurdles (9.93) SILVER
Liam Regan - 800m (2:30.13) GOLD
Leah Regan - 800m (3:03.04) BRONZE
Frances Mackie - 1500m (5:17.34) GOLD
Amelia Williams - 1500m (5:31.48) BRONZE
RESULTS/CANLYNIADAU: Welsh Athletics U13, U15 & U17 Junior Indoor Open Day 2 (NIAC, Cardiff)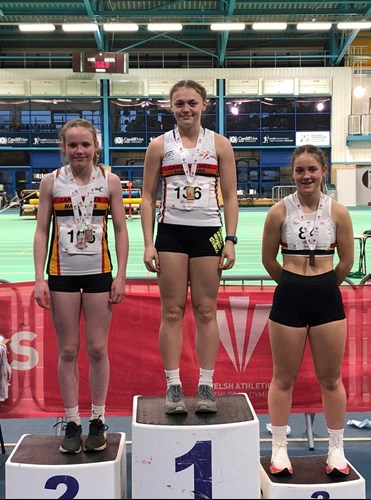 BUCS Indoor Athletics Championships - Sheffield
Iestyn Williams - 800m Semi Final (1:54.63)
Beca Roberts - Triple Jump Final (11.39m)
Lili Church - High Jump Final (1.72m)