A Carmarthenshire country park hosted another big sporting event over the weekend in conjunction with Welsh Athletics and Carmarthenshire County Council, as forty Carmarthen Harriers members turned out to compete at their local park.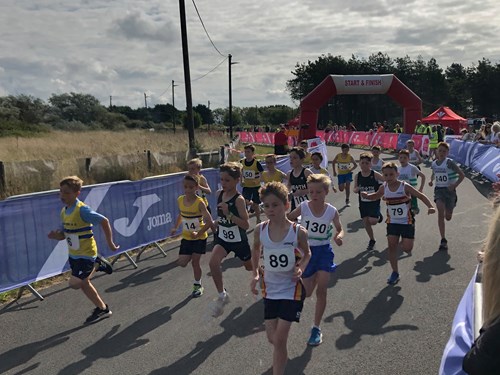 For the fourth year in succession, Welsh Athletics organised the popular Welsh Road Relay Championships for all age groups in West Wales at the fantastic Pembrey Country Park on Saturday (11th September). Previously these races have been held in Llandow Circuit Track and Ynysangharad Park in Pontypridd.
Back for the first time since 2019 due to the pandemic, the fixture for the 53rd time returned to the National Closed Road Cycling Circuit and the surrounding parkland on a route that was traffic free and had some excellent views. Approximately 500 athletes and over 140 teams were entered in this year's road relay championships.
The event provided the chance for both established and up-and-coming endurance runners in Wales to compete in a competitive team format at the beginning of the autumn season. Races included a primary schools challenge, full junior programme, men's, women's and masters categories along with the 18+ Run Wales Relay.
Distances varied by age group from 1,540m for the younger participants of the day up to 5,400m towards the latter stages of the programme with an out-and-back extension increasing the distance for older age groups as they headed to the far end of the course passing the Pembrey Saltings.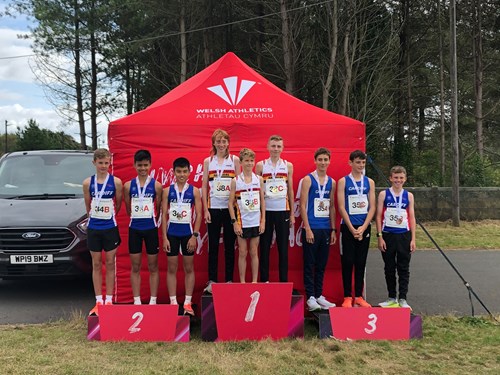 Under 13s and Seniors were run in a team of four, whilst the Under 15s, Under 17s, Run Wales and Masters categories were contested as a trio of athletes to make up the complete team.
What a day it was at our local park and it was encouraging to see all junior age groups represented - a total of 40 athletes were there altogether. There were some great results in particular the younger ages with a team win in the under 15 boys category, silver in the under 13 boys and bronze for the primary schools girls' team. In addition, there was an individual gold for William Coles who ran the fastest leg in the under 13 boys race.
Well done to the club members who took part, thanks to parents, coaches and team managers for their support. Members of our club were just not performing well in the races, but also behind the scenes in a number of ways such as helping with marshalling duties and lead cyclist.
Big thanks to all the officials, staff and volunteers from Carmarthenshire County Council, Pembrey Country Park and Welsh Athletics who contributed towards a successful day!
In under three months' time, the John H Collins Gwent Cross Country League Fixture 3 will head to Pembrey on 4th December followed by the Welsh Athletics Cross Country Championships during the winter season.
CARMARTHEN HARRIERS RESULTS ROUND-UP
: 
Results: Here's all the individual times by age group:
PRIMARY SCHOOL GIRLS / YSGOLION CYNRADD MERCHED:
Lowri Morgan (6:09); Fflur Jones (6:52); Seren Bowen (6:52); Megan Evans (7:16); Erin Clarke (7:32); Isla Warrender (7:53); Ffion Jones (8:28)
Team - 3rd (33pts) & B Team - 5th (56pts)
PRIMARY SCHOOL BOYS / YSGOLION CYNRADD BECHGYN:
Noa Jac Thomas (6:02); Oscar Toogood (6:18)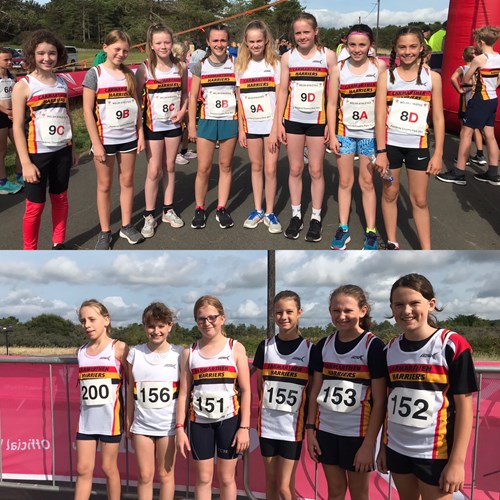 UNDER 13 GIRLS / MERCHED O DAN 13:
A team: Esme Lynock (6:56); Martha Morgan (7:00); Jessica Norman (7:41); Amelia Williams (6:49)
B team: Jessica Hughes (7:38); Rose Edwards (8:19); Grace Toogood (7:46); Beatrice Morgan (7:30) 
 A Team - 4th (28:26) & B Team - 8th (31:13)
UNDER 13 BOYS / BECHGYN O DAN 13:
A team: William Coles (5:53); James Davies (7:08); Toby Anthony (7:20); Tristan Warrender (6:59)
B team: Llyr Bowen (7:23); Hedd Vardill (7:53); Mabon Bowen (9:52)
Team - 2nd (27:20)
UNDER 15 GIRLS / MERCHED O DAN 15:
A team: Eleanor Fuller (13:26); Erin Morgan (13:33); Carys Wood (13:33)
B team: Efa Vardill (14:51)
 Team - 4th (40:32)
UNDER 15 BOYS / BECHGYN O DAN 15:
A team: Jake Lynock (10:29); Macsen Toogood (10:48); Iwan Thomas (10:16)
B team: Joshua Barnett (11:49); Aron Hedd Jones (11:53); Daniel Warrender (12:08)
A Team - 1st (31:33) & B Team - 4th (35:50)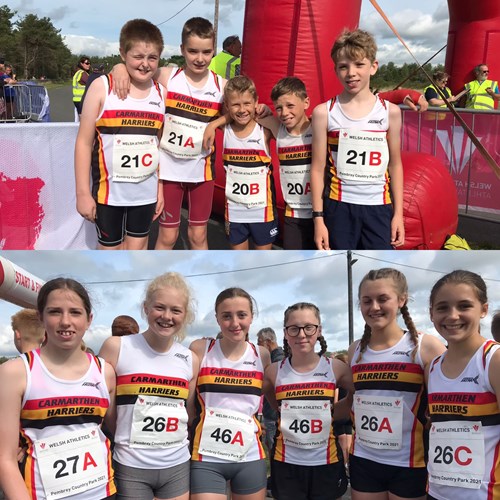 UNDER 17 WOMEN / MERCHED O DAN 17:
Emma Ferns (13:40); Amy Greatrick (14:52)
UNDER 17 MEN / BECHGYN O DAN 17:
A team: Jack Thomas (10:58); Thomas Jones (10:56); Steffan Davies (10:57)
B team: Brynmor Peters (13:34)
Team - 4th (32:51)
For all individual & team RESULTS / Ar gyfer CANLYNIADAU unigol a tim... (click on the event age group link)