Following recent open meetings in West Wales and South West England at the beginning of the month, the league track and field season got underway over the Easter and bank holiday period, including the return of the UK Youth Development League upper age group.
Friday 15th April - Sunday 24th April: Carmarthen Harriers sprinters, endurance runners, jumpers and throwers were in action for the first time this summer at a number of fixtures organised by local England clubs and the Youth Development League.
London,

Trafford,

Yeovil,

Yate

Bristol
In Yate, under 17 and under 20 athletes were competing as part of the West Wales composite team (Midland Premier South/West Division, run as a double-header with the South/West A Division). The next fixture takes place at Swansea University Athletics Track on Sunday 29th May followed by a trip to Cheltenham at the end of June.
Here's a results round-up and performances from those events between 15th and 24th April 2022...
Comeback 5000 - Battersea Park, London
Dafydd Jones - 5000m (14:42.18)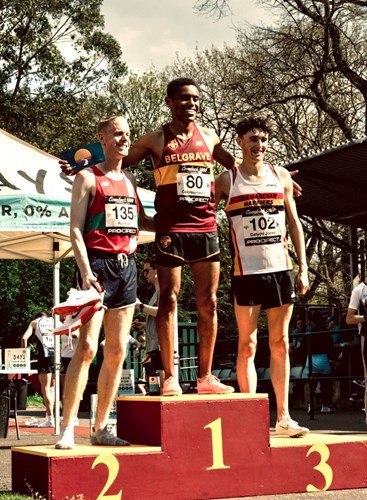 BMC Trafford Gold Standard Races - Trafford
Frank Morgan - 3000m (3:53.08)
Yeovil Olympiads AC Bill Whistlecroft Spring Open 2022
Eleanor Fuller - 800m (2:34.90)
Macsen Toogood - 3000m (9:59.84)
2022 UK Youth Development League UAG U17 & U20 Midland Premier South/West - Fixture 1
Jessica Lee - 100m (12.55); 200m (26.24); Long Jump (5.72m) & Relay
Sophia Reid-Thomas - 100m (13.41); 200m (27.73) & Relay
Ellie Loweth - 100m (13.47); 200m (27.39); Long Jump (4.22m) & Relay
Eleanor White - 300m (47.86); 3000m (12:00:21) & Relay
Eleanor Fuller - 300m (47.47) & Relay
Ifan Bowen - 800m (2:15.19); 1500m (4:25.00) & Relay
Finley Bruce - 1500m (4:29.62); 3000m (9:51.94) & Relay
Iwan Thomas - 1500m Steeplechase (4:53.87); 3000m (9:19.90) & Relay
Frances Mackie - 800m (2:34.62); 1500m (5:14.92) & Relay
Carys Wood - 800m (2:37.70); 3000m (12:09.01) & Relay
Amy Greatrick - 800m (2:48.7) & Relay
Leah Regan - 1500m (6:22.10); Long Jump (3.55m) & Relay
Storm Evans - Discus (35.15m)
Morgan Batten - Shot (9.65m); Javelin (51.30m)
Teifi 10 Mile Road Race - Lampeter
Cameron Young - 2nd Open Male (56:01)
Marcus Etheridge - 3rd Open Male (56:50)
Elizabeth Tremlett - 2nd Female 35+ (1:08:19)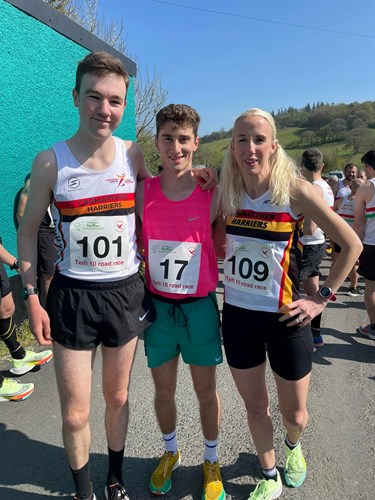 Bristol Track Club 3K
Jake Lynock - 3K (9:42)
Esme Lynock - 3K (13:55)