The 2021 summer track and field season has begun this month with a series of various open meetings in South Wales and across the border in England in line with current Government guidelines.
Athletics Competitions had been suspended in Wales between December 2020 and April 2021 because of the second Wales COVID-19 lockdown, except for an elite-only event.
With restrictions now easing and sport facilities able to fully re-open both indoors and outdoors, we look forward to a much better summer of competition opportunities in 2021 for all club members.
Twenty Carmarthen Harriers club sprinters, endurance runners, jumpers and throwers have already got their season campaigns underway in May at a number of organised fixtures by local clubs and Welsh Athletics... at
Newport,

Yeovil,

Trafford,

Swindon,

London, 

Aberdare
On Wednesday evening, Frank Morgan with a finishing time of 8:27.19 took another 6 seconds off the Carmarthen Harriers under 17 men 3000m club record which he broke in September 2020 at Trafford.
Don't miss out on competition opportunities, entries for events are expected to go quickly in line with current guidelines at the time.
RESULTS ROUND-UP - EARLY TO MID MAY
WELSH ATHLETICS ELITE SPRINTS AND ENDURANCE INVITATIONAL
Newport - Saturday 1st May
Dafydd Jones - 1500m (4:03.68)
Iwan Thomas - 1500m (4:31.61)
Steffan Davies - 1500m (4:32.50)
Ifan Bowen - 1500m (4:38.60)
Finley Bruce - 1500m (4:47.57)
Frank Morgan - 1500m
Jack Bruce - 3000m (10:27.49)
Jake Lynock - 3000m (10:31.31)
Ellie Loweth - 400m (65.25)
Mared Jones - 800m (2:34.28)
Frances Mackie - 1500m (5:18.67)
Carys Wood - 1500m (5:21.43)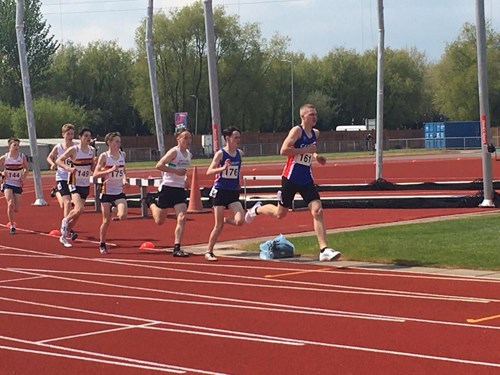 YEOVIL OLYMPIADS AC SPRING OPEN SERIES 2 - Track Events
Yeovil - Saturday 1st May
Hugo Douglas - 100m (13.60); 200m (28.26); 300m (48.09)
Jessica Lee - 100m (12.49); 200m (25.40)
Eleanor Fuller - 300m (47.77)
YEOVIL OLYMPIADS AC SPRING OPEN SERIES 3 - Track Events
Yeovil - Saturday 8th May
Macsen Toogood - 800m (2:30.26)
Jake Lynock - 1500m (4:49.07)
William Coles - 1500m (5:03.67)
Esme Lynock - 800m (2:57.89)
Emma Ferns - 1500m (5:36.58)
Eleanor Fuller - 1500m (5:39.39)
BRITISH MILERS CLUB GRAND PRIX TRAFFORD
Trafford - Saturday 8th May
Dafydd Jones - 5000m (14:51.43)
SWINDON HARRIERS TRACK AND FIELD OPEN MEETING
Swindon - Sunday 9th May
Hugo Douglas - 80m Hurdles (16.37); 150m (20.95)
Jack Bruce - 600m (1:37.82)
Finley Bruce - 1000m (3:10.61)
Iwan Thomas - 3000m (9:40.42)
Steffan Davies - 3000m (9:59.52)
Ifan Bowen - 3000m (10:39.86)
Jessica Lee - 150m (18.66); Long Jump (5.88m)
Sophia Reid-Thomas - 150m (19.86)
Ellie Loweth - 150m (20.13)
BRITISH MILERS CLUB REGIONAL RACE
London - Wednesday 12th May
Frank Morgan - 3000m (8:27.19)
WELSH ATHLETICS SPRING INVITATIONAL (SPRINTS & THROWS)
Aberdare - Saturday 15th May
Jessica Lee - 100m (12.23)
Sophia Reid-Thomas - 100m (12.86)
Elli May Williams - 100m (13.05)
Hugo Douglas - 100m (14.28)
Morgan Batten - Javelin (45.42m)
TRAFFORD AC TRACK AND FIELD OPEN MEETING
Trafford - Saturday 15th May
James Sloyan - 200m (29.50); High Jump (1.20m); Shot Putt (7.52m)