West Wales Regional Athletics will be holding the second Regional Hub U13 - U20 session a few days after Christmas on Sunday 29th December.
As part of the new Endurance Regional Development Programme, end of December's Regional Hub training session will be held at Pembrey Country Park Ski Centre, start time 10:30am until 12:00pm noon. 
How does the Regional Hub sessions work? The Regional Hub sessions will only last a maximum of 90 minutes and will give regional level athletes the chance to train together. They will also provide an opportunity for the carry-over of skills learned on the Regional Development Days. These sessions will also be opened out to U20 athletes.
PLEASE NOTE that ALL athletes in the under 13, under 15, under 17 and under 20 age groups can attend the Hub sessions, only the Regional Endurance programme is invited club athletes only.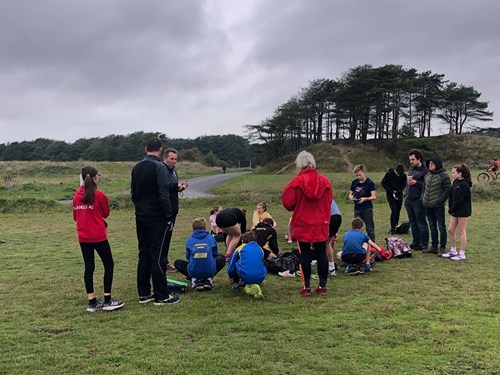 The second date of the Regional Hub, at Pembrey Country Park on Sunday 29th December follows on from the first day at the same venue at the beginning of October.
Coaches Neil Thomas, Rob Campion and Delyth Brown took the session and started off with some warm up drills. The training session was held on the Gwent League course which has become familiar to many, running around the perimeter of the field working in groups over short and long distances and hill work.
Around a dozen athletes from Pembrokeshire Harriers, Carmarthen Harriers, Llanelli AC and Swansea Harriers attended the opening day and members of other clubs are invited to come along.
For further information, please email westendurance@welshathletics.org