2019 sees the launch of Welsh Athletics Development Programme across athletics event groups in Wales. The Endurance Development Programme is part of this exciting initiative.
The Regional Development Programme is the first stage of the Endurance Development Pathway. At this stage in the pathway, athletes and coaches will be invited to attend regional development days throughout the year led by the Regional Endurance leads.
How do I get onto the Regional Endurance Programme? Entry on to the regional endurance programme will be via an invite from the regional endurance lead in the region in discussing with personal coaches. Athletes are eligible for the Regional Development Programme if they are in school years 9 to 13 (or top of U15-U20)
What will I expect at a Regional Endurance Development Day? The regional days are led by the regional endurance lead and the regional support coaches.
The days normally commence with a technical session. In the afternoon, there will be a lifestyle workshop and a Physical preparation session. Occasionally, the will be a guest invited to support the days.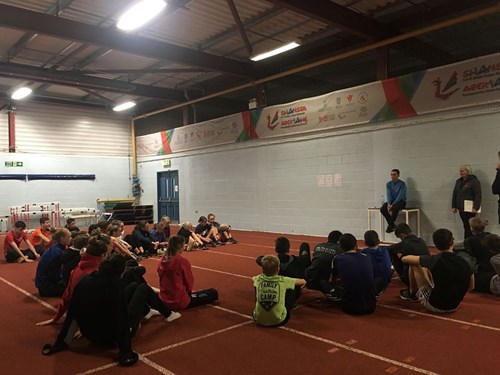 How does the Regional Hub sessions work? The Regional Hub sessions will only last a maximum of 90 minutes and will give regional level athletes the chance to train together. They will also provide an opportunity for the carry-over of skills learned on the Regional Development Days.
The dates and venues for the West Wales Regional Hub training sessions are as follows:
Sunday 6th October, Sunday 29th December
All hub training sessions will be held at Pembrey Country Park Ski Centre, start time 10:30am.
Any athlete and coach can come to the hub training sessions, it is only regional days that are invite only.
Can my coach attend the Regional Days? Coaches are key to the success of endurance across the development pathway. Coaches will be personally invited to attend all regional days and coach development will be aligned with the coach development strategy. The regional days and regional hubs also provide an opportunity for coaches to network and share ideas and good practice.
Can my parent or guardian attend the Regional Days? Parents are also encouraged to attend the Regional development days. The information and skills picked up by athletes will be better transferred into every-day lift with the support of parents.
Welsh Athletics Regional Staff - West
All regional coaches will have attended training with Sport Wales and Welsh Athletics Performance Staff prior to delivering on regional days.
The West Wales Regional Endurance Programme will be led by Delyth Brown. The support coaches for West Wales will be: Rob Campion, Peter Freeman and Neil Thomas.
Please do not hesitate to contact the regional endurance lead if you have any questions or require more information about regional development programme.

WEST WALES REGIONAL ENDURANCE TRAINING DAY 1 - CARMARTHEN - SATURDAY 28TH SEPTEMBER 2019
The Regional Endurance programme recommences this Autumn and the first of the West Wales days will be held at Carmarthen Leisure Centre on Saturday 28th September from 10am - 3pm. This is two weeks before the Cardiff Cross Challenge.
There will be a track training session in the morning, followed by a circuit in the afternoon, along with an informative talk. Some groups may work on the grass, therefore grass and track spikes will be needed. Please bring a change of clothing, in case of rain.
The day will run from 10am - 3pm with a break for lunch, a packed lunch will be needed and own drinks.
28/09/19 DAY 1 TIMETABLE
10:00-10:20 - meet and greet in conference room upstairs at Carmarthen Leisure Centre and brief outline of the endurance programme (Delyth Brown)
10:20-12:00 - outdoor training session (various endurance coaches)
12:00-12:45 - lunch (packed lunch needed)
12:45 - 14:45 - circuit training session indoors (various endurance coaches) and a talk
14:45 - 15:00 - recap of day and depart
It is important that athletes confirm their attendance or not by email WestEndurance@Welshathletics.org
Other dates have been confirmed as: Pembrey Country Park new cafe yr Orsaf (14th December) and Swansea Indoor Athletics Track Centre (28th March)
Sharon Leech (admin)
Delyth Brown (UKA Level 2 Endurance Coach / Regional Coordinator) and supported by club coaches.