Saturday 11th May saw all four Welsh regions host their respective athletics championships across three venues in North, South and West Wales today.
All eyes was on the brand new track in Aberdare for the joint South & East Wales Athletics Championships whilst for North Wales athletes, Queensway Stadium in Wrexham welcomed the competitors and officials.
Elsewhere closer to home, the West Wales Regional Outdoor Track & Field Athletics Championships went to a sunny Swansea University Athletics Track in 2019 on Saturday. Having been held in Neath 12 months ago, it was the turn of the University campus facility to host this time round which has already welcomed a number of fixtures so far since the start of April. The conditions were ideal for running a new personal best on the track or improving on distances and heights on the field.
The championships, with a closing date at the beginning of May, were open to competitors of all age groups from under 13, under 15, under 17, under 20 and seniors with all track and field events available during the course of the seven-hour timetable.
There was another big entry total of almost 300 competitors from the region's clubs and many of those made the journeys from Pembrokeshire Harriers, Carmarthen Harriers, Llanelli AC, Swansea Harriers and Neath Harriers and they were joined by a few guest representatives from outside the region.
West Wales medals were awarded to the top three in each event and each age group throughout the day. A long day for many of the Welsh Athletics and club officials and volunteers - a big thanks on behalf of the West Wales Athletics Regional Council for their contributions on a successful day for the hosts and region.
Gerry Batty Award presented at Swansea
The West Wales Regional Athletics Council received a number of nominations for the Region's Gerry Batty Award for 2018. The award is for the most improved athlete in the under 20 and below age groups in the previous years. This year's recipient was Adam Beer from Llanelli AC after his great season all round on the cross country and track last year. He was presented with the trophy in front of spectators in Swansea by West Wales RAC Chairman Dr Hedydd Davies. Llongyfarchiadau Adam!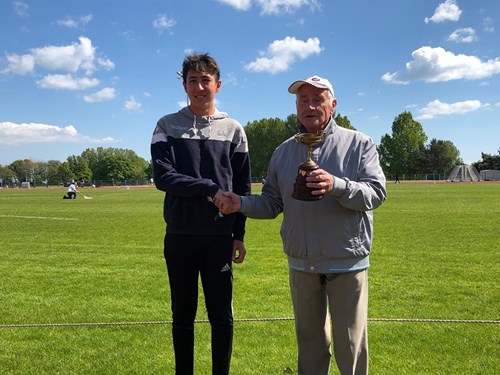 West Wales Outdoor Athletics Championships 2019 - Swansea - 11th May
Find all the Results, Performances, Distances and Heights on the Results File available on the link below; performances have appeared on the Power of 10 website and individual profiles.
FULL RESULTS / CANLYNIADAU LLAWN
If any athlete performance has not linked to their profiles for whatever reason, including spelling mistakes in their names/club, please visit the Power of 10 website and follow the instructions at the top of the page or have a look at the help tab.
Catch Up with Carmarthen Harriers Full Results from the 2019 West Wales Championships by Age Group
Under 13 / O Dan 13:
Ellie-May John: 800 metres GOLD (2.44.1), Shot Put (4.87)
Ellie May Williams: 100 metres BRONZE (14.3)
Casi Gregson: 100 metres SILVER (13.8), 200 metres SILVER (28.7)
Luned Dafis: 75m Hurdles (15.0), Long Jump (2.79), High Jump (1.10)
Frances Mackie: 1500 metres GOLD (5.14.5)
Carys Wood: 1500 metres SILVER (5.36.0)
James Sloyan: 800 metres GOLD (2.35.9), Long Jump (3.28), Shot Put (6.73)
Cai Allan: 100 metres (14.5), Pole Vault GOLD (2.00), Long Jump (3.96)
Macsen Toogood: 1500 metres GOLD (4.54.8)
Iwan Thomas: 1500 metres SILVER (4.57.0)
Under 15 / O Dan 15:
Jessica Lee: 100 metres SILVER (12.9), 200 metres SILVER (27.3)
Sophia Reid-Thomas: 100 metres BRONZE (12.9), 200 metres BRONZE (27.4)
Amy Greatrick: 1500 metres BRONZE (5.20.0)
Zara Evans: Long Jump BRONZE (4.70)
Cordelia Walker: Javelin GOLD (31.34), Discus (19.87)
Frank Morgan: 800 metres GOLD (2.09.7)
Rogan Cox: 800 metres (2.29.6), 80m Hurdles SILVER (17.8), 300 metres SILVER (50.3)
Matthew Vaughan Williams: 100 metres (12.5), 200 metres SILVER (26.4)
Jack Thomas: 1500 metres SILVER (4.50.0), 200 metres (30.9)
Steffan Davies: 1500 metres (5.12.7)
Osian Roberts: High Jump GOLD (1.71)
Under 17 / O Dan 17:
Ellie Loweth: 100 metres SILVER (12.8), 300 metres GOLD (43.3), 200 metres SILVER (27.7)
Tanwen Moon: 3000 metres SILVER (12.15.6), 1500 metres GOLD (5.37.8)
Lili Church: High Jump GOLD (1.55)
Beca Roberts: Triple Jump GOLD (10.47)
Dafydd Jones: 1500 metres GOLD (4.18.4)
Morgan Batten: Javelin SILVER (44.05)
Under 20 / O Dan 20:
Trystan Leech: 400 metres GOLD (52.7)
Senior / Hyn:
Lauryn Davey: 200 metres SILVER (27.5), High Jump SILVER (1.50), Long Jump GOLD (5.15)
29 Carmarthen Harriers vests out on show; A total medal tally of...15 gold, 16 silver and 5 bronze medals equalling 36. That's 10 more than the finishing number picked up in Neath in May 2018.
Our thanks from the coaches to all twenty nine of the members who competed at the event where everyone produced some outstanding individual performances and great team spirit, and not forgetting the parents and officials who supported them out on the field and from the sidelines. It puts the youngsters in great shape ahead of the Louise Arthur on home turf in a fortnight.
Well Done / Da iawn!