School pupils will head to the Cardiff International Sports Stadium in Leckwith on Saturday 2nd July for the 73rd edition of the Welsh Schools National Track & Field Championships.
All those taking part are selected to represent one of the eight districts from Afan Nedd Tawe, Cardiff & Vale, Dyfed, Eryri, Glamorgan Valleys, North East Wales, Powys and South East Wales.
The age groups for the championships are as follow:
Senior: over 17 years & under 20 years (years 12, 13 & 14)
Middle: over 15 years & under 17 years (years 10 & 11)
Junior: over 13 years & under 15 years (years 8 & 9)
The competition begins on the track and the field at 11:00am and concludes shortly after 6pm.
SIAB Schools Track & Field International selection are also at stake for the middle boys and girls categories as the annual fixture between Welsh schools, English schools, Scottish schools and Irish schools takes place in Belfast two weeks after the Welsh National championships.
The Dyfed Schools Athletics Championships were held earlier this month over two days in Carmarthen. It saw approximately 300 athletes in year 7 to sixth form compete from more than 20 schools and colleges in the Pembrokeshire, Brianne, Llanelli and Ceredigion areas. A team was selected following the event to compete at the Welsh Schools Championships in Cardiff on 2nd July.
Registration at Cardiff is 1 hour before event start time to collect numbers and vest from the team managers.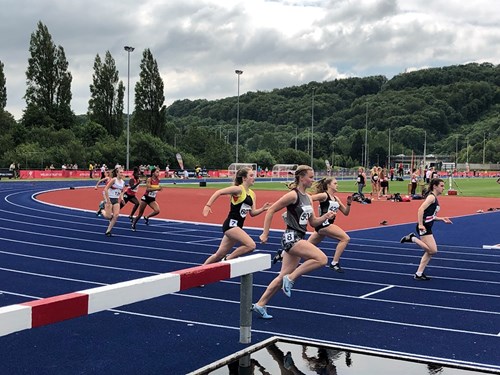 TRACK EVENTS.
The lane draw for straight finals will be made by The Open Track Results platform. ALL races will be seeded based on factual timings or personal bests of pre declared athletes
In the event of heats being run, qualifying conditions for finals are:
2 heats – first 3 in each heat plus 2 fastest times = 8 to final
3 heats – first 2 in each heat plus 2 fastest times = 8 to final
If there are heats listed in the programme/final timetable all athletes in track events must report to the call room (this year in the marquee adjacent to the finish area) 20 minutes before the time of the heat. If there are then insufficient reporting athletes to warrant heats, the final will be held at HEAT TIME. Please note that team managers, coaches or parents are not allowed in the call room.
Any athlete who fails to turn up for a final, having qualified to do so, without notifying the referee, will be excluded from all their subsequent events. Athletes who pull out of a final without adequate reason will be excluded from all their subsequent events.
Relay races - Athletes must report to Call room 20 minutes prior to the race start time. ALL athletes must wear the same number back and front
FIELD EVENTS.
In all Junior Events (Girls and Boys) - competitors are allowed three trials.
In all Senior and Middle Events (Girls and Boys) - all competitors are allowed three trials.
Athletes placed in the first four (4) positions after three rounds of competition should be allowed to take three additional trials. If, at the end of three rounds, there is a tie for the fourth place, then all those competitors tying should be included in the last three rounds.
Order of competition is drawn using the Open Track results platform.
Athletes who have entered a track event, which may clash with their field event, are required to report to the field event judges before competing in the track event. Athletes who leave the event to compete in a track event may re-join the competition at the round it has reached on their return.
Junior Triple Jump athletes are limited to a maximum length of 10m for their run up and must be capable of jumping at least 7.50m
Competitors are not allowed extra trials after a competition has finished.
Welsh Schools National Track & Field Championships - Information/Gwybodaeth:
EVENT TIMETABLE / AMSERLEN Y DIGWYDDIAD
EVENT INFORMATION / GWYBODAETH Y DIGWYDDIAD