The 116th George Crump MBE Memorial Welsh Athletics Cross Country Championships returns to Pembrey Country Park, near Llanelli on Saturday 22nd February 2020. The event will incorporate a Primary Schools Challenge for under 11 athletes as well as races for athletes of all ages and abilities.
Bydd Pencampwriaeth Traws Gwlad Athletau Cymru yn dychwelyd i Barc Gwledig Pen-Bre, ar bwys Llanelli ar Ddydd Sadwrn 22ain Chwefror 2020. Yn cael ei chynnal am y 116eg tro, bydd y cystadleuaeth yn cynnwys rasys i blant cynradd o dan 11 ac athletwyr o bob oedran a gallu.
Venue/Lleoliad: Pembrey Country Park, Llanelli, Carmarthenshire, SA16 0EJ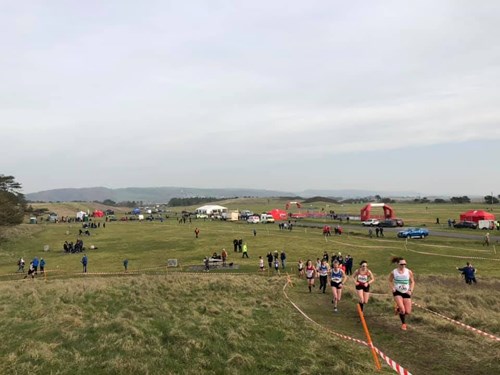 The annual clubs championships were held for the first time at the park in 2019 and was a great success. The Welsh Athletics Cross Country Championships had been held at Singleton Park in Swansea for the previous three years before then. The 2018 and 2019 fields saw its largest fields for many years.
Macsen Toogood (Carmarthen Harriers), Callum Morgan (Maldwyn Harriers), Adam Beer (Llanelli AC), Osian Perrin (Menai Track and Field), Conor Smith (Swansea Harriers), Ruby Herdman (Brecon AC), Ceri Griffiths (Newport Harriers), Gwenno Goode (Cardiff Archers), Ashleigh Willis (Swansea Harriers), Katrin Higginson (Bridgend AC), Jenny Nesbitt (Worcester AC) and Dewi Griffiths (Swansea Harriers) all won their respective age groups the last time out at Pembrey (February 2019).
For the second year, it will be heading West to Pembrey Country Park in a few weeks' time.
The event will use a fast and looping course of the park which will offer great spectator friendly racing. The venue will provide both interesting and testing terrain and the course will be set up to international standards.
For those who ran in Carmarthenshire last year, you will remember the "Marquee of Mayhem" which made the course a bit more exciting. The good news is that it will return again in 2020!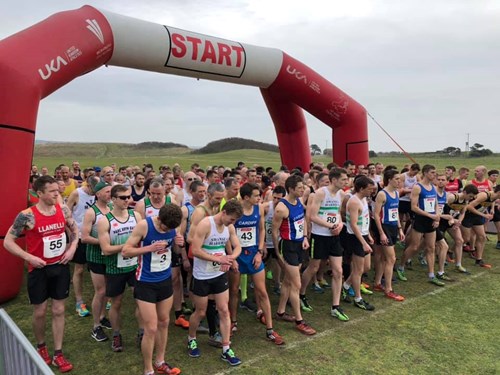 The course will be located around the same location a\s the John H Collins Gwent Cross Country League which came to Pembrey for the fourth time last November and not too far away from the Closed Cycling Circuit where the Welsh Athletics Road Relay Championships were held in September. The start and finish will be on the very same field with runners on the large lap passing the Ski Pembrey before returning the same direction.
This is an exciting time for endurance running in Wales and while this event has seen increasing numbers in recent years, it is hoped that the 2020 championships will see that increase continue by welcoming many of the start of the sport.
The Virgin Money Giving London Mini Marathon selection event will be the Welsh Athletics Cross Country Championships on Saturday 22nd February. The first 6 across the line in the Under 13, Under 15 and Under 17 age groups in both genders will be automatically selected. The 7th and 8th positions will be selected as non-travelling reserves. No other event will be looked at for selection.
Here is the link to the policy on the Welsh Athletics website https://www.welshathletics.org/en/page/competing-for-wales
This year English based Welsh athletes will also be eligible for selection.
2020 WELSH ATHLETICS CROSS COUNTRY CHAMPIONSHIPS TIMETABLE - AMSERLEN PENCAMPWRIAETH TRAWS GWLAD ATHLETAU CYMRU 2020
1. Under 13 Boys - Bechgyn O Dan 13 (11:00am) 3,150m
2. Under 13 Girls - Merched O Dan 13 (11:15am) 3,150m
3. Under 15 Boys - Bechgyn O Dan 15 (11:30am) 4,540m
4. Under 15 Girls - Merched O Dan 15 (11:50am) 4,540m
5. Senior Women & Master Women - Menywod (12:15pm) 7,360m
6. Primary School Boys - Bechgyn Ysgolion Cynradd (1:10pm) 1,550m
7. Primary School Girls - Merched Ysgolion Cynradd (1:25pm) 1,550m
8. Under 17 Men - Bechgyn O Dan 17 (1:40pm) 5,150m
9. Under 17 Women & Under 20 Women - Merched O Dan 17 a 20 (2:05pm) 5,150m
10. Under 20 Men - Bechgyn O Dan 20 (2:35pm) 7,360m
11. Senior Men & Master Men - Dynion (3:10pm) 10,350m
2020 CHAMPIONSHIPS EVENT INFORMATION - GWYBODAETH Y PENCAMPWRIAETH 2020
ARRIVAL: The park is situated near Llanelli (SA16 0EJ) between Burry Port and Kidwelly, accessible from the A484.
PARKING: Parking is available on site at £3.00 (under 2 hours) and £3.50 (all day/over 2 hours). You will need to pay for your parking at a machine on-site (near the Ski Centre is the closes to the venue) before you leave the park.
REGISTRATION: Registration (Race HQ) will open at 9:30am on race morning and will be situated near the finish area as indicated on the course map. Team Managers will need to collect race numbers where possible. This should be done at least 40 minutes before each race starts.
TEAM SCORING: Primary Schools Challenge (4 to score); Under 13 - Under 20 (4 to score); Senior Men (6 to score); Senior Women (4 to score); Master Men and Women (3 to score)
PRESENTATIONS: Presentations will be made alongside Race HQ as soon as possible following each race. Where possible presentations will be made for all categories on the day as follows; Primary Races: 1st, 2nd, 3rd individuals and winning teams - Welsh Championships: 1st, 2nd, 3rd individuals / 1st, 2nd, 3rd teams
TOILETS & REFRESHMENTS: will be available on site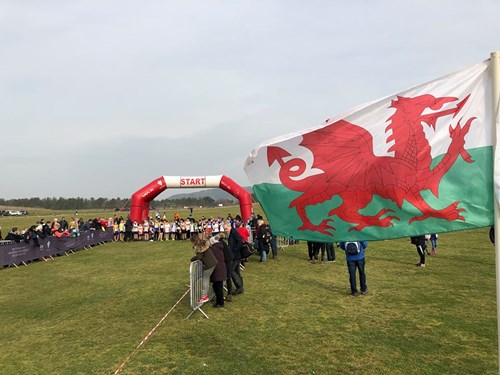 CLOSING DATE - DYDDIAD CAU
Closing Date for the 2020 Welsh Athletics Cross Country Championships will be Friday 14th February at 12:00pm midday. Entry fee is £3 for the primary boys and girls and £5 per athletes for all other age groups.
Entries can be made by via Clubs, normally by Team Managers or by individuals themselves.
Athletes must either be eligible to compete for Wales or be a member of a Welsh club. If an athlete is not Welsh eligible, they will only count as a member of their club team.
CARMARTHEN HARRIERS CLUB ENTRIES - COFRESTRU I HARRIERS CAERFYRDDIN
Cressy Morgan will be coordinating teams. If you would like to be entered to run or want to find out more information, please contact Cressy directly on secretary.carmarthenharriers@hotmail.com.
The club will then enter all the athletes by the closing date. DEADLINE TO GIVE YOUR NAME TO CRESSY AND PAY THE ENTRY FEE - SUNDAY 9TH FEBRUARY.
ONLINE LINKS - AR-LEIN
To enter the Welsh Athletics Cross Country Championships on 22/02/20, CLICK HERE/EWCH YMA
To view the Course Map & Timetable for the Welsh Athletics Cross Country Championships on 22/02/20, CLICK HERE/EWCH YMA