The 116th staging of the annual George Crump MBE Memorial Welsh Athletics Clubs Cross Country Championships took place at a familiar venue for Carmarthen Harriers members on Saturday (22nd February) as the half term holidays draws to a close.
Held in 2016-2018 at Singleton Park in Swansea, the popular fixture travelled 20 miles further West to Pembrey Country Park, near Llanelli for the second year in succession.
These championships have provided great inter-club entertainment since the first ever event in Ely back in 1894 and has always been one of the most important events of the year in Wales, with cross country running being the winter base for all success in middle distance running on the track and the road in the summer.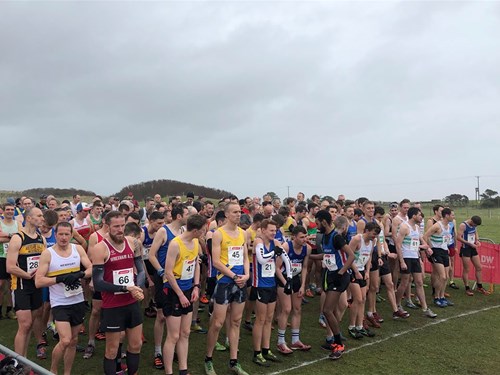 It made a move into Carmarthenshire to the magnificent and popular Pembrey Country Park 12 months ago in 2019 which is set inside 500 acres of woodland and alongside eight miles of golden sands near Cefn Sidan Beach.
The park situated between Burry Port and Kidwelly will also be hosting the event in 2021 over the three-year cycle.
Athletes, officials, guests and spectators were welcomed to difficult cross-country conditions on a showery and windy day, which was certainly an improvement following recent stormy weather up and down the country in the previous fortnight.
In one of the largest fields to date, the 2020 edition of the Welsh Athletics Cross Country Championships saw 768 athletes finish their respective races.
On a demanding course that showcased the counties park and the surrounding areas using a fast and looping course, the competitors aged 9 to 80 tackled fast grass sections, sand dunes, woods and paths as well as running over logs.
Also making a return to this fixture was the white "Marquee of Mayhem" which was situated on the finishing straight and saw participants run through here on each lap. Watched on by many inside including VIP guests, runners and supporters, this was an ideal part of the course to give plenty of encouragement and sound the cowbells.
The course had excellent spectating views all around for those who came out to watch on Saturday afternoon, whilst participants had the chance to take in some breath-taking sights around the route which overlooked Carmarthen Bay.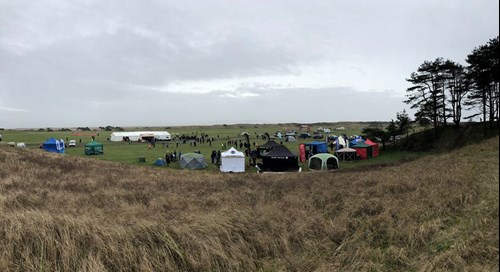 For a big number of the Welsh athletes, this was the third visit to the grounds of Pembrey Country Park in a matter of months. The course returned to the same location, near the Ski Centre, as the John H Collins Gwent Cross Country League which came to Pembrey for the fourth time last November and not too far away from the Closed Cycling Circuit where the Welsh Athletics Road Relay Championships were held in September last year.
More than 30 clubs from all corners of Wales, including big numbers from North Wales clubs who made the long journey down South, sent teams to participate and awards were shared around several athletic clubs.
There were eleven races on the Welsh championship race timetable for the future primary school generation (U11) right up to the more experienced seniors and masters with individual titles and team medals up for grabs. Race distances varied from 1,550m for the under 11's to the senior and master men's total distance of 10,350m.
Therefore, every individual position counted across all categories as presentations of awards were made to the first three individuals and the first three teams based on three, four or six to score respectively.
Coming out as victors and gold medallists in their respective events from under 11 to senior were: William Coles - Carmarthen Harriers (Primary Schools Boys 5:00), Libby Hale (Primary Schools Girls 5:24), Iwan Thomas - Carmarthen Harriers (Under 13 Boys 11:13), Beca Haf Bown - Menai Track and Field (Under 13 Girls 11:46), Frank Morgan - Carmarthen Harriers (Under 15 Boys 14:58), Jessica Evans - Cardiff Athletics (Under 15 Girls 16:32), Osian Perrin - Menai Track and Field (Under 17 Men 15:42), Samia Jones - Menai Track and Field (Under 17 Women 18:37), Dominic Smith - Swansea Harriers (24:06), Martha Owen - Deeside AC (19:02), James Hunt - Cardiff Athletics (Senior Men 31:58), Marc Hobbs - Swansea Harriers (Master Men 35 33:35), James Thie - Cardiff Athletics (Master Men 40 35:30), Huw Evans - Les Croupiers (Master Men 45 36:50), Lee Aherne - Parc Bryn Bach Running Club (Master Men 50 38:23), Thomas Guest - Swansea Harriers (Master Men 55 40:19), Dave James - Les Croupiers (Master Men 60 39:17), Alan Davies - Llanelli AC (Master Men 65 28:58), Richard Evans - Cardiff Athletics (Master Men 38:06), Melanie Wilkins - Wycombe Phoenix Harriers & AC (Senior Women 26:45), Helen Sharpe - Cardiff Athletics (Master Women 35 29:31), Wendy Price - Carmarthen Harriers (Master Women 40 31:06), Sandra Chipper - Lliswerry Runners (Master Women 45 29:08), Ceri Hooper - Les Croupiers (Master Women 50 32:29), Mary Anthony - TROTS (Master Women 55 34:07), Julie Scholey - Les Croupiers (Master Women 60 36:56)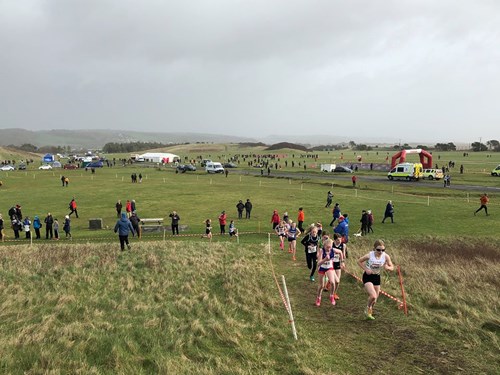 Before the Welsh Championship races begun, there was a Run Wales Winter Relay event following the success of the Road Relay edition in September. This was something fun, social and incredibly enjoyable, with team members of three to a team completing approximately 2 miles each made up of male, female or mixed teams and forty eight individual times were recorded.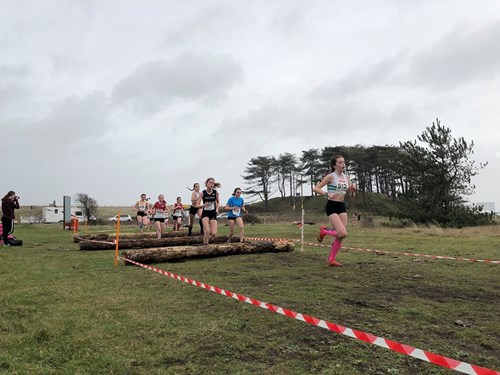 The Virgin Money Giving London Mini Marathon selection event was the Welsh Athletics Cross Country Championships over the weekend. The first 6 across the line in the Under 13, Under 15 and Under 17 age groups in both genders were automatically selected with the 7th and 8th positions having been selected as non-travelling reserves. Congratulations to all those selected and good luck with your preparations ahead of London on 26th April!
As far as the country and road is concerned, the season concludes with the final rounds of the John H Collins Gwent Cross Country League & British Athletics Cross Challenge / UK Inter-Counties Championships next up, whilst school athletes look forward to representing their country at the upcoming Schools International Athletic Board Cross Country Match and Virgin Giving Money London Mini Marathon over the next eight weeks up in Scotland and in the English capital.
CLICK HERE/CLICIWCH YMA for the online results from all twelve events at Pembrey Country Park
Find some more photos, videos and results from the day as it happened on the Carmarthen Harriers Facebook, Twitter and Instagram social media pages.
We recorded some footage and images of the action as it happened and the highlights video from the day has been uploaded to the Carmarthen Harriers YouTube channel CLICK HERE or see the video below.
Carmarthen Harriers Endurance Athletes of all ages compete in big National Championship Event on familiar turf in their home county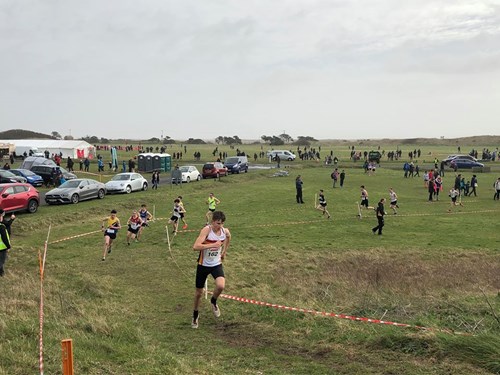 A total of thirty-nine Carmarthen Harriers athletes over eleven categories competed at this year's Welsh Athletics Cross Country Championships 2020 and came away with some more excellent individual and team results in their local county park, where many go to do some training on a regular basis. These championships have seen plenty of medals won over recent years and 2020 was no exception.
Some of the highlights included...
seven individual medallists from William Coles, Jac Jones, Amelia Williams, Iwan Thomas, Frank Morgan, Eva Edwards and Wendy Price.
Team victories for the primary schools boys, under 13 boys and master women 40, and team bronze for the under 15 boys team.
scoring teams in five of the junior age groups with all finishing in the top four.
The tally of medals picked up in 2020 came to 22... (15 gold, 2 silver and 5 bronze)
It was a great team effort, Thanks to all the coaches, team managers and parents who attended on the day to support, prepare for the event and help for several hours around the course with the marshalling duties! Your assistance was greatly appreciated by the club and Welsh Athletics organising team.
For some of the leading athletes from the club, training will now begin ahead of the London Mini Marathon and representing Wales at the end of April. We will be providing more news on this when the official announcement has been made in the coming weeks.
Results and Times in Full listed by Age Group - Dyma'r canlyniadau ac amseroedd yn llawn wedi'i rhestru wrth grwp oedran:
Primary Schools Boys / Bechgyn Ysgolion Cynradd (Team: 1st) 1 William Coles (5:00); 3 Jac Jones (5:08), 6 Sam Griffiths (5:19), 15 Ashton Williams (5:41), 23 Jimmy Davis (5:58), 25 Toby Anthony (6:01), 37 Alexandru Radulescu (6:18)
Primary Schools Girls / Merched Ysgolion Cynradd (Team: 3rd) 2 Amelia Williams (5:28), 5 Jessica Norman (5:47), 16 Esme Lynock (6:14), 33 Gwenan Fflur Jones (6:49), 34 Lowri Morgan (6:51)
Under 13 Boys / Bechgyn O Dan 13 (Team: 1st) 1 Iwan Thomas (11:13), 4 Macsen Toogood (11:29), 6 Ifan Bowen (11:34), 15 Alex Coles (12:11), 22 Llyr Jones (12:19), 24 Jake Lynock (12:31)
Under 13 Girls / Merched O Dan 13 (Team: 4th) 16 Frances Mackie (12:58), 25 Erin Morgan (13:23), 31 Carys Wood (13:53), 35 Mared Jones (14:13), 41 Ellie-May John (14:37)
Under 15 Boys / Bechgyn O Dan 15 (Team: 3rd) 1 Frank Morgan (14:58), 20 Zach Elvy (16:41), 24 Morgan Williams (17:03), 30 Ellis Caddick (17:31), 35 Jack Thomas (17:59), 38 Scott Price (18:12), 44 Rogan Cox (20:50)
Under 15 Girls / Merched O Dan 15: 29 Amy Greatrick (20:17)
Under 17 Men / Bechgyn O Dan 17: 11 Liam Edwards (17:12), 12 Dafydd Jones (17:15)
Under 20 Men / Bechgyn O Dan 20: 6 Iestyn Williams (24:43)
Under 20 Women / Merched O Dan 20: 2 Eva Edwards (19:42)
Senior & Master Men / Dynion (MM50): 10 Huw Davies (42:59)
Senior & Master Women / Menywod (MW40 Team: 1st) 1 Wendy Price (31:06), 8 Kate Lynock (35:30), 16 Amanda Toogood (43:14)
We'll see many of these travelling up the M4 to Swansea next Sunday for the fifth John H Collins Gwent Cross Country League before a some will make long trips up to Loughborough and Cwmbran the following weekend. Attention will then turn towards the start of the track and field season, beginning with the open meeting hosted by Swansea Harriers on the final Sunday of March!
Elsehwere, up at the England Athletics Indoor Age Group U15, U17 and U20 Championships in Sheffield, Osian Roberts came away with victory in the under 15 boys high jump competition becoming British Indoor champion. Despite three good attempts at 1.90m, he won with a clearance of 1.80m.
This followed new personal best performances recorded  closer to home at the West Wales Indoor Championships and the recent Welsh Athletics Junior Indoor Championships of 1.88m earlier this year.
On the second day of the weekend, Roberts was on the start list in the 60m Hurdles and secured a new personal best of 9.16 seconds on his way to the age group final.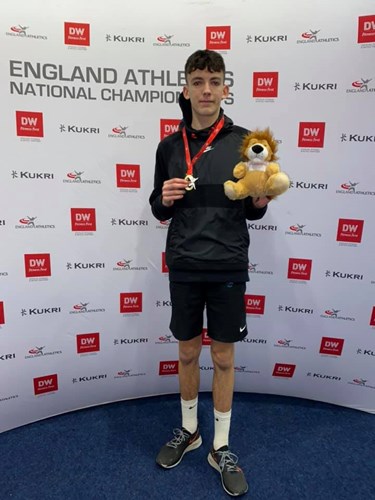 Event Photos, Media & Report: Nathan Jones