The 115th staging of the annual Welsh Athletics Cross Country Championships (George Crump MBE Memorial) again took place on the final weekend of February on Saturday, incorporating the Welsh Masters Cross Country Championships and a Primary Schools Challenge event.
Dewi Griffiths and Jenny Nesbitt claimed the main respective Senior Men and Senior Women titles whilst Callum Morgan, Ceri Griffiths, Adam Beer, Gwenno Goode, Macsen Toogood, Ruby Herdman, Osian Perrin, Ashleigh Willis and Connor Smith were all crowned junior champions.
After being held over the last three years at Singleton Park in Swansea, the popular competition travelled 20 miles further West. The course in Swansea has had a great history of hosting cross country races and is always a popular venue because of it's undulating terrain and scenic landscape.
The championships in 2019 made a move into Carmarthenshire to the magnificent Pembrey Country Park near Llanelli. Athletes, officials, guests and spectators were welcomed to perfect cross country conditions, with not a cloud in the sky and unusually mild for this time of year before grey and damp weather arrived towards the latter stages of the event.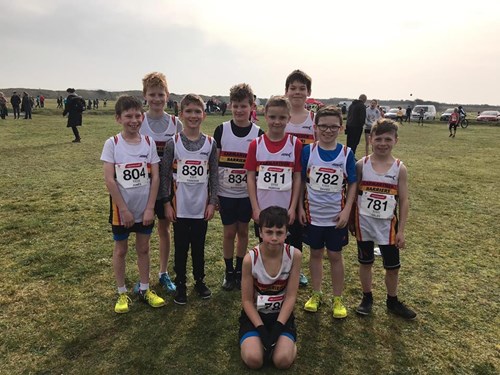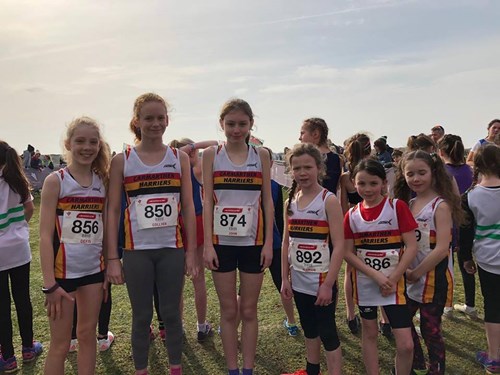 Clubs from all over Wales, including North Walians who made the long journey down South, sent teams to participate and awards were shared around several clubs.
There were eleven races on the race timetable between 11:00 and 16:00 for the future primary school generation right up to the more experienced seniors and masters with individual titles and team medals up for grabs.
On a demanding course that showcased the counties park and the surrounding areas, the competitors aged 9 to 80 tackled fast grass sections, sand dunes, woods and paths along with running over logs and through the "Marquee of Mayhem" situated near to the finish line.
Almost 1,000 from over thirty clubs entered before the closing date for the weekend's activities in West Wales.
Carmarthen Harriers Full Summary of Results: Taking Advantage on home turf...
The Carmarthen Harriers junior teams again turned out in force and despite a few missing from today's championships, the results were still superb with medals coming home in the majority of the age groups. The club had 35 athletes in action in total, with gold medals won in the team event across four junior age groups. There was also a bronze as well as five individual awards.
Thanks to all the athletes who ran, to Cressy for team managing and to the parents for their support.
Here's a full round up race by race:
Under 13 Boys / Bechgyn O Dan 13:
The day couldn't have got off to a better start, with the first set of team medals coming in the under 13 boys' race which kicked off the day's programme at 11:00am.
Iwan Thomas was the first to cross the line in 7th (11:38) with his teammates Zach Elvy (11:45) and Jack Thomas (11:46) coming in 10th and 11th places. TEAM GOLD was confirmed when Ifan Bowen scored as the fourth member of the team in a time of 12:08 for 14th overall. Joining them in the B team and as other scorers were Brynmor Peters (13:14) in 23rd and Tygan Davies (15:04) in 36th.
Team Result: GOLD 42pts
Under 13 Girls / Merched O Dan 13:
In the second race of the day, the under 13 girls also had a medium lap course of 3,150m in total. Running closely towards the finishing straight, Frances Mackie (12:46) and Amy Greatrick (12:48) were the first to score in 10th and 11th at the top end of the field. Carys Wood followed behind and ensuring a top 30 finish in 29th (13:45).
Under 15 Boys / Bechgyn O Dan 15:
In a repeat of 10 days ago at the Welsh Schools in Brecon, a tactical race was expected in race three. Frank Morgan (15:26) and Liam Edwards (15:49) were up there with the leaders from the starting gun and both ran brilliantly to secure third and fifth respectively. The second team success and gold in the matter of minutes came in the under 15 boys' category with Ioan Cressey-Rodgers (16:51) in 16th and Liam Evans (19:47) in 33rd confirming their place at the top of the podium. Sadly, there were only two scoring teams in this age group, as Cardiff took silver.
Team Result: GOLD 57pts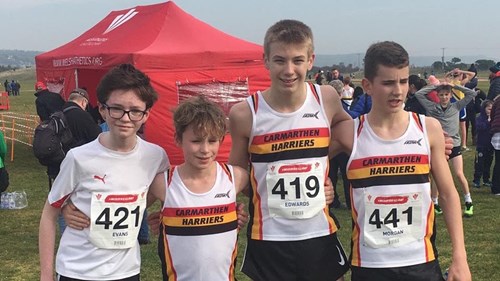 Under 15 Girls / Merched O Dan 15
Tanwen Moon has been consistent throughout this cross country season, and she ran well on a local course to finish 25th in 20:20.
Senior Women & Master Women / Menywod
Wendy Price led her MW 40 team to victory with two scoring teams amongst the medals. She was announced as the overall Master Women 40 champion in a time of 30:58 and backing her up were Kate Lynock in 72nd (37:40) and 88th placed Lisa Forrest (40:04). A great team performance from the trio!
Team Result: GOLD 22pts
Primary Schools Boys / Bechgyn Ysgolion Cynradd
The Novice Boys have been running away at the Gwent League over the course of the 2018 and early 2019 season, therefore it was no surprise to see them claim team title four as the programme approached half way.
With four to score, all finishers were in the top eight, led home by familiar winner Macsen Toogood (5:04) who took a five second victory from the fast finishing Dixon and Kearney. Joining Toogood on the podium to complete our A team were William Coles fifth (5:18) along with 7th and 8th Alex Coles (5:21) and Daniel Warrender (5:22). With such strength in depth, the B team were placed in fifth in the teams; scoring for this team were Liam Upton-Boorman 11th (5:29), Jac Jones 23rd (5:48), Tristan Warrender 24th (5:49), William Davies 43rd (6:39) and Tom Morgan 44th (6:40).
Team Result: GOLD 21pts
Primary Schools Girls / Merched Ysgolion Cynradd
After watching the boys dominate, the girls also put in some great performances and were awarded with bronze team medals for their efforts. First to finish was Ellie-May John (6:07) in 10th with Mabli Collyer (6:08) only one position and one second behind. The scoring four was completed by Jessica Norman in 15th (6:16) and Esme Lynock in 20th (6:28). In her second race for the club, Grace Toogood came 37th (7:10) and Luned Dafis was 42nd (7:15).
Team Result: BRONZE 56pts
Under 17 & U20 Women / Merched O Dan 17 a 20
Over a distance of 5,150m both the under 17 women and under 20 women went off together but scored separately. Eva Edwards (20:10) crossed in fifth overall but won individual bronze in her under 17 age group. Running in the corresponding under 20 women's category, Ellie Kiff was the 8th woman to finish the race in 23:02.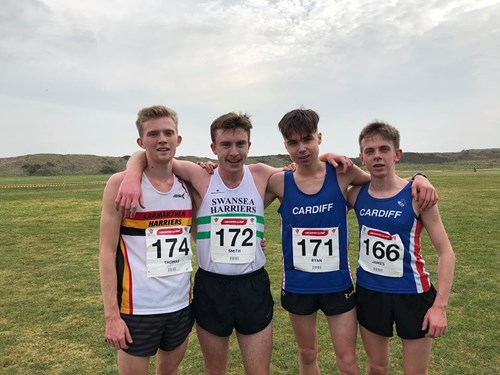 Under 20 Men / Bechgyn O Dan 20
A field of only 13 toed the line for the penultimate race of the day but it had plenty of quality. After a tactical battle for the first half of the race, a group of five pulled away with local athlete Ben Thomas one of them. After a great effort, Ben finished in the third place spot, behind 2018 champion Smith and last week's Welsh Schools winner Ryan. Ben's time was 25:04 and would have been a very familiar course for him in his local park.
Results & Social Media...
For the Welsh Athletics Cross Country Championships Full Results, go to CLICK HERE
Social Media Coverage was available via the Welsh Athletics & Carmarthen Harriers Social Media Pages which was updated with the latest news and photos as it happened on Saturday. Have a look including your stories and messages:
CH: Facebook - Twitter - Instagram<
Watch some of the best bits over 4 minutes from Saturday via THIS VIDEO which has been posted on our YouTube Channel.
Pembrey Country Park hosts a great 2019 Welsh Athletics Cross Country Championships: FULL REPORT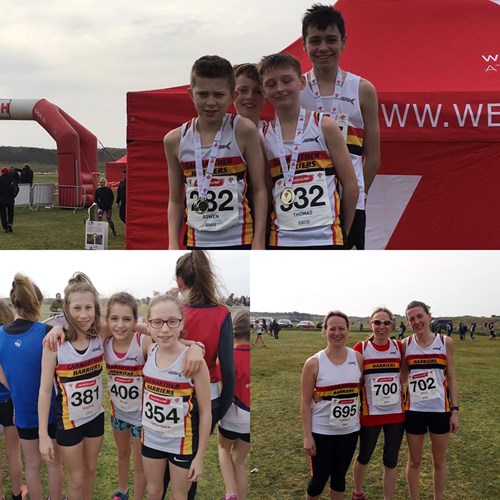 We hope that all clubs, athletes and spectators enjoyed your visit to West Wales and had a safe journey home.
As far as the country and road is concerned, two big events will conclude the 2018/19 before the track season gets up and running at the beginning of April. Teams have been selected for the Schools International Cross Country at Dublin in less than a months' time, and is followed by the Virgin Money Giving London Mini Marathon.