Cardiff, Carmarthen, Neath and Swansea have all hosted junior, senior and international matches over the week just gone with some superb performances on both the track and the field. Catch up with what's been going on below...
Mae Caerdydd, Caerfyrddin, Castell-Nedd ac Abertawe wedi cynnal cystadleuthau iau, hyn a rhyngwladol yn ystod yr wythnos, gyda perfformiadau gwych ar y trac a'r maes. Daliwch i fyny gyda'r hyn sydd wedi bod yn digwydd isod...
WELSH ATHLETICS U20 OUTDOOR INTERNATIONAL 2019 - CARDIFF INTERNATIONAL SPORTS STADIUM - WEDNESDAY 24TH JULY
Four Days after U17 athletes were in the spotlight at the SIAB Schools International in Swansea, Wednesday 24th July saw the Welsh Athletics U20 International return to the Welsh Capital and the Cardiff International Sports Stadium.
The Welsh Athletics U20 International featured a match between Wales, Welsh Schools, the three English regions, Scotland, Northern Ireland, and Guernsey. What a night it was...as meeting records and British records were broken in style! As at the Welsh Senior Championships just ten days earlier, Paralympic Star Aled Davies was on DJing duties and the big screen was again in use, whilst there was plenty for the commentary team of Ian Griffiths, James Thie and Chris Moss to report on right across the arena.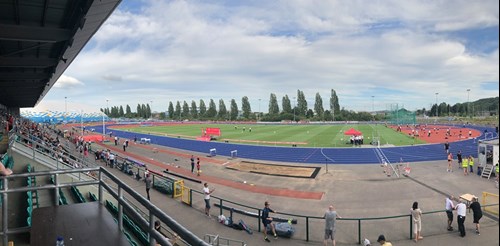 Including events over 100m, 200m, 400m, 800m, 1500m, (Welsh Championships) 3000m, 100/110m Hurdles, 4 x 100m, 4 x 400m mixed relay, Long Jump, Triple Jump, High Jump, Pole Vault, Shot, Discus and Javelin - the warm and sunny evening attracted a decent crowd to enjoy what was on offer with many of the UK's best on the start lists.
At the end of the six hour timetable and ending under the Leckwith lights shortly after 10pm, it was England South who were announced as the match winners, defending their title won in 2018. There were some encouraging performances from Wales' youngsters and experienced athletes, especially from the thrilling finishes to the boys and girls' 4 x 100m to take gold in both. All all of those in red running on home turf were either representing the Welsh Athletics or Welsh Schools teams.
Selected by the selectors to represent Wales at the 2019 U20 International from the Dyfed Schools district were: Lili Church (Aberaeron High Jump), Joshua Thomas (QE High Javelin), Chloe Butterworth (Emlyn Shot), Eli Oneywu (Dyffryn Aman 100m & 4 x 100m), Niamh Roberts (Coedcae 400mH), Ben Thomas (Strade 1500m) and Iwan Glynn (Bro Myrddin 4 x 400m). Ellie Loweth (Carmarthen Harriers) and Callum Campion (Llanelli AC) were fortunate enough to accept a guest place in the 100m and 800m respectively.
The event was streamed Online by Vinco Sport Live, which meant that those unable to be at the stadium could watch all of the races and field events on their own computer, phone or tablet. You can catch up with on demand videos of what happened, Click Here to visit the runjumpthrow.com website.
FULL RESULTS / CANLYNIADAU LLAWN: Click Here
GALLERY OF IMAGES / LLUNIAU O'R NOSON: Click Here
CARMARTHEN OPEN THROWS MEETING FIXTURE FOUR - CARMARTHEN LEISURE CENTRE - THURSDAY 25TH JULY
Back down in West Wales 24 hours after the International, around twenty throwers from the region participated in the final Carmarthen Open Throws Meeting of the 2019 summer season at Carmarthen Leisure Centre on Thursday 25th July.
Despite many away with the start of the summer holiday now in full swing, there was still a good field and some exciting competition as athletes looked to improve on their previous personal best as the season slowly draws nearer to its conclusion next month.
The likes of Bethany Moule, James Tomlinson, Brett Morse and Aled Davies as well as a few Paralympic athletes are just some of the big names who have been regular attendees at the throws meetings and continue to be great models for the future generation. They have gone on to represent Wales and Great Britain in top international championships.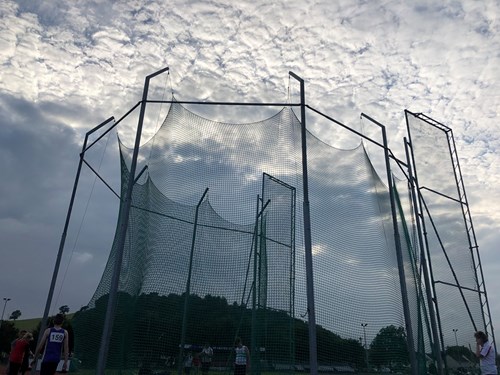 These throws fixtures have now become a popular fixture on the Welsh Athletics calendar and has been going strong for the last 9 years with familiar faces coming back each month. Arranged by Carmarthen & District Harriers Athletics Club, the series in West Wales have been held on the last Thursday of each month in April, May, June and July. The under 13 plus competition organised by Harriers club javelin coach, Ralph Siggery has given junior and senior athletes from clubs across South Wales and further afield the opportunity to take part in a laid back open event.
Rounding off the series last Thursday, athletes present were representing Swansea Harriers, Pembrokeshire Harriers, Carmarthen Harriers, Pontyclun AC, Neath Harriers, Birchfield Harriers and two of the DSW Para Academy group (including F44 shot put World record holder Harrison Walsh who threw the discus this time round).
These events couldn't have gone ahead without the support from the qualified Welsh Athletics officials and parent volunteers from all over South Wales who ensured that events were run properly and eligible for season rankings. The club would like to thank all those who helped out at all four matches this year.
FULL RESULTS / CANLYNIADAU LLAWN (25/07/19 Event): Click Here
U11 U13 U15 LOUISE ARTHUR LEAGUE - CWRT HERBERT ATHLETICS TRACK, NEATH - SATURDAY 27TH JULY
After visiting Haverfordwest, Carmarthen & Swansea in May and June, the fourth and final league match of the U11 U13 U15 Louise Arthur League arrived at the Cwrt Herbert Sports Centre Track in Neath and hosted by the local club, Neath Harriers on Saturday 27th July.
Despite the summer holidays in its first week, there was a great turnout in Neath with families, club mates and spectators lining the side of the home straight and several club tents positioned overlooking the track.
The black colours of Neath welcomed league leaders Swansea Harriers, Carmarthen Harriers, Pembrokeshire Harriers, Pontyclun AC, Brecon AC, Llanelli AC, Bridgend AC and Barry & Vale Harriers to their home for the climax to the Louise Arthur League West Division clubs.
Around 380 under 11 to under 15 athletes were pre registered from the welsh based club on Saturday.
Carmarthen Harriers youngsters enjoyed more success in the warm Saturday sunshine. Numbers might have been down this time round than previous matches mainly due to holidays, however this did not dampen own and team spirits as almost fifty Harriers members competed in the vest of the club on all four corners of the venue.
There were a number of excellent individual, high placed finish and team performances with a small number either joining the team and making their debuts or trying out a new track or field event. 
A big thanks once again to team managers Kathryn Jones, Keighley John and Cressy Morgan for their hard work behind the scenes in getting all the athletes out for this latest round with the best possible teams next to select for Swansea on August 25th.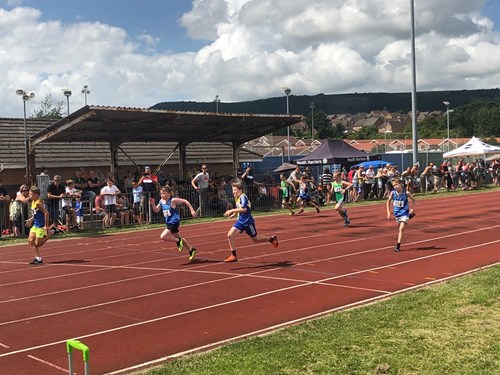 Carmarthen Harriers Athletes Match 4 - 27.07.19
UNDER 11/ O DAN 11: Beatrice Morgan, Soffia-Mai Davies, Gwenan Jones, Martha Morgan, Jessica Norman, Grace Toogood, Miriam Davies, Chloe Thomas, Amelia Williams, William Coles, Jimmy Davis, Thom Griffiths, Jac Jones, Sion Jones, Cian Maddocks, Elliot Morgan, Cai Staples, Ellis Thomas & Joseph Thomas
UNDER 13 / O DAN 13: Casi Gregson, Ellie-May John, Frances Mackie, Carys Wood, Luned Dafis, Megan Pridmore, Liam Upton-Boorman, James Sloyan, Tom Williams, Alex Coles, Tygan Davies, Iwan Thomas, Macsen Toogood, Jake Lynock
UNDER 15 / O DAN 15: Sophia Reid-Thomas, Jessica Lee, Amy Greatrick, Chloe Hale, Zach Elvy, Harry Fuller, Ethan Gould, Frank Morgan, Oliver Moruzzi, Osian Roberts, Jack Thomas, Sion O'Keefe, Ronny Rees.
Twenty four of them got involved in the end of competition 4 x 100m relays with the club fielding a squad of four in each of the six categories.
The team were supported brilliantly by encouraging parents, supporters and coaches, many of whom helped out with the long jump and marksman officiating duties throughout the day
Carmarthen Harriers have now qualified for the Welsh Athletics Junior League Cup Final at Swansea University on Sunday 25th August and this means that all those available need to confirm their availability as it will be only two per events instead of the four over the season so far. More details will follow very shortly on the cup final.
Also set to take part in the Welsh Cup Final at the end of the month (provisional) will be Swansea Harriers, Pembrokeshire Harriers, Brecon AC, Cardiff Athletics, Cardiff Archers, Newport Harriers, Rhymney Valley AC & another TBC when updated results are published.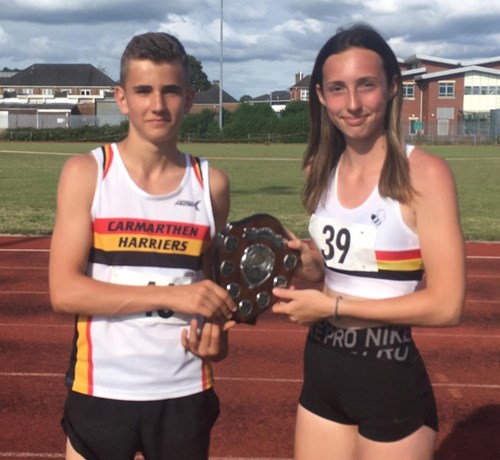 All the other clubs including joint composite teams will get involved in the August end-of-season too participating in the Plate final which will be held the day before the cup final (Saturday 24th August).
FULL RESULTS / CANLYNIADAU LLAWN (27/07/19 West Division Event)
U17 U20 YOUTH DEVELOPMENT LEAGUE MIDLAND PROMOTION MATCH - SWANSEA UNIVERSITY - SUNDAY 28TH JULY
Part two of the busy weekend double-header locally went to Swansea...and saw the Youth Development League Midland Upper Age Group Promotion final head to a bright Swansea University on Sunday 28th July whilst the Midland Regional final went over the bridge to Yate near Bristol, where the likes of Cardiff and Swansea were participating.
Five teams from Cardiff Archers, Cheltenham & County Harriers, East Wales, North Somerset and West Wales finished the league campaign with spots at the Promotion final at the University Sports Campus a few minutes away from the Mumbles.
Made up of athletes from Pembrokeshire Harriers, Carmarthen Harriers, Neath Harriers and Llanelli AC, those who wore the red and black vests of the composite team ran, jumped and threw by scoring valuable points for the team across the majority of events.
Enjoying home advantage, the West Wales region retained their place in the premier Midland South West Division in 2020 with a fine win on the day in front of a vocal and supportive local following. They will be joined by second and third-placed teams Cardiff Archers and Cheltenham & County Harriers as well as the top three from this year's division - Team Avon, Cardiff Athletics and Swansea Harriers.
Thanks go to all the West Wales Team Managers, Athletes, Coaches and the army of track and field Officials who have been a part of the 2019 league campaign since the beginning of May.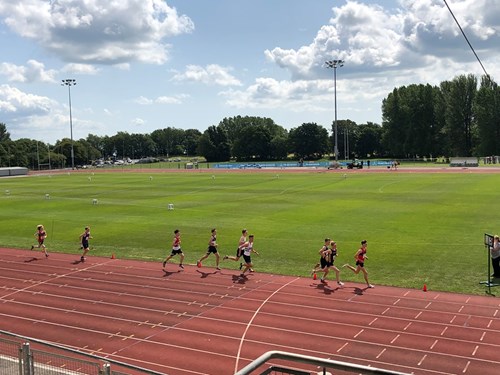 Following a pretty low turnout in general across the first three matches at Swansea, Exeter and Cardiff, it was great to see around a dozen members from Carmarthen Harriers help West Wales to stay in the top division next year which will only benefit the athletes themselves.
Swansea Results on Sunday from a Harriers point of view:
Boys: Trystan Leech (400m 53.82, Triple Jump 10.59m, 4 x 400m 3:42.11), Dafydd Jones (400m 55.65, 1500m 4:23.02, High Jump 1.35m, 4 x 400m 3:48.09)), Liam Edwards (800m 2:03.50), Lewis Jones (800m NS 2:21.29, 3000m 9:47.61)
Girls: Emily Shawyer (200m 30.58, 400m 67.45, 4 x 100m 55.39), Grace Page (400m 78.11, 1500m 6:10.83, Shot 5.91m), Eva Edwards (3000m 10:47.56, 4 x 400m 4:49.20), Ellie Kiff (3000m 12:20.08, 4 x 400m 4:49.20), Ellie Loweth (100m 13.44, 200m 28.00, 300mH 54.01, 4 x 100m 55.39), Tanwen Moon (200m 29.11, 300m 45.03, 1500m 5:30.47, 4 x 300m 3:03.23), Maddie Morgan (800m 2:55.53, Long Jump 3.54m, Triple Jump 10.23m), Lili Church (High Jump 1.60m, Pole Vault 1.70m, Javelin 27.89m, 4 x 100m 55.39), Nia Williams (Shot 11.31m, Discus 27.84m, 4 x 100m 55.39)
Special mention must be made to the following athletes who travelled with the team in the first three league fixtures earlier on this summer in May and June:
Trystan Leech (Swansea), Dafydd Jones (Swansea, Exeter & Cardiff), Morgan Batten (Swansea & Cardiff), Ellie Loweth (Swansea & Cardiff), Tanwen Moon (Swansea & Cardiff), Beca Roberts (Swansea) and Lili Church (Exeter & Cardiff)
FULL RESULTS / CANLYNIADAU LLAWN (28/07/19 YDL Midland UAG Promotion Match): CLICK HERE