Another busy winter season of action is nearly over...but there was still plenty to catch up on from the weekend just gone including the UK Inter-Counties Cross Country Championships, Welsh Schools Sportshall Athletics Finals, Llanelli Half Marathon and Vault Cardiff (Mar 7-8)
Catch Up with the Results here and check the Harriers Social Media Pages for more event coverage and pictures.
UK INTER-COUNTIES CROSS COUNTRY CHAMPIONSHIPS / BRITISH ATHLETICS CROSS CHALLENGE - 07/03/20
The 2020 British Athletics Inter-Counties Cross Country Championships incorporating the UK Cross Challenge Final returned to the setting of Prestwold Hall, Loughborough on Saturday (March 7th)
Having been held in Birmingham over the years and streamed annually on Sky Sports, the event made its move to Leicestershire and headed back there following it's success in 2017-2019 and attracted hundred of runners.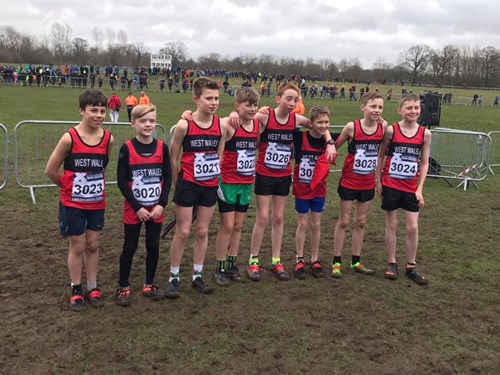 More than 40 counties across the United Kingdom featuring the likes of Avon & Somerset, Bedfordshire, Berkshire, Buckinghamshire, Cambridgeshire, Cheshire, Cornwall, Cumbria, Derbyshire, Devon, Dorset, East Wales, Essex, Gloucestershire, Greater Manchester, Hampshire, Hertfordshire, Humberside, Kent, Lancashire, Leicestershire & Rutland, Lincolnshire, Merseyside, Middlesex, Norfolk, North East, North Wales, Northamptonshire, Northern Ireland, Nottinghamshire, Oxfordshire, Scotland East, Scotland North, Scotland West, Shropshire, South Wales, Staffordshire, Suffolk, Surrey, Sussex, Warwickshire, West Wales, Wiltshire, Worcestershire and Yorkshire entered teams. This resulted in large fields of over 200 at least in every race for under 13, under 15, under 17, under 20 and senior athletes.
It also incorporated the finale of five British Athletics Cross Challenge series having started in Cardiff back in October, followed by Milton Keynes, Liverpool and Stirling at the beginning of the New Year. The challenge gave up and coming athletes the opportunities to match themselves against established cross country stars with competitive fields catering for all age groups.
In the middle of a busy fixture schedule and a few days, forty-six West Wales club athletes made the journey up to Loughborough to compete which is up on previous years, and each one performed brilliantly in muddy underfoot conditions following recent rain. Pembrokeshire Harriers, Carmarthen Harriers, Neath Harriers, Swansea Harriers, Trots, Llanelli AC, Port Talbot Harriers, Sarn Helen, Celtic Tri, Paul Popham RC and Aberystwyth AC were all represented and the region fielded six scoring teams. Many thanks to Rob Campion (Llanelli AC) who acted as the region's team manager in Loughborough in the lead up and on the day.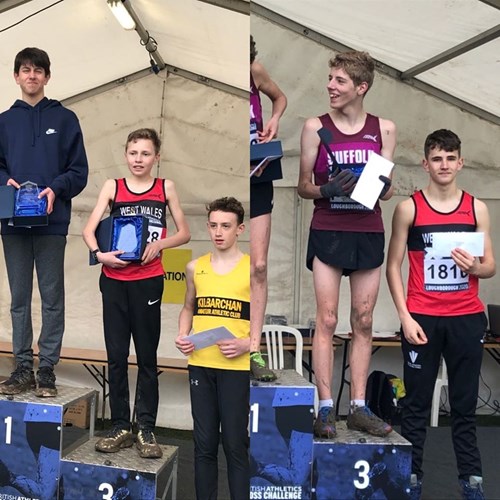 In particular for many of the youngsters, it was a great learning curve and a valuable opportunity taken to test themselves against the best runners the same ages as them in the whole of the UK. 
Full Finishing positions and times from the six Carmarthen Harriers athletes below who recorded some great results in big fields...
Special mention to Iwan Thomas who finished third overall in the under 13 boys and Frank Morgan who finished fourth overall in the under 15 boys, both in the 2019/20 British Athletics Cross Challenge Series element over the five fixtures. Da iawn, a great achievement to have two British top 4 placings!
Under 13 Boys / Bechgyn O Dan 13: 21 Iwan Thomas (14:01); 90 Ifan Bowen (14:40); 234 Alex Coles (15:58); 252 Jake Lynock (16:11), Macsen Toogood
Under 13 Girls / Merched O Dan 13: 265 Carys Wood (17:43)
Under 15 Boys: 7 Frank Morgan (15:00)
WELSH SCHOOLS INDOOR SPORTSHALL ATHLETICS FINALS - 08/03/20
Back closer to home, pupils from five school districts headed to the Cwmbran Stadium Sports Centre on Sunday (8th March) for the 2020 Welsh Sportshall Indoor Athletics Final for under 13 (year 7 & 8) and under 15 (year 9 & 10) athletes.
The event was the culmination of a series of regional qualifiers held across the eight school districts since the end of last year and the beginning of the new one. It provided a great vehicle for both talent identification and for providing young athletes with a fun, safe and exciting introduction to competitive athletics.
The event in South East Wales saw teams from Powys, Dyfed, Afan Nedd Tawe, Cardiff & Vale and North West Wales battle it out for UK final spots. The final featured team competitions at both under 13 and under 15 with the under 15's also contesting an individual competition (based on a points system similar to mutli event competition.)
The age group races/disciplines completed throughout the three-hour programme included: Obstacle Relay, 2 Lap Race, 4 Lap Race, 6 Lap Race, 8 Lap Paarlauf, 4 x 1 Relay, 4 x 2 Relay, Vertical Jump, Shot, Speed Bounce, Standing Long Jump and Standing Triple Jump.
The event was once again dominated by the Powys and North West Wales Districts, who ended up winning two team events each and these results guaranteed their place at the UK final. No doubt they are now looking forward to making the trip on the coach up to the South Yorkshire in a few weeks' time.
The winning four teams now advance to the UK final in EIS Sheffield on Saturday 18th April, accompanied by the two U15 individual winners who get the chance to contest the individual competition which runs alongside the team event.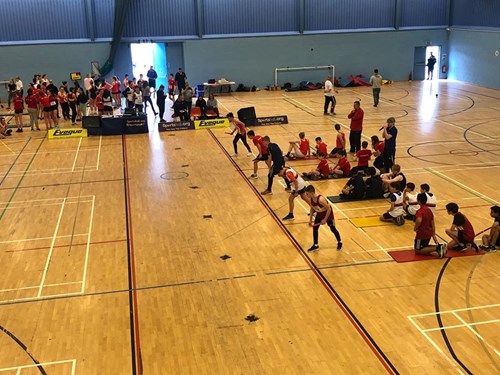 Under the guidance of Llanelli Schools PE teachers for the first time in organising and team managing, Carmarthenshire-based schools pupils along with their parents made the trip up the M4 and attended the event to represent the Dyfed district. Teams were chosen based on results from the Carmarthenshire Secondary Schools Y7/Y8/Y9/Y10 Sportshall Athletics event held at Llanelli Leisure Centre in January.
There were some good individual results on the track and in the field from those who participated and represented Dyfed, which was pleasing to see. Well done everyone!
Dyfed Schools' 2020 Team:
Eva Phillips (Strade), Maddy Jones (Bro Myrddin), Connie Crook (Bro Myrddin), Leilani Gregory (Bro Dinefwr), Sian Jones (Bro Dinefwr), Daisy Asher-Webb (Bro Dinefwr), Aaminah Adamson (Dyffryn Aman), Emily Tucker (St John Lloyd), Sophia Reid-Thomas (Bro Myrddin), Anna Duffy (St John Lloyd), Josephine Wikes (St John Lloyd), Tony Yann (Bryngwyn), Alex Roseway (Glan-Y-Mor), Jake Nottingham (Dyffryn Aman), Osian Herbert (Dyffryn Aman), Junel Fastino (St John Lloyd), Zach Elvy (Bro Myrddin)
RE-ARRANGED RISK KITCHEN LLANELLI HALF MARATHON 2020 - 08/03/20
The flat, fast and scenic 13.1 mile Risk Kitchen Llanelli Half Marathon arrived on Sunday 8th March as the race saw its largest number of participants to date. The event had to be re-scheduled in 2020 due to the severe weather on the original date last month.
A field of just under 1,600 runners crossed the finish line of the fourth edition of the Llanelli Half Marathon since Front Runner Events Ltd took over the race at the end of 2016. It didn't only welcome athletes from Carmarthenshire and the local area, but also Wales and beyond.
The route took runners on fully closed roads past Parc Trostre along the Coastal Link Road to Sandy Water Park and along the Millenium Coastal Park (MCP) to Pwll where the runners turned round and headed back towards Parc Y Scarlets via the MCP and the A484.
Voted the UK's Best Half Marathon at the Running Awards 2018, the course was equally suitable for first-time runners as well as elite and club runners with the conditions on the morning of the race perfect.
Local athlete Dewi Griffiths in under 67 minutes and Natasha Cockram in an hour and 15 minutes came out on top in the men's and women's races.
On the road, Carmarthen Harriers' Wendy Price (1:30.56), Dafydd Bowen (1:34:28) and Dave Holland (1:58:30) completed the Half Marathon.
VAULT CARDIFF 2020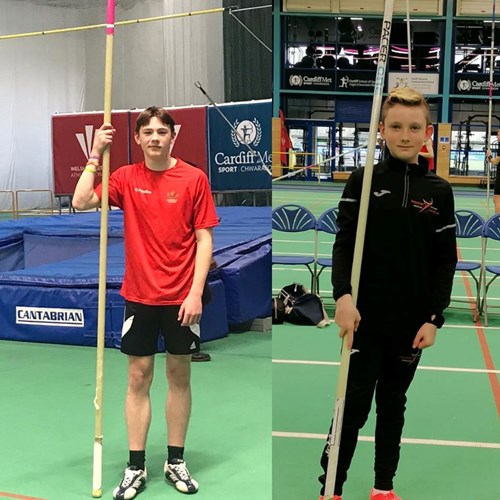 At the same time as Cwmbran and Llanelli, the Vault Cardiff competition returned to the National Indoor Athletics Centre on Sunday (March 8th) and saw another big turnout. With entries all filled in a short space of time, Over 120 vaulters were set to compete split across 12 pools and four pits in one day lasting eight hours.
What is it? Vault Cardiff is part of the Vault Britain Series of pole vault only competitions and shows how popular the discipline has become with athletes of all ages having a go and attending regional days for pole vault.
From the Carmarthen club, under 17 Connor Handford went over 2.92m which was a big 47cm personal best on the day followed by Cai Allan in the under 13 category clearing 2.12m in another good performance. He wasn't too far away from getting over a new pb either.
For the UK Inter-Counties Cross Country Championships / Cross Challenge Series (Loughborough) results in full, go to CLICK HERE
For the Welsh Schools Sportshall Athletics Finals (Cwmbran) results in full, go to CLICK HERE
For the Llanelli Half Marathon Provisional Results and finishing times in full, go to CLICK HERE
For the Vault Cardiff (Cardiff) results in full, go to CLICK HERE