Another busy winter season of action is nearly over...but there was still plenty to catch up from the weekend just gone including the UK Inter-Counties Cross Country Championships, Welsh Schools Sportshall Athletics Finals, Vault Cardiff and Wildflower Duathlon (Mar 9-10)
Catch Up with the Results here and check the Harriers Social Media Pages for more event coverage and pictures, in particular the Sportshall Finals.
UK INTER-COUNTIES CROSS COUNTRY CHAMPIONSHIPS / BRITISH ATHLETICS CROSS CHALLENGE
The 2019 British Athletics Inter-Counties Cross Country Championships incorporating the UK Cross Challenge Final and World Cross Country Championships returned to the setting of Prestwold Hall, Loughborough on Saturday (March 9th), as Essex man Adam Hickey and 2019 Welsh Athletics Cross Country Champion Jenny Nesbitt (Worcester AC) claimed the respective senior women's and men's titles.
It attracted hundreds of novice and elite runners as the cross country season came to a close for 2018/19 with the leading seniors battling to book themselves in the GB team for the World Cross later this month. Having been held in Birmingham over the years and streamed annually on Sky Sports, the event made its move last to Leicestershire and headed back there following it's success in 2017 and 2018.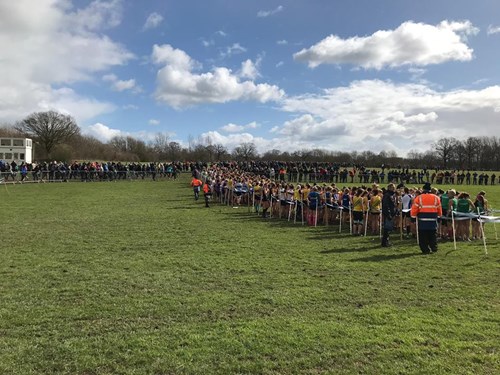 More than 40 counties across the United Kingdom featuring Avon & Somerset, Bedfordshire, Berkshire, Buckinghamshire, Cambridgeshire, Cheshire, Cornwall, Cumbria, Derbyshire, Devon, Dorset, East Wales, Essex, Gloucestershire, Greater Manchester, Hampshire, Hertfordshire, Humberside, Kent, Lancashire, Leicestershire & Rutland, Lincolnshire, Merseyside, Middlesex, Norfolk, North East, North Wales, Northamptonshire, Northern Ireland, Nottinghamshire, Oxfordshire, Scotland East, Scotland North, Scotland West, Shropshire, South Wales, Staffordshire, Suffolk, Surrey, Sussex, Warwickshire, West Wales, Wiltshire, Worcestershire and Yorkshire entered teams. This resulted in large fields of over 200 at least in every race for under 13, under 15, under 17, under 20 and senior athletes.
It also incorporated the finale of five British Athletics Cross Challenge series having started in Cardiff back in October, followed by Milton Keynes, Liverpool and Belfast in January. The challenge gave up and coming athletes the opportunities to match themselves against established cross country stars with competitive fields catering for all age groups.
The action got underway at 11am with the under 20 men's race and concluded with the senior men, which saw the most runners take to the start line. In the middle of a busy fixture schedule and a few days, around 35 West Wales club athletes made the journey up to Loughborough to compete, and each one performed brilliantly in terrible underfoot conditions following recent rain. Pembrokeshire Harriers, Carmarthen Harriers, Neath Harriers, Swansea Harriers, Trots and Llanelli AC were all represented. Many thanks to Rob Campion (Llanelli AAC) who acted as the region's team manager in Loughborough in the lead up and on the day.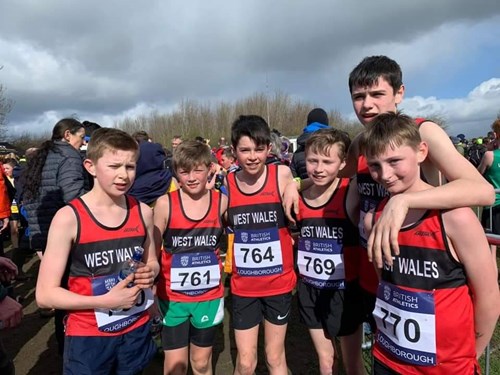 In particular for many of the youngsters, it was a great learning curve and a valuable opportunity taken to test themselves against the best runners the same ages as them in whole of the UK. Full Finishing positions and times from the ten Carmarthen Harriers athletes below:
Under 13 Girls: 217 Amy Greatrick (15:00), 236 Erin Morgan (15:13), 290 Carys Wood (16:10)
Under 13 Boys: 101 Zack Elvy (13:25), 124 Iwan Thomas (13:35), 141 Steffan Davies (13:41), 147 Jack Thomas (13:43), 228 Ifan Bowen (14:20)
Under 15 Girls: 293 Tanwen Moon (18:52)
Under 15 Boys: 67 Dafydd Jones (14:21)
WELSH SCHOOLS SPORTSHALL ATHLETICS FINALS
Back closer to home and just seven days after the best under 20 from Wales and England participated in the Welsh Athletics Indoor International, school districts and its future generation headed to the Cwmbran Stadium Sports Centre for the 2019 Welsh Sportshall Athletics Final for under 13 (year 7 & 8) and under 15 (year 9 & 10) athletes. This closed the indoor sportshall season after a number of events held across the country since last September.
The event was the culmination of a series of regional qualifiers held across the eight school districts since the end of last year and the beginning of the new one. It provided a great vehicle for both talent identification and for providing young athletes with a fun, safe and exciting introduction to competitive athletics. The event in South East Wales saw teams from Powys, Dyfed, Afan Nedd Tawe, Cardiff & Vale and North West Wales battle it out for UK final spots. The final featured team competitions at both under 13 and under 15 with the under 15's also contesting an individual competition (based on a points system similar to mutli event competition.)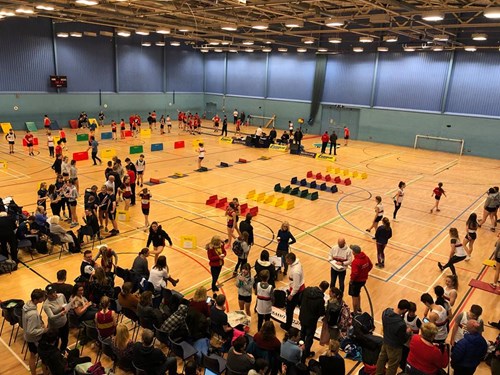 The age group races/disciplines completed throughout the afternoon included: Obstacle Relay, 2 Lap Race, 4 Lap Race, 6 Lap Race, 8 Lap Paarlauf, 4 x 1 Relay, 4 x 2 Relay, Vertical Jump, Shot, Speed Bounce, Standing Long Jump and Standing Triple Jump.
It turned out to be a great few hours of competition supported by the vocal crowd of teammates and supporters on the side-lines. The event was once again dominated by the Powys region, who ended up winning the team event in three age groups (under 13 boys, under 13 girls and under 15 girls), and these results guaranteed their place at the UK final. No doubt they are now looking forward to making the trip on the coach up to the North of England in a few weeks' time. They will be joined by the under 15 boys' North West Wales team who were announced as the other team champion.
The winning four teams now advance to the UK final in Manchester on the 13th and 14th of April, accompanied by the two U15 individual winners who get the chance to contest the individual competition which runs alongside the team event.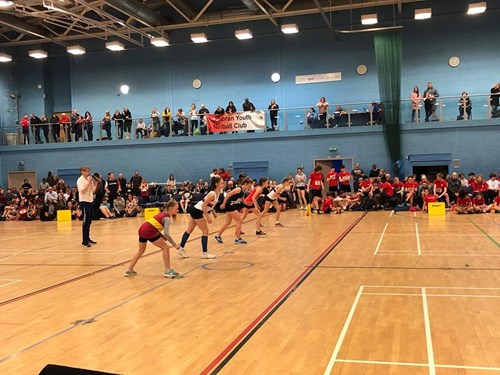 Under the guidance of Hedydd Davies, a full coach of 34 Dyfed schools athletes along with their parents made the trip up the M4 and attended the event. Teams were chosen based on results from the Carmarthenshire Secondary Schools Y7/Y8 Sportshall Athletics event held at Carmarthen Leisure Centre in January as well as the top year 9 and 10's in the area.
There were some great individual results on the running track and in the field, which was pleasing to see. At the end of the day, Dyfed Schools finished as runners-up in the under 13 boys and under 13 girls' categories to Powys whilst the under 15 girls came 4th. The two second placed teams were presented with their silver medals for their efforts. Well done everyone!
Dyfed Schools' 2019 Teams:
Under 13 Girls (2nd): Jessica Lee (Dyffryn Taf), Emily Roberts (QE High), Amira Abdelkodel (St John Lloyd), Elen Williams (Bro Dinefwr), Alice Bird (Bryngwyn), Anwen Raybould (Bro Dinefwr), Chloe Simmonite (Coedcae), Sophia Reid-Thomas (Bro Myrddin), Elen Davies (Bro Dinefwr), Hannah Carpenter (Bryngwyn), Hannah Forkuoh (Coedcae), Courtney Brown (Coedcae), Gwenno Pritchard (Bro Dinefwr), Ffion Davies (Dyffryn Aman), Maddi Jones (Bro Myrddin), Isabel Watkins (Bryngwyn), Lucy Wintle (Y Preseli)
Under 13 Boys (2nd): Cai Lewis (Bro Myrddin), Tomos Lewis (Bro Myrddin), Oliver Harris (Bro Dinefwr), Ieuan Price (Coedcae), Llew Edwards (Bro Dinefwr), Freddie Webber (Coedcae), Luke Millar (Bro Dinefwr), Sion Davies (Dyffryn Aman), Tiaan Sparrow (Dyffryn Aman), Josh Cabigon (QE High), Charles Fernandez (QE High), Tomos Phillips (Dyffryn Aman)
Under 15 Girls (4th): Ella Wintle (Y Preseli), Zara Evans (Henry Richard), Catrin Lewis (Llandovery College), Amy Tucker (St John Lloyd), Nia Williams (Bro Dinefwr)
Watch a Highlights Video with the best of the action at Cwmbran on Sunday CLICK HERE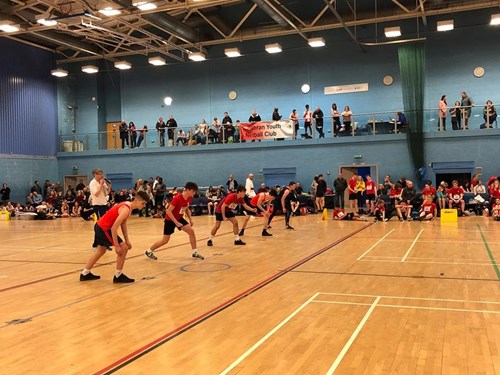 VAULT CARDIFF 2019
At the same time as Cwmbran, the Vault Cardiff competition returned to the National Indoor Athletics Centre on Sunday (March 10th) and saw the biggest turnout to date. With entries all filled in a short space of time, Over 150 vaulters were set to compete split across 12 pools and four pits in one day lasting eight hours.
What is it? Vault Cardiff is part of the Vault Britain Series of pole vault only competitions. This followed on from the Vault Manchester and the Vault London, and shows how popular the discipline has become with athletes of all ages having a go and attending regional days for pole vault.
From the Carmarthen club, Cai Allen in the under 13 category has only begun vaulting this year and on Sunday, cleared a height of 2.13m and as a result was a new personal best at this early stage, da iawn. He wasn't too far away from getting over 2.23m and has already shown potential.
WILDFLOWER DUATHLON
Well done to the 307 competitors that completed the Wildflower Duathlon at the National Botanic Gardens of Wales on Sunday (March 10th). Carmarthen Harriers Results:
1 Elizabeth Tremlett F35 (1:27:10), 2 Jack Tremlett M35 (1:11:14), 2 Jamie Best M40 (1:15:37), 6 Lisa Forrest F40 (1:45:55) 11 Dafydd Bowen M40 (1:27:07).
For the UK Inter-Counties Cross Country Championships (Loughborough) results in full, go to CLICK HERE
For the Welsh Schools Sportshall Athletics Finals (Cwmbran) results in full, go to CLICK HERE
For the Vault Cardiff (Cardiff) results in full, go to CLICK HERE