Wales' star athletes descended on the National Indoor Athletics Centre at Cyncoed Campus, Cardiff on Saturday for the 2020 edition of the Welsh Athletics Senior Indoor Athletics Championships 2020 on an action-packed day of competition.
In the middle of a busy period of Indoor fixtures in Wales at the start of 2020, it was all about Wales' top senior athletes as well as a number of under 13's, under 15's and under 17's in some selected junior championship events. The majority of junior events will be held next weekend at the Welsh Athletics Junior Indoor Championships at the same location.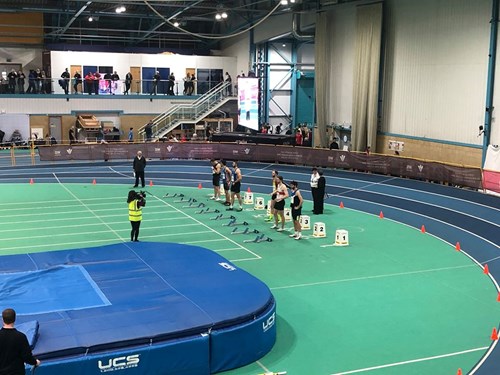 Athletes from all four regions and further afield headed to the Cyncoed Campus facility on Saturday 25th January featuring at least dozen defending champions and International competitors. They went head to head in front of a big home crowd to be crowned as Welsh champion for 2020 in their respective disciplines over events on the track and in the field.
The one-day competition featured the 60m, 200m, 400m, 800m, 1500m, 60m Hurdles, High Jump, Pole Vault, Shot Put, Long Jump and Triple Jump for both men and women.
In addition, it included selected junior championship events, such as the 300m for under 15 girls/under 15 boys/under 17 women, 400m for under 17 men, 800m for under 13 boys and under 15 boys and 1500m for under 13 girls and under 15 girls and a 4 x 200m club relay for under 15's.
Last year, the senior indoor championships incorporated the Combined Events International match, where teams from across Europe: Great Britain, France, Poland, Spain and the Czech Republic all travelled over to compete in the Pentathlon and Heptathlon.
It was an event that was broadcasted online for the seven-hours via the team at Vinco Sport, with athletes all getting the opportunity to take part on the big stage in front of the cameras, watched on by viewers across the United Kingdom on runjumpthrow.com and as far as away as North America on Runner Space.
WELSH ATHLETICS SENIOR INDOOR CHAMPIONSHIPS 2020 FULL RESULTS - CANLYNIADAU LLAWN
CATCH UP WITH ON DEMAND VIDEOS AND THE ACTION IN FULL WITH VINCO SPORT ON runjumpthrow.com
Carmarthen Harriers Results at the Senior Indoor Championships - 25/01/20
Seven Carmarthen Harriers athletes ranging from the under 13 to senior entered and took part in the first championships of 2020 on Saturday in Cardiff.
There were representatives in the 300m, 800m, and 1500m events across the day. Two medals (a gold and a bronze) were won thanks to Toogood and Evans getting the next busy week off to a good start with many more aiming to make the podium at the junior championships.
Here's Saturday's performances...Da iawn pawb a pob lwc penwythnos nesaf i'r rhai sydd yn cystadlu!
- MACSEN TOOGOOD - Under 13 Boys 800m GOLD (2:25:97)
- IESTYN WILLIAMS - Senior Men 800m (2:03:24)
- JESSICA NORMAN - Under 13 Girls 1500m (5:50:88)
- ELLIE-MAY JOHN - Under 13 Girls 1500m (5:59:69)
- MARTHA MORGAN - Under 13 Girls 1500m (5:59:76)
- ZARA EVANS - Under 17 Women 300m BRONZE (44:86)
- ELLIE LOWETH - Under 17 Women 300m (45:44)
Action arrives thick and fast at this time of year and athletics supporters haven't got long to wait until the next event. The National Indoor Athletics Centre in the Welsh Capital will welcome over 400 Juniors next weekend as the Welsh Athletics Junior Indoor Championships 2020 will take place over two-days on Saturday 1st February and Sunday 2nd February.
Final Timetable and Preview will follow shortly during the week.