Over the weekend, the National Indoor Athletics Centre at Cardiff's Cyncoed Campus hosted the 44th Welsh Athletics Junior Indoor Track and Field Championships on Saturday 1st February and Sunday 2nd February with Welsh Junior Titles for the year 2020 on the line.
This arrived only seven days after the seniors and some youngsters took centre stage and entertained the public in front of the Vinco Sport cameras.
Athletes and their supporters had travelled from all four regions in Wales, West, South, North and East as well as Welsh athletes who are a member for a club in England.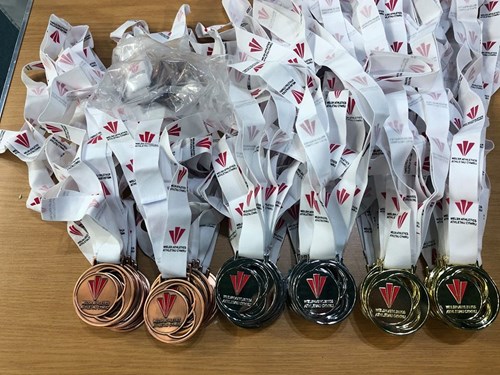 The Junior Indoor Championships was one of the final indoor season competitions as far as championships were concerned, as athletes will soon look ahead to another busy upcoming outdoor track season which begins from April onwards.
Over 400 up-and-coming sprinters, endurance, jumpers and throwers entered on time and enjoyed the warmth of NIAC at the indoor facility in an event that has always been popular with athletes and coaches alike. On a cold weekend, all those in attendance were pleased to be under the roof and this helped to create an excellent atmosphere to encourage the participants on.
As has been the case over previous events, parents, coaches and spectators arrived in their numbers and packed into the indoor track with only standing room available for the majority of the time.
The Welsh Athletics Junior Indoor Championships for under 13, under 15, under 17 and under 20 age groups took place over two days and totalled around fourteen hours of competition combined.
Saturday saw a variety of races on the track including the heats, semi-finals and finals of the 200m, followed by the 800m and 3000m endurance disciplines. On Sunday, attention turned to an afternoon of the short and fast 60m heats and finals as well as the 60m Hurdles, 4 x 200m club relay and the 1500m which threw some fantastic battles. Meanwhile on the field, the Long Jump, Triple Jump, High Jump, Shot Putt and Pole Vault disciplines were completed at opposite ends of the arena.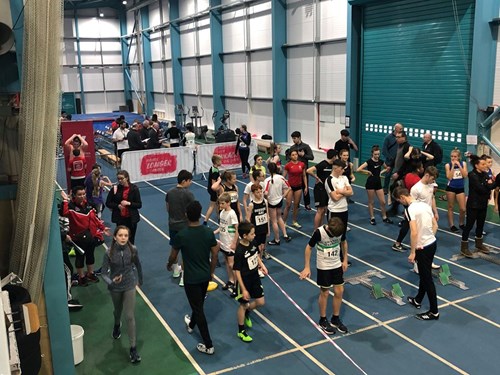 There were some excellent results and quick times by Wales' youngsters in general across several disciplines with a few championship best performances recorded in the sprints and high jump.
For some it was experiencing the big occasion for the first time at a top-class venue, whilst for the more experienced athletes, they aimed for a podium position and to become 2020 Indoor Welsh Champions in their respective events. The presentation area in the centre of the arena was full of activity, with gold, silver and bronze medals awarded to the top three in each event presented by members and athletes of Welsh Athletics.
FULL RESULTS LINK FROM WELSH ATHLETICS JUNIOR INDOOR CHAMPIONSHIPS / CANLYNIADAU LLAWN O BENCAMPWRIAETH DAN DO IAU ATHLETAU CYMRU 2020
ANOTHER GOOD SHOWING FROM THE CARMARTHEN HARRIERS UNDER 13 - 20 ATHLETES
Twenty-Two Harriers along with their parents and a couple of coaches made the journey up the M4 motorway to compete against the best in Wales, and they succeeded with half coming away with at least one medal for their efforts and many others in the group improving on their previous best indoor performances!
Across both days, there were representatives in the following disciplines: 60m, 60m Hurdles, 200m, 400m, 800m, 1500m, 3000m, Long Jump, High Jump and Pole Vault.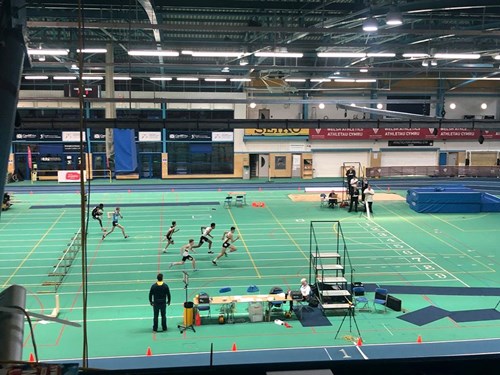 One stand out performance to highlight was at the under 15 boys High Jump competition on Saturday afternoon where Osian Roberts did not only become Welsh champion and win gold, but also improved on the CHAMPIONSHIP BEST PERFORMANCE of 1.86m set in 2018. Roberts cleared a big 1.88m which was 3cm more than he achieved at the West Wales Indoor Championships just four weeks ago. Da iawn Osian! Plus Jessica Lee returning home with three gold medals over 60m, 200m and Long Jump.
The total medal tally in this year's championships was fourteen including seven victories, which added to the 24 medals won at the West Wales Indoor Athletics Championships last month and last weekend's gold and bronze at the Welsh Athletics Senior Indoor Championships which incorporated some 300m, 800m and 1500m for juniors.
The weekend showed that the winter training and hard work is paying off! The vests of the Johnstown club were clear to see and a round-up of all the results and medallists can be found below by day:
Well Done everyone, great effort / Da iawn pawb, ymdrech arbennig!
DAY 1: SATURDAY 1ST FEBRUARY - DYDD 1: DYDD SADWRN 1AF CHWEFROR
CASI GREGSON Under 13 - 200 metres Heat (28.67), Semi Final (28.09), Final (28.01) - Silver
JESSICA NORMAN Under 13 - 200 metres Heat (31.49), Semi Final (32.53) & 800 metres Time Trial (2:47.23)
HUGO DOUGLAS Under 13 - 200 metres Heat (29.22), Final (29.09) - Bronze
JESSICA LEE Under 15 - 200 metres Heat (28.22), Semi Final (26.67), Final (26.00) - Gold
SOPHIA REID-THOMAS Under 15 - 200 metres Heat (28.62), Semi Final (27.82)
ALAW FFLUR JAMES Under 15- 200 metres Heat (30.01)
ZARA EVANS Under 17 - 200 metres Heat (27.46), Semi Final (27.87) & Long Jump (4.80m)
ELLIE LOWETH Under 17 - 200 metres Heat (27.79), Semi Final (27.11), Final (27.39)
ELLIE-MAY JOHN Under 13 - 800 metres Time Trial (2:44.20)
AMELIA WILLIAMS Under 13 - 800 metres Time Trial (2:46.11)
IWAN THOMAS Under 15 - 3000 metres (10:24.05) - Bronze
IFAN BOWEN Under 15 - 3000 metres (10:35.55)
JAKE LYNOCK Under 15 - 3000 metres (10:57.93)
AMY GREATRICK Under 15 - 3000 metres (11:37.87) - Bronze
OSIAN ROBERTS Under 15 - High Jump (1.88m CBP) - Gold
LILI CHURCH Under 20 - High Jump (1.63m) - Gold
DAY 2: SUNDAY 2ND FEBRUARY - DIWRNOD 2: DYDD SUL 2AIL CHWEFROR
HUGO DOUGLAS Under 13 - 60m Hurdles (10.59) - Bronze & 60m Heat (8.71), Final (8.48)
OSIAN ROBERTS Under 15 - 60m Hurdles (9.22) - Gold
CASI GREGSON Under 13 - 60m Heat (8.44), Semi Final (8.37), Final (8.31) - Silver
JESSICA LEE Under 15 - 60m Heat (8.08), Semi Final (7.99), Final (7.96) - Gold & Long Jump (5.37m) - Gold
SOPHIA REID-THOMAS Under 15 - 60m Heat (8.45), Semi Final (8.21), Final (8.21)
ELLIE LOWETH Under 17 - 60m Heat (8.30), Final (8.29)
ZARA EVANS Under 17 - 60m Heat (8.42) & Triple Jump (10.43m) - Gold
TRYSTAN LEECH Under 20 - 400m (55.58)
MACSEN TOOGOOD Under 13 - 1500m Time Trial (4:59.83) - Gold
WILLIAM COLES Under 13 - 1500m Time Trial (5:04.79)
ALEX COLES Under 13 - 1500m Time Trial
JACK THOMAS Under 15 - 1500m (4:59.15)
CONNOR HANDFORD Under 17 - Pole Vault (2.45m)