More than 200 young school children across seven primary schools in South West Wales got the opportunity to participate in a brand new primary schools cross country league in July, August and September at three venues in the St Clears area.
Organised and led under guidance of TROTs (taf running and orienteering team) club coach Aled Jones-Davies and a team of committed volunteers, the league consisting of three races was open to everyone to get involved from the schools, whether they were experienced club members or having a go at running on the country for the very first time.
The seven schools who were invited to the first running of these fixtures in 2019 were Ysgol Griffith Jones, Ysgol Bro Brynach, Tavernspite & Templeton School and a team from Ysgol Bancyfelin, Ysgol Llangain and Ysgol Llansteffan. Altogether, 229 children from the schools in year 4, year 5 and year 6 took part in these friendly matches.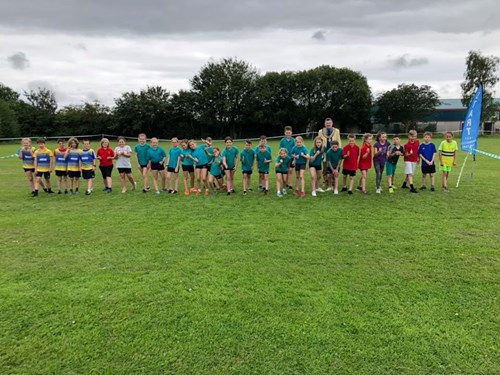 Jones-Davies was assisted by a large group of sponsors, marshals, volunteers and friends who were a big help in ensuring the first running of the league was a fantastic success, whether it was setting up and down the course, encouraging the runners on, presenting awards or making sure that they were ready to run.
The league was sponsored by Brian and Cath Williams of Bwylchgroes farm foods.
There were many other sponsors and organisations which donated and supported the league and ensured that the league can run for the next few years.
This new exciting league was officially announced back in March 2019 by Jones-Davies himself and the league banner was taken around the schools to show their support ahead of the campaign.
Reflecting the hard work to get the league up and running in St Clears, schools commented and showed their appreciation to the organising team;
Mr Davies from Ysgol Griffith Jones:
"As a school, we attend many events throughout the year and this was one of the most organised."
Mr Phelps from Tavernspite School:
"Thank you for all your hard work in putting on a great event."
Mrs Jones from Ysgol Bancyfelin:
"Thank you very much for everything. We brought everyone from Years 4 to 6 and it was great to see the improvement from the first race to the last one."
Laura Ann Thomas:
"Excellent opportunity for all and wonderful organising and planning; well done Aled Jones-Davies; you should be very proud of what you have achieved in this and may it continue to grow."
On Wednesday 10th July, the first race was held at the Community fields next to the Leisure Centre and proved to a thrilling start.
A month later on Friday evening 16th August, mid way through the summer holidays and in some of the worse cross country conditions possible, a good turnout arrived at lower St Clears at Banc Y Beili, as the constant wind and rain did not top children and supporters attending and took the runners through an interesting course which included woodland paths.
This event also had a fun run for all ages and games arranged by Menter Gorllewin Sir Gar as well as a bbq and refreshments.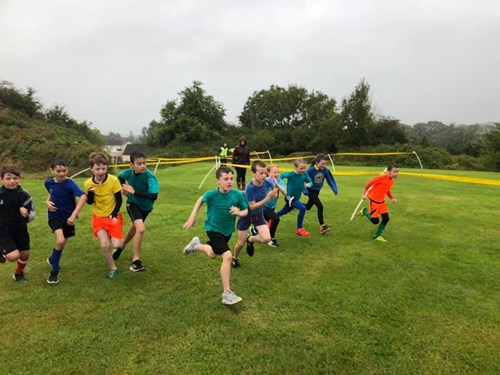 Then it came to the final round at the home of Ysgol Griffith Jones on Friday lunchtime 6th September. Weather was much better for this one and it was great to see such a good turnout to round off what has been an excellent first year.
Among the victors over the course of the trio of fixtures in each school year were Jack Billingham (Tavernspite School), Ava Dewsnap (Ysgol Bro Brynach) Ella Pearce (Ysgol Griffith Jones), Madison Morris (Ysgol Griffith Jones), Nicholas John (Ysgol Griffith Jones), Ophelia Jenkins (Tavernspite School), George Thomas (Ysgol Griffith Jones), Charlie Tatton-Carter (Ysgol Griffith Jones), Phyllis Davies (Tavernspite School), Isabelle Morris (Ysgol Bro Brynach)
The West Wales Primary Schools Cross Country League was also a team competition, and it was Ysgol Griffith Jones, St Clears (pictured below) that came out on top in 2019.
Aled Jones-Davies, Race Organiser and Director for 2019 said:
"It was an absolute pleasure to put this league together and to work with my dedicated volunteers. It has been a huge success.
"We've been privileged to see these fine young athletes race against each other over 3 league meetings.
I'm looking forward to putting on this league in 2020 where we'll be inviting more schools to the league and to race on some new venues."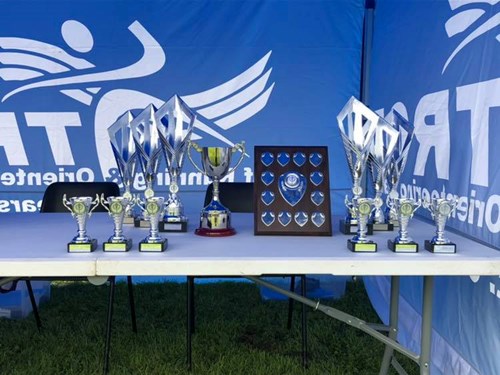 To look at more photos and live videos of the league in action in July, August, September, visit the West Wales Primary Schools Cross Country League Facebook Page at https://www.facebook.com/West-Wales-Primary-Schools-Cross-Country-League-641663352953261/ and give it a like!
Thanks to the good work done by Aled and his team in 2019, the event will return next year in 2020 and is likely to be in the spring term, when organisers will be looking to expand, improve and develop this excellent new sporting league down in West Wales.