Following an extremely busy winter season of cross country and indoor action up and down the country, the wind, rain and mud was replaced by the return of the track and field athletics summer campaign over the Bank Holiday weekend (Saturday & Sunday).
The month of April has already seen the Swansea Harriers Open meeting, Youth Development League Premier Division match and the Carmarthen Open Throws meeting for under 11, under 13, under 15, under 17, under 20 and senior athletes which has already seen youngsters and seniors produce some early season form.
Round-Up from the opening Louise Arthur League & Youth Development League Upper Age Group Midland Division in Haverfordwest & Swansea held on Saturday and Sunday, the first part of a busy bank Holiday weekend.
RESULTS LINKS:
Saturday 4th May; Welsh Junior League / Louise Arthur U11, U13 & U15 League (Haverfordwest)
Sunday 5th May: Youth Development League U17 & U20 Midland Premier South/West Division (Swansea)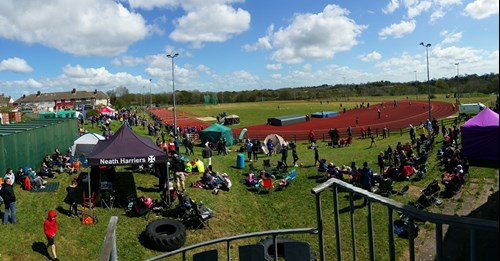 WELSH JUNIOR / LOUISE ARTHUR LEAGUE ROUND 1 - HAVERFORDWEST - 04.05.19
On Saturday 4th May, more than 700 children from eighteen junior Welsh clubs took to the track and the runways at two venues to represent their club at the opening rounds of the Welsh Junior League / Louise Arthur League. They took place on Bank Holiday Saturday at Haverfordwest High VC School Athletics Track (West) and further East up the M4, at Hereford Leisure Centre (East).
The Louise Arthur League has gone from strength to strength with around 500 athletes competing in each event in 2018. It's given children of all ages between under 11 and under 15 age groups the opportunity to compete in a friendly league alongside other runners from across South and Mid Wales.
While for some it is their sixth and final year at the event at under 15 level, for many others particularly in the under 11's, this was their debut competition and a chance to show what they can do whilst trying out now disciplines at the same time.
This year's Cup and Plate Finals will take place again at Swansea University Athletics Track over the weekend of August 24th and 25th. After the four league matches upcoming, the top teams will go into the cup final whilst the plate final will be occupied by those in the fourth to seventh positions.
Haverfordwest is destination for nine clubs in the West Division incorporating Gerald Codd Trophy
In the West Division, the order of venues have changed in 2019 which saw the opening of four fixtures head down the A40 for the first time ever to the athletics track next to the new Haverfordwest High VC School Prendergast Campus. A good crowd brought their tents and chairs and lined the bank to watch the action in the sunshine under a clear blue sky.
Altogether, 345 registered athletes competed on Saturday from the nine clubs involved in the West division: Swansea Harriers, Pembrokeshire Harriers, Carmarthen Harriers, Bridgend AC, Pontyclun AC, Brecon AC, Llanelli AC, Neath Harriers and Barry & Vale Harriers.
In addition in 2019, the Gerald Codd Trophy Match, which has normally taken place in August, was incorporated into the first league match on Saturday. The trophy match has been arranged in honour of Gerald Codd who was a great stalwart of athletics in Pembrokeshire for many years. Over a closely contested programme of seven hours, it was Swansea Harriers who came out on top this time round ahead of the host club Pembrokeshire Harriers who secured second and the runners-up trophy. Carmarthen Harriers remained in third throughout and collected the third-placed trophy for the fifth year running in the Gerald Codd Trophy Match.
Winners, Runners-Up & Third-placed trophies were presented to the team captains at the end of the day down in Pembrokeshire just before 7pm.
Starting at 11:00am with the hurdles, 800m and hammer events and using a brand new timetable for the 2019 season, the track then went on to the sprints over the ever popular 75m and 100m races. Ahead of the 1000m walks and sprint relays to conclude the competition, there were more variety of sprint age group races including the 150m, 200m and 300m after the 1500 metres. Introduced for the first time this year were shorter 600m and 1200m disciplines for the under 11 age group.
The field was just as busy with all corners of the venues filled with throwers and jumpers. The hammer, javelin, long jump, shot, discus and high jump were available for most age groups.
Our Thanks to members of Pembrokeshire Harriers from athletes to coaches and officers for putting on another successful athletics meeting at the school's facility in Haverfordwest and made even better with the dry weather!
Carmarthen Harriers Athletes get off to a good start down the road
A total of fifty plus members from Carmarthen Harriers made some promising starts yesterday and saw a number either make their debuts in the competition or in a new track and field event.
The team were supported well by parents, supporters and coaches, many of whom helped out with the officiating duties throughout the day on track, time and at the shot put circle.
At the end of the month, they'll be the opportunity for club members to compete for the team on home turf in what is expected to be another great day full of excitement.
Carmarthen Harriers athletes Match 1 04.05.19:
UNDER 11 / O DAN 11: Beatrice Morgan, Esme Lynock, Jessica Norman, Martha Morgan, Soffia-Mai Davies, Grace Toogood, Anwen McRae, Jimmy Davies, William Coles, Rhys James, Joseph Thomas, Gwilym Jac Jones, Hedd Vardill
UNDER 13 / O DAN 13: Casi Gregson, Mared Jones, Luned Dafis, Ellie-May John, Frances Mackie, Carys Wood, Erin Morgan, Elizabeth Hill, Efa Vardill, Celyn Bolton, Megan Pridmore, Luisa Reid-Thomas, Will Evans, Dion James, Tom Williams, Cai Allan, Emyr Jones, Macsen Toogood, James Sloyan, Liam Upton-Boorman, Ifan Bowen, Iwan Thomas, Jake Lynock, Alex Coles, Finn Best
UNDER 15 / O DAN 15: Sophia Reid-Thomas, Zara Evans, Thaia Davies, Jessica Lee, Cordelia Walker, Matthew Williams, Jack Thomas, Osian Roberts, Frank Morgan, Ellis Caddick, Rogan Cox, Brynmor Peters, Zach Elvy, Steffan Davies, Kacper Krawcewicz
Round 2 arrives at our home in Johnstown in less than a months' time on May 25th for another action-packed fixture
The next round sees our club (Carmarthen Harriers) host the second event in just a few weeks on Saturday 25th May at Carmarthen Leisure Centre Athletics Track. Team Managers Kathryn Jones (boys) and Kayleigh John (girls) will be at the track and contacting in the next one-two weeks to confirm your availability.
Carmarthen Leisure Centre, Johnstown, Carmarthenshire, SA31 3NQ
Details are on the way on www.carmarthenharriers.co.uk at the end of this week.
DATES FOR YOUR DIARIES:
Saturday 25th May / Dydd Sadwrn 25ain Mai: Welsh Athletics Junior League West Fixture 2 @ Carmarthen
Saturday 25th May / Dydd Sadwrn 25ain Mai: Welsh Athletics Junior League East Fixture 2 @ Aberdare
Saturday 29th June / Dydd Sadwrn 29ain Mehefin: Welsh Athletics Junior League West Fixture 3 @ Swansea
Saturday 29th June / Dydd Sadwrn 29ain Mehefin: Welsh Athletics Junior League East Fixture 3 @ Newport
Saturday 27th July / Dydd Sadwrn 27ain Gorffennaf: Welsh Athletics Junior League West Fixture 4 @ Neath
Saturday 27th July / Dydd Sadwrn 27ain Gorffennaf: Welsh Athletics Junior League East Fixture 4 @ Cardiff
YOUTH DEVELOPMENT LEAGUE UAG MIDLAND PREMIER SOUTH/WEST DIVISION ROUND 1 - SWANSEA - 05.05.19
60 miles away in Swansea, many of those from West Wales and Swansea Harriers who were volunteering on Saturday made their way up to Swansea University earlier today on Sunday 5th May where the UK Youth Development League upper age group made a welcome return. Twenty matches took place across the South and North of the United Kingdom on this first weekend of the 2019 season, including the second event in two days at Hereford (YDL South/West 1 Match).
After the youngsters in the under 13 and under 15 age groups kicked off the lower age group league last weekend (Apr 27), including the premier match in Swansea where the home team took full advantage to claim victory, this time round it was the under 17 and under 20 athletes who took to the spotlight.
In an event which has come to Carmarthen two years ago, the West Wales Regional Athletics Composite Team has joined up again and remain in the Youth Development Midland Premier South/West Division after winning the promotion match at the end of July last year.
As in previous years, the West Wales team is made up of athletes consisting of Pembrokeshire Harriers, Carmarthen Harriers, Neath Harriers and Llanelli AC members who have joined to create one regional team.
Team Leader Peter Walton and his managers Liz Rowland, Bethan Homer, Rob Campion and Jane Batten were busy weeks beforehand trying to get as many available athletes as possible during the bank holiday.
Six Clubs contesting the Midland Premier South/West Division
Hosts Swansea Harriers also welcomed another four teams to the first match in this particular division. Those wearing the black and red vests of the region were joined by both the Cardiff clubs (Cardiff Athletics and 2018's promoted team the Archers) from just up the M4 motorway, along with two strong English Composite teams from Team Avon and Team Devon & Cornwall who made long trips across the severn bridge.
Throughout the late morning and afternoon, some great track and field athletics performance and results was recorded with events featuring: sprints, middle distance, sprint and long hurdles, steeplechase, long jump, high jump, shot, javelin, discus, pole vault and hammer. A haul of personal bests were recorded early on in the season and will aim to improve as the season goes on.
There's another two matches to come in the premier South/West league down at Exeter hosted by Team DC (Sunday 26th May) and then at Cardiff International Sports Stadium (Sunday 30th June). The fixture on the 28th July is to be confirmed, and will either be at Yate or Swansea, depending on where each of the teams finish in the league table.
Sunday 26th May / Dydd Sul 26ain Mai: Midland Premier South/West Division Round 2 @ Exeter
Sunday 30th June / Dydd Sul 30ain Mehefin: Midland Premier South/West Division Round 3 @ Cardiff
Sunday 28th July / Dydd Sul 28ain Gorffennaf: Regional Final @ Yate of S/W Promotion Match @ Swansea
Carmarthen Harriers in Swansea
Six Harriers were available to compete for West Wales in Swansea and produced some encouraging displays in a new age group for the majority.. Hopefully with the coach advice, more members will become involved as the season progresses. Results:
Trystan Leech - 400m (51.88); Dafydd Jones - 1500m S/C (4:44:43) & 4 x 400m Relay; Morgan Batten - Javelin (43.94); Ellie Loweth - 200m (28.68) & 300m (45.28) & 4 x 100m Relay; Tanwen Moon - 1500m (5:33:88); Beca Roberts - Triple Jump (10.59)
Elsewhere, Ben Thomas headed to Street for the BMC PB Classic Event on Saturday. In the 1500m A race, the journey was worthwhile as he secured a new personal best over the distance of 3:58:44.
Also at the Cardiff 5K Race For Victory this evening in the Welsh Capital, David Jones recorded a time of 17:03 for 63rd in his category.