On a weekend when a record number of around 9,000 runners participated in the 2019 edition of the Cardiff Metropolitan University 2K & 10K Fun Run on Sunday morning, there was also some end-of-season track and field competition over in England whilst Carmarthen Harriers endurance members joined up with our friends from Cookham RC who were on an athletics tour at Carmarthen.
Read all about it below - August 31st & September 1st
ENGLAND ATHLETICS U17/15 CHAMPIONSHIPS - BEDFORD STADIUM 31/08/19 - 01/09/19
Seven Carmarthen Harriers made the nine-hour round trip to Bedford International Athletics Stadium for the annual England Athletics under 15 and under 17 championships on the final weekend of the track and field season (Aug 31 - Sept 1st)
The two-day fixture saw the best athletes across all corners of the United Kingdom descend on a venue which has hosted several competitions for all ages throughout the summer.
The championships were streamed live online on the Vinco Sport website which meant that the races were streamed out to viewers across the UK.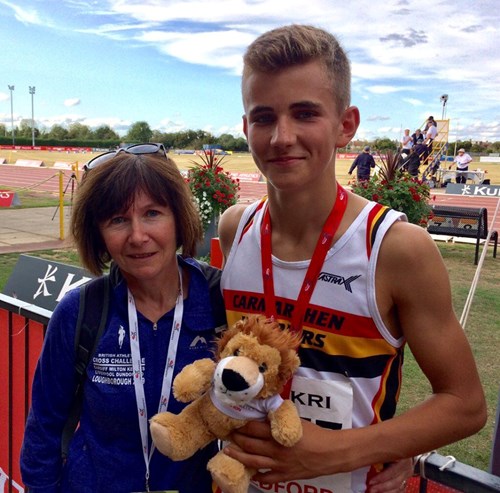 One of the most exciting finishes on the opening day came in the under 15 boys 3000m where after running 7 and a half laps, Frank Morgan was involved in a sprint finish with a Thetford AC athlete on the home straight.
Morgan edged it with the dip and clocked 9:14.11 to become British champion on the line and produce another impressive performance over the distance.
Distance running representation continued in the 1500m where Liam Edwards competed in the first of the under 17 men's heats where he finished in the top six with 4:11.88.
Dafydd Jones also ran just under four laps in the same age category but this time in the steeplechase. He cleared the barriers and water jump comfortably on his way to sixth overall in 4:43.29.
The under 15 girls sprint duo Jessica Lee and Sophia Reid-Thomas gained valuable experience at the event for the first time and came up against unfamiliar opposition.
Clocking 12.65, Lee made it through the heats to run 12.80 in the first semi-final whilst Reid-Thomas clocked 13.02 in quick qualifying races over the fast and short 100 metres.
Jessica was back in action on day 2 at the long jump pit and having gone over 5 metres this year, her best performance at Bedford was 5.34m.
There was a thrilling finale to the under 17 women's high jump as the top four all finished on 1.69m which resulted in medallists being decided on the countback in earlier rounds.
Lili Church won a bronze medal in joint third and equalled her personal best also recorded at the Welsh Inter Regional Championships last month.
In the same discipline, under 15 member Osian Roberts was one of five athletes to clear a height of 1.72m and just missed out on a medal on the countback rule.
This was 3cm shy of his lifetime best in 2019 at the Junior Championships in Wrexham back in June. As with Lee and Reid-Thomas, he will have another year at this age group next season.
Great experience for all seven to be competing at this high standard event. Da iawn i Frank, Liam, Dafydd, Jessica, Sophia, Lili a Osian.
Joining them in Bedford were five from the Pembrokeshire Harriers club outfit who were Lucy Wintle (800m 2:17.35), Liam Topp (100m 11.28) & (300m 36.46), Gracie Griffiths (3000m Walk 17:22.79), Michael Jenkins (Discus 40.69m) and silver for Dafydd Pawlett (Shot 15.24m)
Full Results provided via the England Athletics Online Results System
https://resultsengland.athletics-uk.org
Vinco Sport Online Stream and On Demand Video Coverage on runjumpthrow.com 
https://www.runjumpthrow.com/live/30833/
More news and updates as it happened from the Carmarthen Harriers camp are available on the club's Facebook, Twitter & Instagram pages.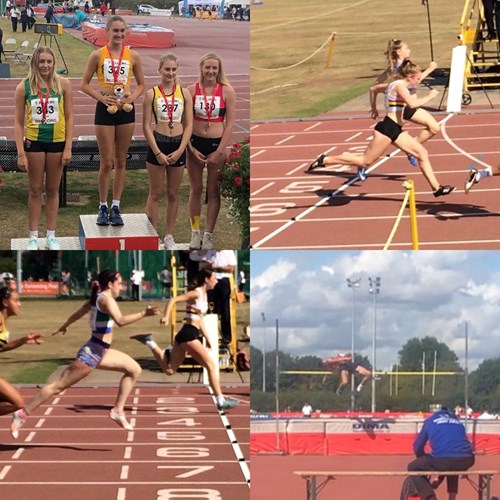 COOKHAM RUNNING CLUB ATHLETICS TOUR IN CARMARTHEN STORY 30/08/19 - 02/09/19
Back closer to home in Carmarthen over the weekend, it was great to see athletes, coaches and parents from Cookham Running Club in Berkshire visit us under the guidance of Cookham Club Coach and friend, Peta Bee. They are based at the eight-lane Wycombe & District athletics track situated on the Thames between Windsor and Henley, a short distance away from Watford open meetings and the West London BMC meets.
As a guide, the girls range from 5th ranked in the UK for 1500m (4:38) down to 5:15 for some of the under 13's over the same distance. The fastest boys in the group are 4:26/2:09 times and all are sub 5 minutes for 1500m. That just shows the great development and talent that is coming through at Cookham RC!
The group of more than twenty were located at the Halliwell Centre at the University of Wales Trinity Saint David for the three-night stay. Following a meal at Pizza Express on Friday evening, the group came to the Carmarthen Harriers athletics track in Johnstown on Saturday morning for a training session on the track before enjoying the local facilities on offer in Carmarthenshire, including visits to Llansteffan beach and Llansteffan castle nearby.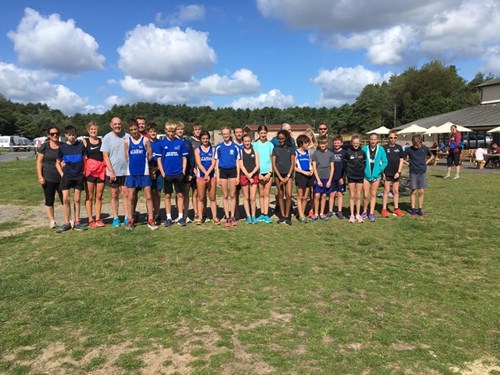 Carmarthen Harriers endurance runners joined up with the group at Pembrey Country Park on Sunday morning where the athletes and coaches could socialise, make new friends and enjoy time with each other in the sunshine by running at the fantastic facility between Burry Port and Kidwelly.
Ahead of the journey back down the M4 on Monday morning, Peta Bee provided a talk on nutrition to the young athletes on Sunday afternoon as well as swimming in the Leisure Centre, a core session back at HQ and a game of football down the beach.
Reflecting on the weekend, Peta Bee commented: "Cookham Running Club's first training camp in Carmarthenshire was a tremendous success, largely thanks to the support we had from Carmarthen Harriers and your members.
"We are a Berkshire-based club, set up 5 years ago by myself and now numbering about 120 juniors, most of whom are county standard and above. As the great niece of Ron Evans (one of the founders of Carmarthen Harriers), I have often thought of your club as our role model in terms of it being friendly and welcoming, yet forward thinking and successful. I follow the results of the Harriers closely and we are all hugely impressed by your continued high achievements.
"Over the last four days, we have been based at the Halliwell Centre and have packed in a lot of training and local sightseeing - including dinner at Pizza Express in town on Friday, a track session (thanks to Hedydd for being there to welcome us) on Saturday morning and a walk to Llansteffan Castle and Scott's Bay in the afternoon.
"Sunday was a highlights as we got a coach to the beautiful Pembrey Country Park and, thanks to Neil Thomas and Jake Morgan, our juniors had a fantastic run through the woods and along the beach. Swimming at the Leisure Centre in the afternoon followed by a core session at the Halliwell and a return to Llansteffan for beach football meant everyone was well and truly exhausted by Sunday evening. On Monday we headed to green Castle Woods for a gentle run before returning to the other end of the M4.
"On behalf of everyone at the club I'd like to thank Carmarthen Harriers for their kindness and we would love to offer a return invitation if ever members would like to visit us in our Thames-side village, close enough to London to access all of the big races (yet far enough away to run in the glorious Chiltern Hills and along the Thames path to Windsor or Henley). Without exception, everyone who visited Carmarthenshire for the first time has fallen in love with it - you are very lucky to live there!"
With close connections and a great friendship between Carmarthen & District Harriers Athletics Club and Cookham Running Club, we're excited for many more opportunities like this and a great way of catching up on both clubs' activities over the season.
Thanks for coming over and we hope that all the athletes, coaches and parents enjoyed their weekend stay in Carmarthen. The sunny conditions certainly made the trip all worthwhile.
CARDIFF METROPOLITAN UNIVERSITY 10K 2019 01/09/19
Elsewhere at the Cardiff Metropolitan University 10K on Sunday 1st September, well done to David Jones who completed the course in 00:34:45 coming in as the 63rd male overall. It started at Cardiff's iconic Museum Avenue in the heart of the city centre before heading on a flat course, passing the Principality Stadium and cutting across Llandaff Fields. This was followed by going through the historic grounds of Bute Park and Cardiff Castle before finishing back on Museum Avenue.
The first to cross the finish line was Jake Smith who ran the city centre course in a time of 29 minutes and 33 seconds. The first female to cross the line was Charlotte Arter in a time of 32 minutes 45 seconds, both winners are from Cardiff Metropolitan University.
Results appear on https://www.cardiff10k.cymru/cardiff-10k/results/