As the shortened track & field season concludes for 2020 this month in Wales, Carmarthen Harriers junior runners and jumpers in the under 13, under 15, under 17 and under 20 age groups took the opportunity to enter and compete at track & field open meetings in Cardiff, Swansea, Yeovil and Yate, as well as a double-header of British Milers Club races in Trafford and Nuneaton - between 15th September - 20th September.
Results Round-Up / Crynhoneb o ganlyniadau...
BRITISH MILERS CLUB GOLD STANDARD & REGIONAL RACES - 15/09/20 & 18/09/20
Under 17 endurance runners Frank Morgan and Liam Edwards enjoyed a successful week of racing recently, competing at two BMC Races in the space of three days in England
Due to Covid-19 restrictions and the suspension of competitions, these top-quality UK meetings continued into the second half of September.
Frank had already been in action at two previous events, at Trafford and Lee Valley in the final week of August, alongside club teammate Dafydd Jones and the fixtures didn't stop there.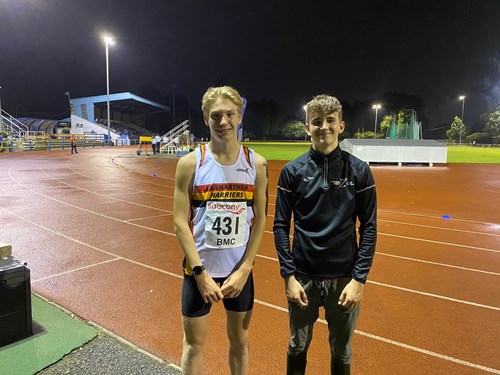 BMC Trafford - On the evening of last Tuesday 15th September, Frank and Liam made the trip up to Trafford Athletics Stadium, Stretford near Manchester for the British Milers Club Trafford Gold Standard Races which featured a series of 800m, 1500m and 3000m heats.
Liam was first in action in the Men's 800m E Race and in a closely fought race, crossed the line in first place in another sub 2-minute time of 1:57.56. All five athletes in this heat finished within a second of each other.
An hour later, Frank entered the 3000m in his second outdoor race over this distance. Completing 7-and-a-half laps in the men's D Race and placing third, he clocked an impressive 8:33.80 which was later confirmed as a NEW CLUB RECORD for the under 17 men's 3000m, breaking a record which stood since 2000 - for 20 years! Llongyfarchiadau!
BMC Nuneaton - 72 hours later and ready to go again, both athletes returned to England, this time heading to the West Midlands at Nuneaton Athletics Track to compete at the British Milers Club Nuneaton Regional Races a few days ago on Friday evening 18th September.
In an event involving twelve Friday night races of the 1500m, the pair in their respective heats were victorious and picked up personal bests as a result.
Frank in the D race made it home in 4:02 whilst Liam ran a time of 4:03 in the following heat to secure four lifetime best performances in a matter of days.
Coached by Carol Jones, Frank, Liam and Dafydd now occupy three of the top four fastest times in the under 17 men's 1500m Welsh rankings with times between 4:02 and 4:03.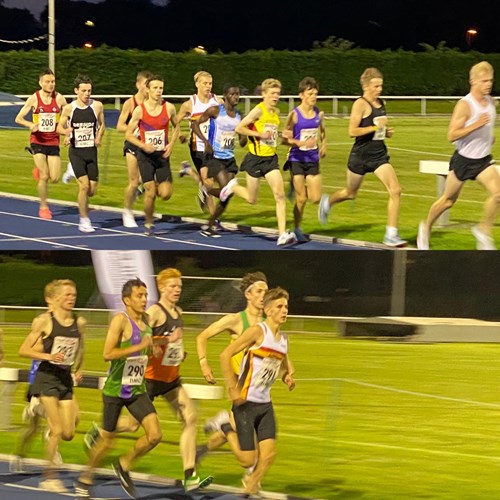 WELSH ATHLETICS SENIOR SPRINTS OPEN MEETING - 19/09/20
Cardiff International Sports Stadium was the venue for the final Welsh Athletics Senior Sprints Open of the season on Saturday 19th September, seven days after younger athletes headed to the Welsh Capital.
100m and 200m disciplines took centre stage with eighteen heats staged over a three-hour programme. Four Harriers sprinters were in Cardiff for the event.
Results/Canlyniadau:
100m: Alastair Donnison (11.53), Harry Fuller (11.58), Jessica Lee (12.19)
200m: Ellie Loweth (26.60)
WELSH ATHLETICS ENDURANCE OPEN MEETING - 20/09/20
Three weeks after the first Welsh Athletics Endurance Open in Aberdare, the second Endurance Open fixture went to Swansea University Athletics Track on Sunday 20th September in the final track event of the season in Wales.
The morning began with the 3000m walk and was followed by heats of the 800m, 1500m and 3000m distances. Four Harriers were in Swansea for the event.
Results/Canlyniadau:
1500m: Rhys Davies (4:54.04), Jake Lynock (5:06.48), Carys Wood (5:32.54)
3000m: Ifan Bowen (10:22.90)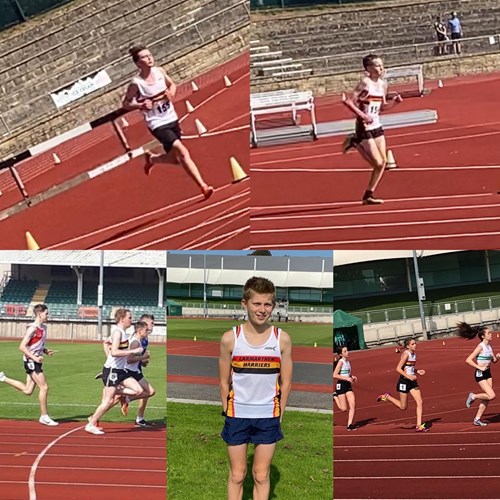 YEOVIL OLYMPIADS AC DISTANCE & STEEPLECHASE OPEN MEETING - 20/09/20
Yeovil Olympiads Athletics Club organised a Distance and Steeplechase Open on Sunday 20th September following the staging of field and sprint opens a few weeks earlier.
Five Harriers made the trip down to South West England in Yeovil to compete in the 800m, 1500m and 3000m.
Results:
800m: Iestyn Williams (1:54.46), Macsen Toogood (2:23.02)
1500m: Zach Elvy (4:35.22)
3000m: Iwan Thomas (10:26.53), Jack Thomas (11:31.12)
YATE & DISTRICT AC THROWS & JUMPS OPEN MEETING - 20/09/20
Osian and Beca Roberts travelled to South West England to Yate for the Yate & District Athletics Club Throws & Jumps Open on Sunday 20th September. As in Yeovil, there had been previous open meetings at Yate before this weekend's latest fixture and Sunday's competition had entries in for the High Jump, Long Jump, Triple Jump, Shot, Discus, Hammer and Javelin.
Results:
High Jump: Osian Roberts (1.88m)
Triple Jump: Beca Roberts (10.90m)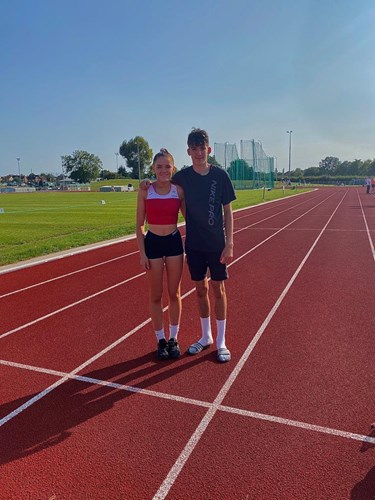 It's been great to see club members entering track and field open meetings over the past six weeks in Wales and across in England - well done everyone / da iawn pawb!