For the second time, runners of all ages and abilities headed to The Cottage Inn Pub, Carmarthen Road on the outskirts of Llandeilo on Friday Evening, 6th of September for an event which was first introduced 12 months ago in 2018.
Thanks to the great feedback from those in attendance at the debut event in September last year, here it was making a welcome return in the road running calendar once again!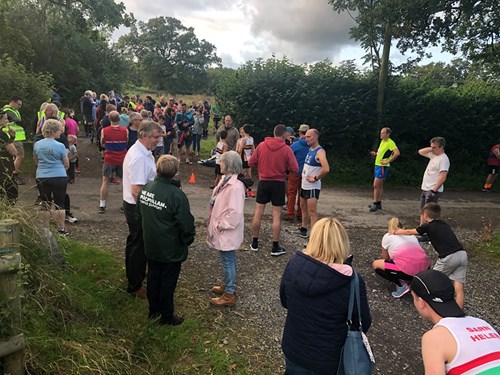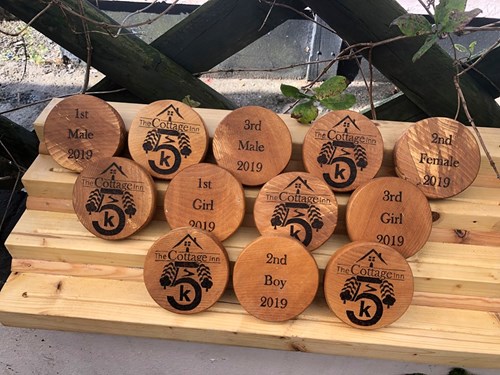 FRIDAY EVENING ACTION IN LLANDEILO FOR ALL AGES - RHEDEG AR NOS WENER I RHEDWYR O BOB OED YN LLANDEILO
The Cottage Inn Junior Mile & 5K distances was a road running race held to raise money for Macmillan Cancer Support with a donation also made to the Llandeilo Mayor Fund.
After starting across the field from the Cottage Inn pub itself, the course took runners on an out-and-back loop around the quiet country lanes of the area.
Once the morning rain had cleared away, the evening sunshine in West Wales saw a total of 101 finish the 5K whilst 41 children got involved in the Junior Mile with a number of parents and guardians running alongside little ones.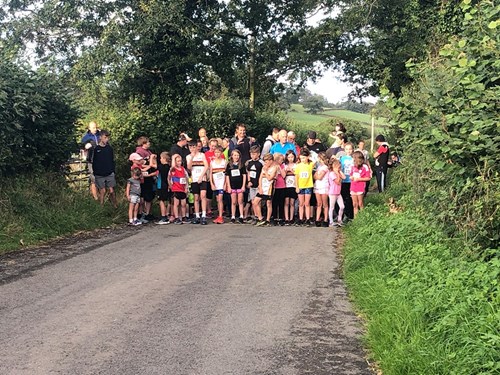 All finishers who completed the course collected their finishers' medal, welcomed home with a round of applause by parents, friends and club mates. In addition, the first three boys and girls in the junior mile and the first three men and women in the 5K were presented with a trophy.
This all happened before runners and spectators socialised afterwards, enjoying some burgers, hot dogs and drinks in each other's company.
Club vests were out on show from the local clubs of Llanelli AC, Amman Valley Harriers, Carmarthen Harriers, Trots and Sarn Helen. Junior mile children were representing Ysgol Llangadog, Ysgol Bro Dinefwr, Ysgol Llangynnwr, Llandeilo CP, Ysgol Llandybie, Ysgol Brynaman, Ysgol Teilo Sant, Ysgol Ffairfach, Ysgol Gymraeg Rhydaman, Ysgol Nantgaredig and Ysgol Parcyrhun. Several Unattached athletes also got involved at their first appearance at a running event on Friday evening.
Two course records were broken in 2019 and both in the male categories. Macsen Toogood took off nine seconds off his own time recorded in 2018 of 5 minutes 7 seconds, whilst David Keenan's winning time of 16:59 in the 5K was sixteen seconds faster than 12 months ago.
Junior Mile - BOYS TOP 3 / Milltir Iau - BECHGYN 3 CYNTAF
1. Macsen Toogood (Ysgol Bro Dinefwr/Carmarthen Harriers) 00:05:07
2. William Coles (Ysgol Llangadog/Carmarthen Harriers) 00:05:25
3. Charlie Price (Ysgol Bro Dinefwr/Carmarthen Harriers) 00:05:47
Junior Mile - GIRLS TOP 3 / Milltir Iau - MERCHED 3 CYNTAF
1. Esme Lynock (Ysgol Llangadog/Carmarthen Harriers) 00:06:17
2. Grace Toogood (Ysgol Teilo Sant/Carmarthen Harriers) 00:06:43
3. Fflur Jones (Ysgol Llangadog) 00:07:18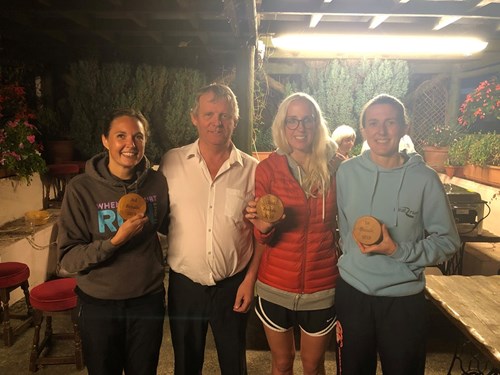 5K - MEN TOP 3 / 5K - DYNION 3 CYNTAF
1. David Keenan (Llanelli AC) 00:16:59
2. Matt Yelland (Amman Valley Harriers) 00:18:59
3. Andy Mccall (Amman Valley Harriers) 00:19:00
5K - WOMEN TOP 3 / 5K - MENYWOD 3 CYNTAF
1. Wendy Price (Carmarthen Harriers) 00:20:09
2. Elizabeth Tremlett (Carmarthen Harriers) 00:20:30
3. Noami Williams (Amman Valley Harriers) 00:22:48
GREAT START TO THE WINTER SEASON FOR CLUB YOUNGSTERS - DECHREUAD ARBENNIG I DYMOR Y GAEAF I ATHLETWYR IFANC Y CLWB
It was pleasing again to see a good number of Carmarthen Harriers endurance athletes coming along to run in this local Carmarthenshire event in Llandeilo and recent success continued as they picked up seven awards along the way.
As well as all five of the juniors taking first, second or third above, there were also another seven who took part in the 5K and these included a few under 13's and 15's taking on the longer distance.
Finishing times for the 5K were as follows:
Scott Price (00:19:09), Huw Davies (00:20:02), Wendy Price (00:20:09), Elizabeth Tremlett (00:20:30), Alex Coles (00:21:49), Jake Lynock (00:22:04), Steffan Davies (00:22:04), Kate Lynock (00:24:05) and Edward Morgan (00:25:04)
RESULTS ONLINE - CANLYNIADAU AR-LEIN
Again, it was an overwhelming success raising money for a great cause and each participant had a great time with a smile on their faces! The event by now is annual and it is expected to attract big numbers when 2020 comes around.
Organised superbly and efficiently by Amman Valley Harriers' Clara Davies, she thanked all the volunteers, runners and supporters alike who turned out to support the event and help raise money for a great cause.
A copy of online results are available for you to view below using the links:
Well Done to everyone who took part / Da iawn i bawb wnaeth cymryd rhan!
Report & Photos: Nathan Jones
Facebook - Twitter - Instagram for more photos & videos as it happened LIVE!