The Easter Holiday break (April 23rd - 25th) saw the Swansea University Star Track Athletics Camp return to the University Sports Facility over three days, along with the first Carmarthen Open Throws Meeting in Johnstown on Thursday Evening.
SWANSEA UNIVERSITY EASTER STAR TRACK ATHLETICS CAMP - 23rd, 24th & 25th April
On Tuesday 23rd, Wednesday 24th and Thursday 25th April, the Swansea University Star Track Athletics Camp returned to the University Sports Facility on Sketty Lane over three days. Having been a great success over recent years, the University organised the camp again during the second week of the Easter Holidays.
More than 40 children aged between 9 and 13 years of age and all sorts of abilities booked onto the 2019 athletics camp and coaches reported that it was a pleasure to coach such a great and supportive group. Each one received a free blue Star Track t-shirt.
The three-day event gave the opportunity for athletes to try out new events as well as improving on their strong disciplines thanks to the experienced and UKA qualified club coaches who delivered the sessions in all athletics disciplines.
Altogether, a total of twelve track and field events were coached over the fifteen hours and useful techniques picked up along the way.
Swansea Harriers coaches Andrew Jenkins, Islwyn Rees, Jane Hosgood and Neil Hawker were on hand all week to take the sessions and offer support and guidance.
Athletes were split into four groups and rotated around the various disciplines coached on each day. Focus on the opening Day (Tuesday) was Sprints, Triple Jump, Hammer and High Jump before Day 2 (Wednesday) saw Shot Put, Pole Vault and Hurdles take centre stage, as well as battling the wet elements on the outdoor athletics track doing some Endurance work.
The final day (Thursday) enabled attendees to practice their relay skills along with the Long Jump, Javelin and Discus on opposite ends of the indoor track.
Following the explanation of the days programme and a warm up, two sessions were completed in the morning and two sessions in the afternoon after lunch. All three days finished off with a fun competition in a number of sportshall classics, including the Vertical Jump, Standing Triple Jump, Standing Long Jump, Balance Test, Chest Push, High Stepper, Speed Bounce and a Bleep Test on Thursday.
It was fantastic to see the children all enjoying themselves and taking part in trying out new events which they had not done before.
The photos below are action shots from Day 2 of 3 on Wednesday 24th April when disciplines were Pole Vault, Shot Put, Hurdles indoors and Endurance Running outside: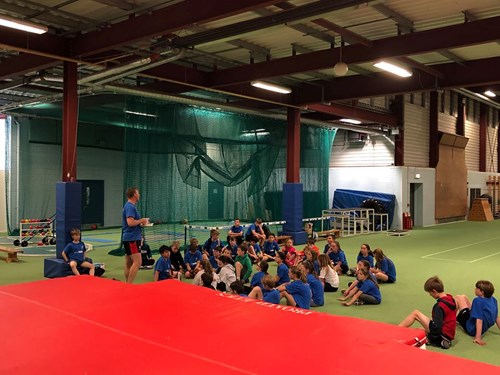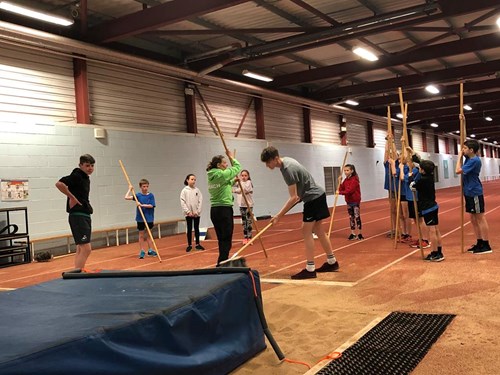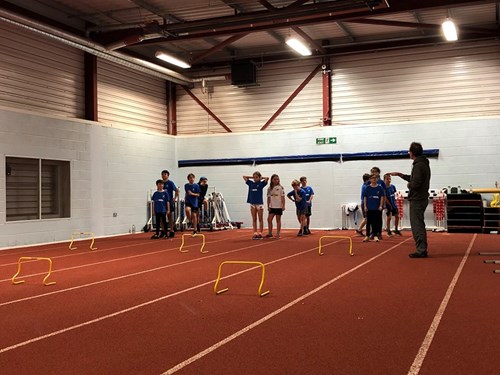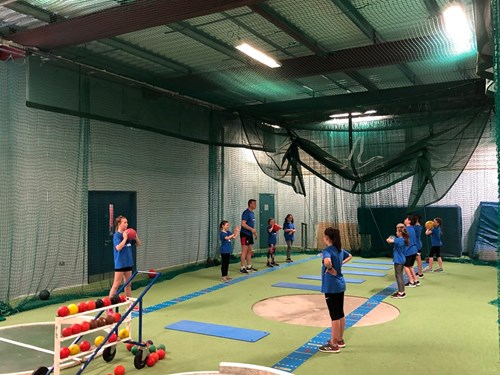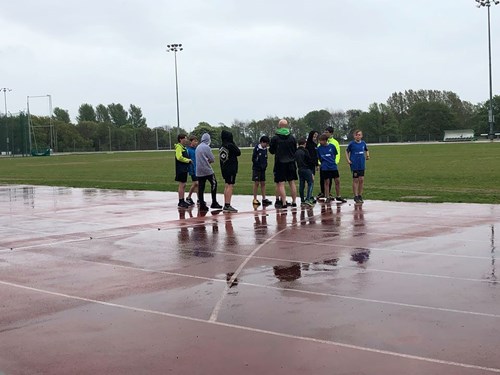 CARMARTHEN OPEN THROWS MEETING 2019 EVENT ONE OF FOUR - 25th April
After a busy winter of indoor training and competitions, throwers of all abilities and ages were able to get their summer campaigns started on a dry but cold evening in Johnstown on Thursday evening, 25th April at the Carmarthen Open Throws Meeting.
Despite the Easter Holidays, the opening event of the 2019 season was well attended in all age groups at Carmarthen Leisure Centreand saw athletes from seven clubs participate - Swansea Harriers, Pembrokeshire Harriers, Carmarthen Harriers, Pontyclun AC, Cardiff AAC, Cardiff Archers and Llanelli AC.
The event was supported by a number of qualified and assistant officials from all over South Wales who ensured that events were run properly and eligible for season performances. Our thanks go to all the helpers on a cold and windy evening.
The throws open has now become a popular annual fixture on the Welsh Athletics calendar and has been going strong for 9 years with familiar faces coming back each month. Arranged by Carmarthen & District Harriers AC, the series in West Wales takes place on the final Thursday of each month in April, May, June and July totalling four midweek meetings.
It continues to be organised by the Harriers club javelin coach Ralph Siggery. The under 13 plus competition gives young and senior athletes from clubs across South Wales and further afield the opportunity to improve on their personal power of 10 best performances.
Thursday Evening's opener saw the Javelin and Shot field events focused on this week. Coming out on top in the Javelin age group sections were Eurion John (Pontyclun AC), Rebecca Holley (Cardiff Archers), Lili Ford (Swansea Harriers), Lily Gregson (Cardiff AAC), Rachel Jones (Swansea Harriers), Thomas Gorvett (Swansea Harriers), Joshua Wilton (Swansea Harriers), Caleb Nicholas (Pembrokeshire Harriers), Lisa Franklin (Llanelli AC) and Chris Pruski (Swansea Harriers).
Meanwhile, in the second discipline of the evening as light faded, the shot put saw Lily Ford (Swansea Harriers), Nia Williams (Carmarthen Harriers), James Sloyan (Carmarthen Harriers), Dafydd Pawlett (Pembrokeshire Harriers), Lucy Griffiths (Cardiff AAC), Chloe Fox (Pembrokeshire Harriers), Oscar Dun (Swansea Harriers) and Caleb Nicholas (Pembrokeshire Harriers) win their respective categories.
YOU CAN LOOK AT THE FULL RESULTS FROM CARMARTHEN (25.04.19) HERE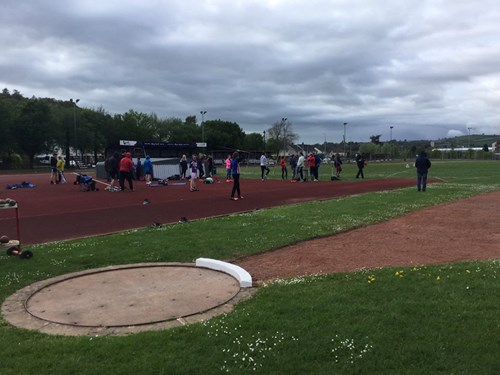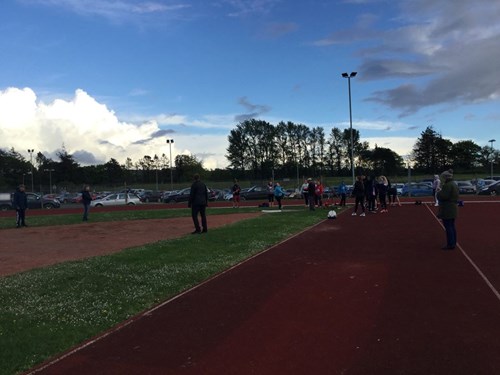 The next meeting is on Thursday 30th May when Javelin and Discus disciplines will take centre stage in four weeks time.
Performances will be sent to Power of 10 and provides a great opportunity to practice ahead of forthcoming league and championship fixtures. Entry is on the evening from 17:00 at £2 per athlete to compete.
REMAINING DATES / DYDDIADAU I DDOD
18:00 Thursday 30th May / Dydd Iau 30ain Mai: JAVELIN & DISCUS
18:00 Thursday 27th June / Dydd Iau 27ain Mehefin: JAVELIN & SHOT
18:00 Thursday 25th July / Dydd Iau 25ain Gorffennaf: JAVELIN & DISCUS
All Photos: Nathan Jones