A Carmarthenshire country park hosted its latest sporting event over the weekend in conjunction with Welsh Athletics and Carmarthenshire County Council, as Cardiff Athletics' Senior men and women teams won the double in one of many impressive team performances on the day.
For the third year in succession and 52nd running overall, Welsh Athletics organised the popular Welsh Road Relay Championships for all age groups in West Wales at the fantastic Pembrey Country Park on Sunday (15th September). Previously these races have been held in Llandow Circuit Track and Ynysgharad Park in Pontypridd.
Held around the grounds of Ski Pembrey in 2017, the races returned to the new National Closed Road Cycling Circuit and the surrounding parkland on a route that was traffic free and had some excellent views.
Teams arrived in Llanelli looking to come out on top and add their club name to the list of champions which goes back many years.
The park hosted the first leg of the Tour of Britain last September and was host to the finale of the OVO Energy Women's Tour back in mid-June on the very same turf.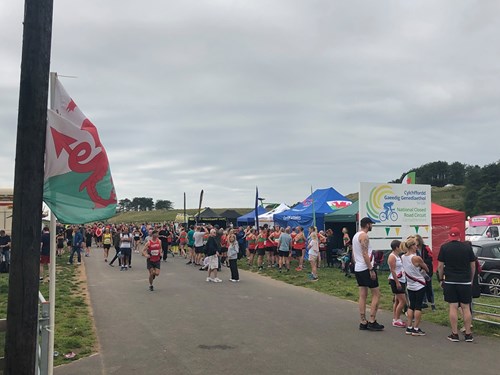 After last year's constant heavy rain and a gusting wind, there was better news to be had at the country park this time round situated between Burry Port and Kidwelly as temperatures reached the high teens and athletes enjoyed a dry day with light winds. The contrasting weather to 12 months ago helped attract runners and spectators alike to the competition and to see for themselves what's on offer at Pembrey.
The event provided the chance for both established and up-and-coming endurance runners in Wales to compete in a competitive team format at the beginning of the autumn season. Races included a primary schools challenge, full junior programme, men's, women's and masters categories.
Making its first appearance at the Welsh Athletics Road Relays Championships was a Run Wales Relays where social running groups could take part in teams of three and sat outside of the championships programme. Prizes were on offer to the winning teams as well as some excellent spot prizes. This proved popular with athletes aged 18+ and looks set to be back for future years.
Distances varied by age group from 1,540m for the younger participants of the day up to 5,400m towards the latter stages of the programme with an out-and-back extension increasing the distance for older age groups as they headed to the far end of the course passing the Pembrey Saltings.
Under 13s and Seniors were run in a team of four, whilst the Under 15s, Under 17s, Run Wales and Masters categories were contested as a trio of athletes to make up the complete team.
Claiming team titles in the junior age groups earlier in the day were Carmarthen Harriers, Maldwyn Harriers and several by Cardiff Athletics. Joining them on the podium too were Cardiff Archers, Newport Harriers, Swansea Harriers and Neath Harriers.
Local clubs Carmarthen Harriers and Pembrokeshire were on top of the podium following the respective boys' and girls' primary schools challenge.
Meanwhile, senior clubs were out in force once again as the likes of Swansea Harriers, Cardiff Athletics and others went head to head on the road. It was the Capital club who came out on top in 2019 in both men and women's gender with some impressive individual displays. Having confirmed their spots, they will next look forward to the ERRA National Autumn Relays at Sutton Park in Birmingham at the beginning of October.
They were followed across the finish arch by Pontypridd Roadents AC and Aberdare Valley AC in the senior men whilst Swansea Harriers' A and B teams occupied second and third in the women's race.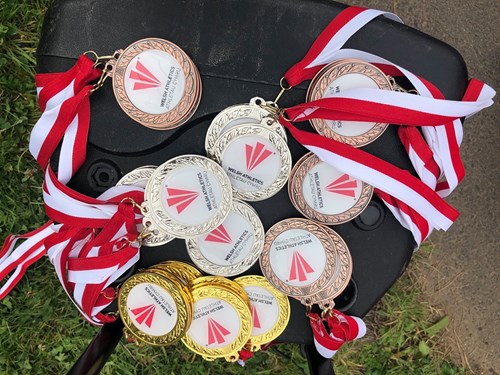 Announced as gold, silver and bronze medallists across the senior and master categories (35+, 45+ & 55+) in the latter stages of race day were Cardiff Athletics, Pontypridd Roadents AC, Aberdare Valley AC, Swansea Harriers, 3M Gorseinon Road Runners, Port Talbot Harriers, Parc Bryn Bach Running Club, Les Croupiers, Llanelli AC, Neath Harriers and Brecon AC.
Presentations were made on the podium to the top three teams as well as the individual winner of each category. They were presented throughout the day by Tom Marley (National Events and Competitions Manager at Welsh Athletics) and Graham Finlayson (Vice President of Welsh Athletics).
In under two months' time, the John H Collins Gwent Cross Country League Round 2 will head to Pembrey on Saturday 9th November, whilst the Welsh Athletics Cross Country Championships is another big event that has already been confirmed at the West Wales facility over the course of the upcoming winter season in its second visit.
Carmarthen Harriers Results
: 
Here's all the athletes and individual times recorded:
PRIMARY SCHOOL GIRLS / YSGOLION CYNRADD MERCHED:
Team - 3rd (27pts)
8 Jessica Norman (5:57); 9 Martha Morgan (6:01); 10 Esme Lynock (6:03); 11 Nia Seren Thomas (6:10); 16 Gwenan Fflur Jones (6:26)
PRIMARY SCHOOL BOYS / YSGOLION CYNRADD BECHGYN:
Team - 1st (9pts) & 2nd (26pts)
1 William Coles (5:17); 2 Gwilym Jac Jones (5:24); 6 Joseph Thomas (5:43); 7 Tristan Warrender (5:45); 8 Ashton Williams (5:47); 11 Jimmy Davis (5:57); 17 Tom Morgan (6:17)
UNDER 13 GIRLS / MERCHED O DAN 13:
Carys Wood (6:51); Frances Mackie (6:35); Erin Morgan (7:01)
UNDER 13 BOYS / BECHGYN O DAN 13:
A Team - 1st & B Team - 6th
A team: Iwan Thomas (6:07); Macsen Toogood (5:46); Jake Lynock (6:17); Ifan Bowen (5:55) - Team Gold & Individual gold for Toogood for fastest leg
B Team: Daniel Warrender (6:34); Aron Hedd Jones (6:45); James Sloyan (6:56); Alexander Coles (6:31)
UNDER 15 GIRLS / MERCHED O DAN 15:
Amy Greatrick (12:37)
UNDER 15 BOYS / BECHGYN O DAN 15:
A Team - 4th & B Team - 9th
A Team: Zach Elvy (11:20); Steffan Davies (11:46); Frank Morgan (10:12) - Individual gold for Morgan for fastest leg
B Team: Rogan Cox (12:57); Liam Evans (13:06); Jack Thomas (11:54)
MASTER MEN 35+
Team - 10th
Dafydd Bowen (24:26); Jonathan Cox (24:49); David Toogood (23:50)
MASTER MEN 45+
Nicholas Coles (27:22)
MASTER WOMEN 35+
Team - 8th
Claire Morgan (27:21); Amanda Toogood (33:54); Kate Lynock (26:52)
MASTER WOMEN 45+
Lisa Forest (33:16); Alison Thomas (35:40)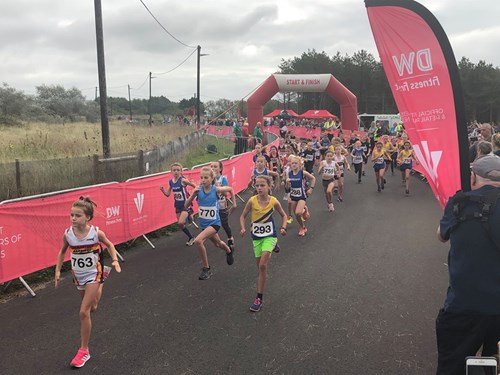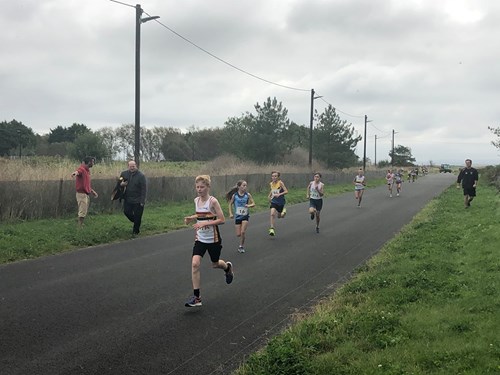 What a day it was at our local park just up the road from Johnstown and nice to see most age groups represented - A total of 39 athletes competed in total. There were some great results in particular the younger ages with team wins coming in both primary school boys and under 13 boys. In addition, there were two individual medallists and two who won gold for running the fastest leg out of all the participants. A great start to the cross country season and plenty to look forward to in the next few months!
Well done to the club members who took part and showed great team spirit, thanks to parents, coaches and team managers for their support. Members of our club were just not performing well in the races, but also behind the scenes in a number of ways such as organising and marshalling.
Big thanks to all the ever hard working officials, staff and volunteers from Carmarthenshire County Council, Pembrey Country Park and Welsh Athletics who contributed towards a fantastic day and booked the favourable weather!
Report & Photos: Nathan Jones
For the RESULTS / Ar gyfer y CANLYNIADAU, visit https://results.welshathletics.org/
For the day's Social Media Coverage from the Carmarthen Harriers Media officer Nathan Jones, visit our Facebook, Twitter & Instagram channels.
For a further event report and the age group results on the Welsh Athletics Website, visit https://www.welshathletics.org/en/blog/post/cardiff-dominate-senior-races-as-carmarthen-maldwyn-share-junior-victories
Elsewhere on this very busy mid-September weekend, there were some other events happening on the same week in Pumpsaint (Half Marathon & 10K), Cardiff (Night of Endurance inc Welsh 10,000m Championships), Llandeilo (Ras Hwyl Dinefwr), Bristol (Half Marathon) and the return of IronMan Cymru Wales 2019 down West in Tenby!! They include:
Night of Endurance - 1 Mile Race "A" Liam Edwards 4:37.45
Pumpsaint Half Marathon - Wendy Price (1st female in the Half Marathon); Scott Price (6 mile winner)
Simplyhealth Bristol Half Marathon - Paul Lynock 1:31:05
IronKids Wales Cymru 2019 - among those taking part were Jac Jones, Macs Morgan, Amy Greatrick and Lybbi Greatrick. Missed out? Get in touch!
Ras Hwyl Dinefwr - waiting for results but a few Harriers youngsters who took part were successful, making the podium.